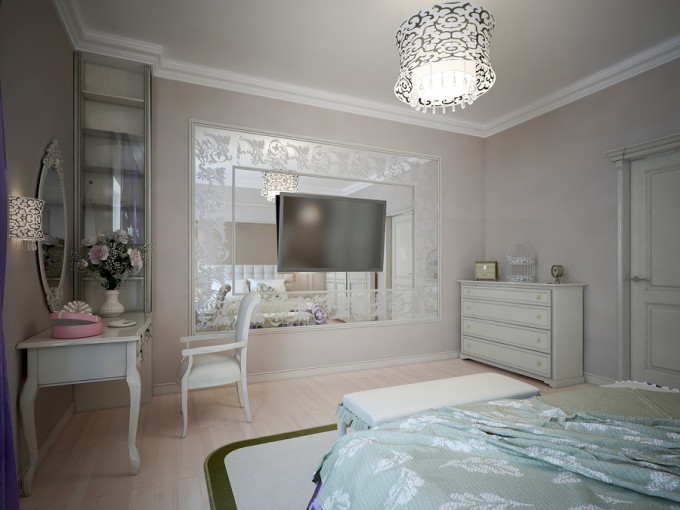 Wall Mirror Decor Inspiration: 25 Cool Ideas of Creative Mirrors
Can you imagine a home without any mirror? Mirrors are such an integral part of interiors as a bed or table. However, mirrors aren't only items, which help us to see how we look, they also a part of wall decor.
In fact, wall mirror decor can be used even instead of the traditional wall art. Today, there are so many shapes, sizes and designs of mirrors, that you will have a wide choice of possible variants no matter what style your home is designed in.
If you are tired of traditional mirror designs, we offer you to have a look at 25 cool mirror wall decor ideas, which are creative and are able to make your home look stylish and chic. So, let's get this show on the road!
Hexagonal Mirrors
Undoubtedly, mirrors in the form of hexagon look much more interesting than the traditional rectangular and oval decorative wall mirrors. They look great in modern interiors, including Scandinavian, industrial and high tech styles. Hexagon mirrors may also look nice in other types of interiors, depending on their design and framing.
The hexagon wall mirrors decor may consist of a single large item. Or, it can be a mirror, consisting of several small hexagons. Also, it looks cool when the wall is covered with dozens of mirrored hexagons, which serve as decorative wall panels.
Patterned Mirrors
The mirrors with patterns look very interesting and can serve as substitutes to art. The pattern may cover the entire mirror surface. In this case, the mirror will look more like a wall sculpture. Or, only the edges of the mirror can be patterned, forming the frame.
There are so many cool patterns for mirrors. It can be something floral or nature-inspired for traditional and rustic interiors or something abstract and geometric for modern ones. Also, the pattern can be made in a certain style. For instance, it can be an art deco mirror or the one, dedicated to vintage style.
Venetian Mirrors
Clearly, Venetian wall decorative mirrors are luxurious. They are ideal decorations if you have a luxury or traditional home decor. They are not just mirrors but real art. Clearly, the price for the original Venetian mirror can be rather high. But, if you are going to make it a focal point of the room, it's worth that money. It's better to place such mirrors in living rooms and dining rooms.
However, the modern Venetian mirrors can be suitable for a great number of modern interiors. Instead of traditional curves and patterns, they may feature geometric and abstract art. Of course, more contemporary designs look a bit less luxurious, but nothing prevents them from having that special Italian charm.
Mosaic Wall Mirrors
A decorative wall mirror with mosaic design may be a great addition to many rooms and many interior design styles. The mosaic pattern can be added directly to the mirror. Such a design looks very modern. Or, a mirror may feature a frame, consisting of mosaic pieces.
In addition, the small pieces of mirror can be placed on the wall, creating an astonishing mosaic mirror wall decor. It looks very stylish when the pieces are located in a graduation manner. Thus, the number of pieces on the top or at the bottom of the wall can be very large and gradually become smaller towards the bottom or top. Or, you can arrange the pieces in a certain pattern.
Mirrored Wall Sculptures
Honestly, mirrored wall decor doesn't necessarily mean that it must serve for reflecting us and the world around. It may serve for aesthetical function only. For example, mirrors can be used for the creation of cool wall sculptures. They usually look contemporary and even futuristic, but it's possible to choose something for traditional homes as well.
A sculpture with wall decorative mirror may consist of several pieces of mirror, connected by metal or wood frame. Or, the mirror is a fantastic material for the creation of sculptures with 3d effect and optical illusions.
Mirror Sets
A nice alternative to large decorative wall mirrors are mirror sets. They may occupy the same place on the wall or even more, but they make the decor look more complicated and interesting. The mirrors can be framed or unframed. They can be of the same designs or be of different sizes and shapes.
For example, a set of round mirrors of different sizes look very cool. Or, the one of three rectangular mirrors with wooden decor may be a cute addition to the room interior. Also, more complicated mirror designs can be used in sets.
Mirrored Clocks
Have you ever thought that mirror wall decor can show time? It's very easy if you use wall clock, made of mirror. In the majority of cases, such clock designs are contemporary and are suitable for modern home designs. However, maybe, you will be lucky enough to find some cool variants for other styles.
It looks very cool when the entire clock surface is made of mirror. However, if you aren't sure about that or want to have a classier clock, you are free to opt for a clock, which features the mirrored parts, for example a frame.
Mirrors of Creative Shapes
Of course, when we talk about creative wall decor mirrors, it's impossible to omit mentioning that mirrors can be of creative shapes. It can be a silhouette of something. For example, mirrors in the form of flowers, butterflies, lips and, even, animals can be used.
Such mirror wall decoration is the most widespread for nurseries as kids are fond of having creative mirrors. However, depending on the shape and style, such mirrors can be used in any other part of your home from bathroom to living room.
In a nutshell, wall mirror decor is an astonishing way to replace the traditional forms of wall art. Or it can be used in combination with other adornments. No matter what style your home is designed in, an unusual mirror is always a good idea.