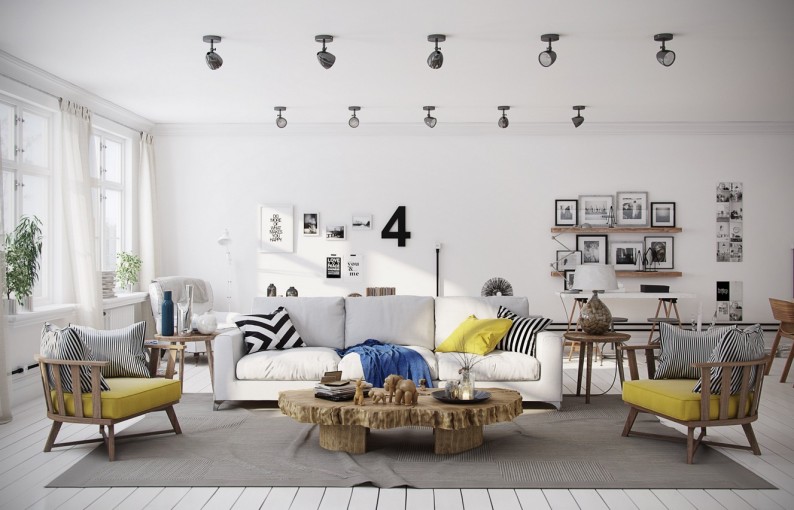 How to Decorate Walls in Scandinavian Style: Living Room Wall Decor Ideas
Seek for gorgeous living room wall decor ideas for your Scandinavian interior? It seems that a few items may be proper for the room design, which is characterized by minimalism, utility and elegance. But, in fact, many wall decorations may look organic in such an interior.
So, let me show you how to decorate your home in Scandinavian style and provide you with some cool wall decorating ideas for living room.
7 Basic Principles of Scandinavian Interiors, Which Influence the Choice of Wall Art
Before you start redecorating your home and think what wall decoration ideas for living room are the best for you, you need to know the basic principles of any Scandinavian home, which may influence not only the room interior but also wall art.
#1 Natural Materials
As Scandinavian home designs are based on the use of natural materials, you need to take it into consideration while choosing ideas to decorate living room walls. For instance, give preference to wooden frames for art or use wall sculptures, made of natural materials.
#2 Functionalism
In fact, not only furniture can be functional but also wall art. It doesn't mean that you need to decorate the walls with multi-purpose pieces only, but consider about some wall shelving, sconces, clocks and other items, which won't just decorate the room, but will also do some other jobs.
#3 Color Scheme
Scandinavian interiors are known for neutral coloring, but they also have some pops of color. That's why, you are free to choose decorating ideas for living room walls, which don't blend with the rest of interior, but create a focal point in it.
#4 Simplicity
It's not recommended to choose too extraordinary wall decorations of complicated forms. The art must be simple and beautiful. Clearly, it doesn't mean that you need to buy something not interesting, but don't overdo with creativity.
#5 Light
The Scandinavians think that there must be much natural light in the dwelling. In order to allow more daylight enter the room, they use reflective surfaces. For instance, living room wall decorating ideas may include mirrors. They reflect light and are also multi-functional.
#6 Coziness and Warmth
The cozy and warm atmosphere in the dwelling can be created with the help of candles, which, at the same time, can be used for wall decor. You can simply place them on wall shelves or buy candleholders, which can be attached to the wall.
# 7 Nature Surroundings
The plants are often used in Scandinavian homes. And, just like candles, they can decorate the walls. For instance, you can create a vertical garden or even simpler, place a couple of hanging pots with flowers on the wall.
Ideas for Living Room Wall Decor in Scandinavian Style
Now, let's have a look at 8 wall decor ideas for living room, which will be a great addition to any Scandinavian-style dwelling.
Shelves
If to talk about functional wall decorating ideas for living rooms, shelves are one of the most multi-purpose tools. Besides their help in getting rid of blank walls, they also serve as a great location for displaying art and other decorations. Also, the idea of creating a huge book shelf also sounds good.
Gallery Wall
Though Scandinavian interiors aspire for simplicity and getting rid of any clutter, it doesn't mean that you may use just one piece of wall art. The idea of creating a gallery wall looks very cute. The only rule you need to follow is that all the items must look harmonious with one another. For instance, it can be a series of black and white photos.
Black and White Art
In truth, black and white art is very popular among large wall decor ideas for living room. You are free to use photo posters or the prints with more graphic images. For instance, it can be an abstract artwork or a print, featuring your favorite quote. Also, conceptual posters, which you can buy on our site, can look nice. You may also combine several pieces like on the image above.
Wall Stickers
If you prefer minimalistic home design, the walls don't necessarily need to be monochromic. Some patterns can be definitely added. Thus, if you have white walls, you can add small black stickers to them. In such a way, you get an interesting wall design, which doesn't require other decorations.
Wood Wall Decor
As we have already told, natural materials are the basis of Scandinavian homes. So, you can decorate living room wall with wood adornments. For instance, wood wall panels will add a special chic and coziness to the interior. Also, you are free to decorate walls with smaller items like sculptures or hand-made adornments.
Scandinavian Pattern Print
We all know those cute Scandinavian patterns, which often decorate our winter clothes. But they can be used for other purposes. There are some cool wall decor for living room ideas, which include printed Scandinavian patterns. They look very warm and cozy.
Mirror
Basically, decorating living room walls with mirrors is a widespread practice. The Scandinavians love them for reflection, the owners of small apartments for the visual expansion of the space, but everyone will agree that they just look nice in interiors. Clearly, it's better to give preference to the mirrors of classic shapes like round, oval, rectangle or square. The mirror can be frameless or be placed in a minimalistic frame.
Plants
Finally, as nature is so important for this type of home decor, add some plants. Of course, it's not necessary to use them as a part of wall decor, but this idea is cute. Place a couple of pots on the wall shelf, add a hanging flower pot or create a vertical garden wall instead of wall art.
To sum up, while seeking for living room wall decor ideas for a Scandinavian home, you must follow the general rules of this style, however, some small deviations are possible. The most important is that the item you buy is well-combined with the room furniture and other adornments.