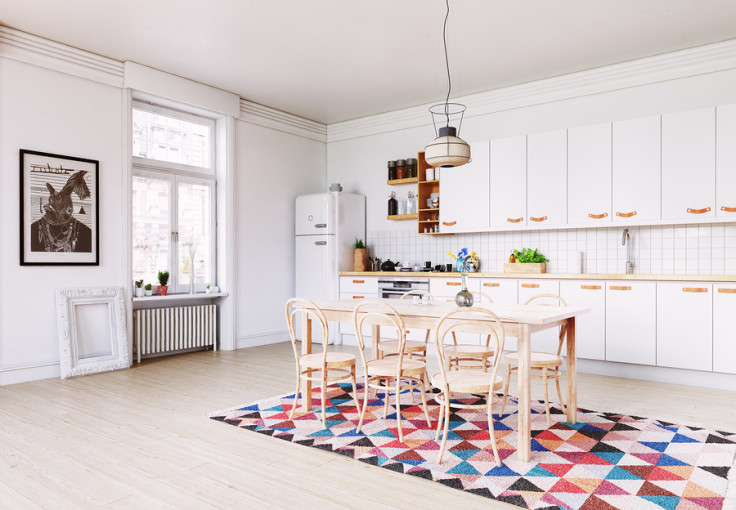 What Are Inexpensive Kitchen Wall Decor Ideas?
​
If you don't have enough money to make a major remodel of your kitchen, it doesn't mean that you can't make some updates in its design. There are many kitchen wall decor ideas, which don't cost much, but are able to refresh the room and make it more attractive.
Let me show how you can enhance your home on a budget and provide with 10 low-cost decorating ideas for kitchen walls.
Open Shelving
How to decorate kitchen walls functionally? Think about the possible variants of shelving. The majority of us prefer to store kitchen utensils in cabinets, but pay attention to open shelves. They don't only look stylish and can be used for storing kitchenware, but may also serve as a platform for displaying art and collectibles.
The floating shelves are the best variant for kitchen decor in both style and price. They can be bought rather cheap and are easily installed. Though their design is rather standard, they come in various colors and styles. Also, hanging shelves look cute. They may hang on ropes, chains and even ribbons, depending on their weight and design. Or, you may place a rack with open shelves against the wall.
Basically, wall shelves can be rather simple. You can even make them with your own hands. However, you may add uniqueness to the shelves by placing something interesting on them. Besides art and collectibles, you may place plates and glasses on them as well as beautiful jars, candles and even some food like vegetables and fruit.
Backsplash
Naturally, a backsplash area is the place in the kitchen, which gets dirty faster than any other wall. That's why, by changing the decor of the backsplash, you will make all the room look tidier and cleaner. There are many backsplash wall decor for kitchen ideas, but not all of them are affordable.
Among the inexpensive ways of enhancing the backsplash zone are the mosaic tiles. However, if you want something cheaper, take ordinary tiles and break them into small pieces. Such a decor will cost you much cheaper if you have some rests of tiles at your home. Also, you may take tiles of various sizes and with different patterns and mix them beautifully.
Besides tiles, some other materials can be used for the backsplash design. For instance, you may decorate the walls with stones, wood palettes, wallpapers, pegboard as well as some more unusual materials like maps or pieces of fabric. In addition, you may refresh the walls by simply painting them in other color.
Chalkboard
If you seek for unusual ideas for kitchen wall decor, pay attention to chalkboard designs. It's a fresh solution for home design and so, you will hardly see it at many homes. But, at the same time, it looks very interesting. And don't make any associations with schools and universities. Black is a bold, eye-catching color, which serves as a brilliant backdrop for chalk art.
In fact, you don't need to buy a board. You can simply buy a can of black chalkboard paint and cover the wall with it. You may make a small accent or cover the whole wall with the chalkboard paint. Also, it's not necessary to stick to traditional square and rectangular shapes. You are free to show your creativity.
The cool thing about chalkboard decoration for wall is that you are free to change its design and draw there whatever you want. Moreover, you can make notes there, write down recipes and dinner menu, share motivational quotes and proclaim love to your family members. Moreover, you can write something funny there, for instance, a joke of the day.
Prints
Prints are those kitchen wall decoration ideas, which are often used for creating a focal point in the room. A focal point is the first thing, which we notice when we enter the room and you need to make it beautiful in order to create the good atmosphere in the room. In comparison with the rest of the kitchen, the focal point stands out by its boldness and uniqueness.
Placing a large piece of art is one of the most widespread types of creating such a point in the room. And posters are one of the best ideas thanks to their universality and affordable price. By placing a large poster, you will make the wall look much more interesting. But you are also free to replace one huge print with the series of smaller ones.
You can find a great number of cool prints for decorating kitchen walls ideas on our site, but the food ones are the most popular. The photos of vegetables, fruits, cooked dishes and drinks are suitable for any kitchen decor. But you are free to seek for more thematic decor, which will be good for your kitchen. Thus, rustic landscapes are used for all the types of country styles while the abstract art is a great addition to modern interior.
Kitchen Utensils
Basically, the most inexpensive kitchen wall decorating ideas are the ones, which can be brought to life with the help of items you already have. Thus, kitchen utensils may serve not only for their direct purposes but also for decorative ones. However, the most important is to place everything tidy and beautiful.
Much inspiration can be taken from kitchen wall decor ideas Pinterest, but you don't need to repeat everything in details. Have a look at the kitchen utensils you have and think about the stylish ways of using them for wall decor. It's great if you have a set of the utensils of the same style. However, the pieces from different sets may be used as well.
Plates and dishes are often used for the decoration of kitchens and dining rooms. They can be attached directly to the wall or be placed as a collection on the wall shelf. Also, forks, spoons, whisks, rolling-pins as well as kitchen towels and potholders can serve as decorative tools.
Greenery
How to decorate a kitchen wall in a minute? Add greenery. Plants are always a good idea if you need to refresh the space and add some brightness to it. No matter if it's a cactus, orchid or bonsai tree, it will be suitable for the interior in any style and color scheme. However, the pots must be chosen more carefully as they need to suit the general style of the room.
The plants can be placed at any wall shelf you have for adding brightness to the walls. You can place several pots on one shelf or just a big one. Also, plants can be a cute part of a composition. For instance, you may put a plant on the shelf with some art, photos, collectibles or kitchenware.
Also, the plants can grow in hanging pots. They can be attached to any free space on the wall. Or, they can hang on the holder for kitchen utensils and towels. A cute idea is to create a vertical garden, but it will be more pricy than placing just a couple of pots with flowers.
In addition, you are free to grow some leafy greens and herbs at the kitchen. In such a way, you will create cute green decor and will get fresh parsley, lettuce, spinach, basil and many other rich in vitamins vegetables straight from your indoor garden.
Stencils
You will hardly see stencils among the most popular kitchen wall decorating ideas, but, in fact, they are one of the best ways to adorn walls on a budget. You are free to make an accent wall with their help or decorate some smaller areas. And it's cute that you can do everything with your own hands.
Stencils may look like pictures or simply feature some abstract patterns. The number of possible designs is really big. You are free to opt for the simple ribbon lace pattern and cover the entire wall with it for creating a cute accent wall. Or, you may take the stencil with a flower and butterfly and apply it to the wall instead of wall art.
In fact, there is nothing difficult in using stencils for wall decoration. You will easily cope with that task without any professional help. The most important is to choose the proper pattern and color, which will look harmonious in your kitchen.
Wall Quotes
Today, quotes are rather widespread decoration ideas for kitchen walls. But we have chosen them because they don't cost much. Very often, wall stickers with quotes are used, but the prints are also pretty popular. The both variants are rather affordable and their price depends on the design and size you choose.
For example, you can place some inspirational quotes. As kitchen is the room, where all your family members spend some time, it's great to motivate them in the morning or to cheer up after the hard day. Or, there can be some phrases and words related to cooking. You can even place your favorite recipe on the wall.
A cute decoration is the funny phrase print or sticker. It can be a joke or just a funny phrase. Also, you are free to order a custom decoration with your own words or the ones of your family members. The family names and the first names of the members of the family are often printed as well.
Gallery
Undoubtedly, gallery wall decor ideas for kitchen are a great way to combine things beautifully. Very often, several art pieces form a gallery wall. The paintings, photos and posters are used for that, but the most important is that they look organic with one another.
For instance, you may order split prints, which feature the parts of the same image. Or, you may use different images, but, which are united by one theme, color scheme or, at least, style. Not only painted and printed art can decorate walls. Also, some wall sculptures may be used and look astonishing in combination with one another.
Moreover, you are free to gather all your favorite objects in one place and create a cute collage. For example, you may use framed album covers, baskets, dishes, fabric swatches, frames with art as well as empty ones, mirrors, stickers, wooden and metal letters and many other items.
There are no strict rules of how items must be located. You may place them in horizontal, vertical and diagonal lines as well as in various patterns and free style.
Personalized Decor
And finally, you are always free to add something personalized to the kitchen decor. That's why, you may decorate the walls with family photos. The kitchen wall decorating ideas photos don't only mean adding a couple of photos to the walls, but turning them into art. For example, you can take your favorite family photo and turn it into a huge poster.
Or, it's possible to combine the photos with other decorations. For instance, they can be a part of a collage or be printed on mugs, which decorate the wall shelf. In addition, you may decorate the kitchen with the items, which have a special meaning for you and your family members.
So, you see that some updates at your home can be done even if you have a limited budget. There are many kitchen wall decor ideas, which can be brought to life without spending much money and they don't look cheap at all. Just choose the decoration, which suits the style of your kitchen more and make the room shine in new colors.