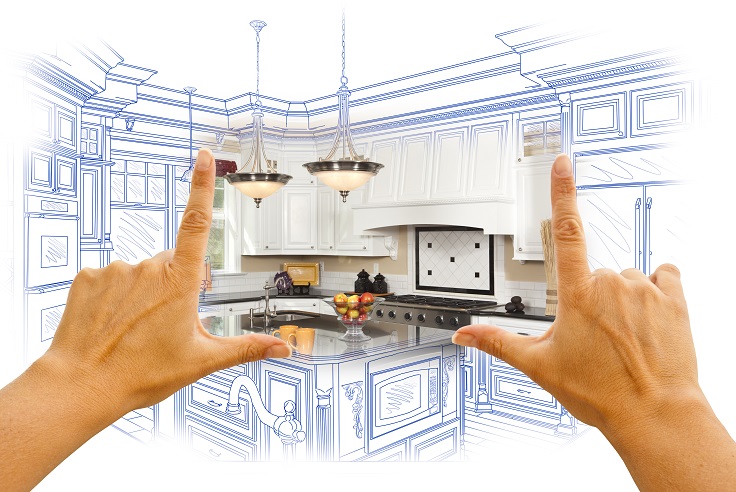 A Guide to Basic Kitchen Design Styles
Long ago, a kitchen used to be a place, which is usually hidden from guests behind the closed door. However, today it's a central place in the house as we start our day with it, drinking our early cup of coffee, and end our day, having a late snack. So, it isn't strange that kitchen is considered to be the heart of the home. Kitchen design must fully fit in your style of life, needs and tastes. Fortunately, nowadays there are so many ways of decorating a kitchen that you will never feel deprived of choice.

Before starting to work at your kitchen, you first need to look through various kitchen design ideas to determine what style is more suitable for your home. You can face dozens of different styles, but the basic ones are Traditional, Country, Contemporary, Transitional and Luxury styles. Let's consider them in more details.
A traditional "warm and classic" kitchen is perfect for those, whose life centers on family and friends. It has a timeless look and it's a fact that many styles have been formed on its basis. Its palette is usually soft and includes light colors like white, cream, taupe and some other pastel colors.
The materials, which are widely used for such kitchens, are marble, brick, stone and wood. In order to make the room brighter, you are free to use patterned curtains and nature posters, which will bring a part of the outdoors inside the kitchen. The cabinet in traditional kitchen often has decorative glass doors, but wooden ones are also used. Moreover, you can use furniture-style tall cabinets to hide a refrigerator or pantry.
A country kitchen, which aims at being as close to nature as it can, will help you to enjoy the feeling of a vacation, spent far away from the noisy city, just in your own home. If you design a kitchen in such a style, you should know that it focuses on natural materials like wood and fine craftsmanship.
All the furniture is to be made of wood, the most popular types of which are cherry, maple, oak and pine. Intricate wood carving is one more feature of furniture for such a room. The palette of it is usually close to natural wooden colors from light yellow to brown. As to the fabrics for curtains and tablecloths, gingham, toile and plaid suit this theme perfectly.
The walls can be decorated with pictures in wooden frames or some hand made things, for example, embroidery. In order to make all the cooking utensils fit the design, choose the ones with wooden handles. They will look like an integral part of the furniture. This style is also frequently used for outdoor kitchen designs.
Contemporary kitchen is sophisticated and simple at the same time. The main features of it are reflective surfaces and high-tech materials. Very often contemporary kitchens have no ornamentation and are rather simple in color. In this type of kitchen, you can choose all the colors you like as there are no limitations.
The kitchen may be bright, pastel and even, absolutely white. However, the majority of designers advise to follow the 60-30-10 rule for colors: 60 percent of one dominant color, 30 percent of a secondary color and 10 percent of an accent color.
The most important rule for contemporary kitchens is strict shapes, strong horizontal and vertical lines and modern appliances. The most common materials for such a kitchen are steel, plastic and glass, but in some cases wood can be used. While choosing lighting for a contemporary kitchen design, don't forget that the room must be very light. Choose lightning of the same strict form so that it is in harmony with the rest of the room.
Though contemporary style doesn't presuppose a lot of decorations, you are free to have a couple. One of the nice ideas for decorating is to use abstract posters. They look very stylish and will be easily combined with the strict shapes of the kitchen. It's also possible to use some modern art pieces, which will surely add some zest to the room.
Transitional kitchen is a mix of styles. Here you are able to combine styles and feel like a real interior designer and note that there are no strict rules here. In fact, there is no strict definition as to this type of design. If you see a kitchen and can't define its style, it's most likely a transitional kitchen. As a rule, traditional and contemporary styles are combined here. The warmth of traditional kitchen mixes up with the strict lines and high-tech of the contemporary one. You can freely combine old and new, traditional lines and modern details and, moreover, this style suits any style of home. If you choose this style, you are free to do a lot of experiments and combine even the most incompatible things. The most important here is to think innovatively.
Luxury style isn't the one for a small kitchen design. It needs much space and huge investments. That's why, if money isn't a problem for you, you can surely choose this style. Materials should be high-end and attractive. Don't afraid of using granite, marble and mosaic. Choose the best appliances and utensils for this kitchen: double-door refrigerators, double and triple sinks, high-tech ovens and expensive cooking implements. Don't forget about luxurious chandeliers (for example, cut-glass) and other lightning. You can also add some gilt details to such a kitchen like cabinet handles, taps, handles of cooking utensils, curtain poles or wall decorations. The curtains are to be made of silk or some other beautiful fabric and they usually have many draperies or

Now, you know the basics of kitchen designs. It's time to choose what you like more and start the process of renovation. However, don't think about the design only. Kitchen also needs to be functional and convenient. That's why, you need to make it easy in use and place all the things in such a way that cooking becomes fun and not hard work. We wish you good luck in this difficult but extremely interesting task and may inspiration attend you!