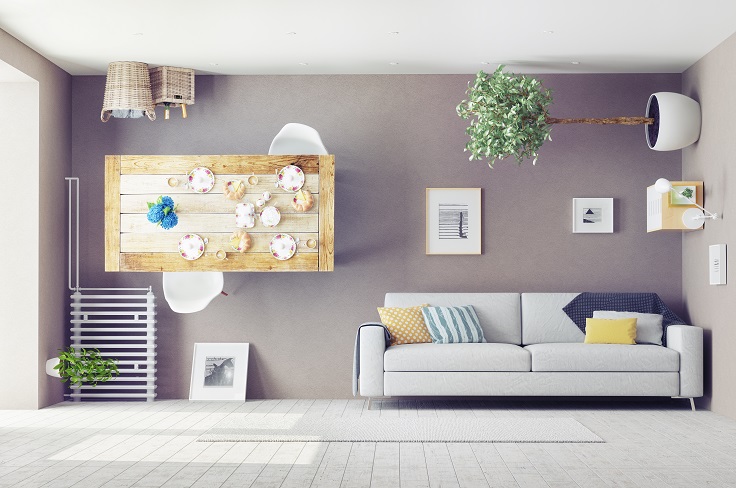 Wall Art Ideas for Your Living Room: Wall Décor, Pictures & Posters
The living room is the most social room in any house. It's the place where you gather with your family, friends or neighbors. In fact, it's a "calling card" of all your dwelling. While you decorate your bedroom for your comfort, a kitchen for your convenience, the living room design is made not only for you but also for your guests as they need to feel comfortable in it as well. Moreover, don't forget that this room has much more functions than any other one and comfort must be combined with multi-functionality here.
The selection of living room wall colors
The choice of colors for a living room is extremely important. Colors influence us and our guests and that's why you need to take into account the way they influence people before painting the walls of your living room. Let's take four basic colors to see how they affect humans.
Yellow living room walls
Yellow walls are very positive, optimistic and stimulating. Yellow is the color of the sun and light and it always help to improve the mood. Its subdued shades affect positively the mental activity and tone up. However, it's not recommended to use too much yellow as it can cause anger and nervousness.
Red living room walls
Red is the color of power and passion as well as courage, ambition and strength. It tones up and helps to boost your energy. It draws people together and stimulates communication. Though, red can also increase one's pulse, heart rate and blood pressure. That's why it isn't usually chosen as the main color of the room, but just used to make accents.
Blue living room walls
Blue is a very serious and cold color. It makes people think and look into their souls. It's more often used in bedrooms or bathrooms than living rooms. Different shades of blue have absolutely different influence. Light tints of blue help to relax while dark shades act depressingly.
Green living room walls
Green is the color of calmness and balance. It's associated with nature and makes the room look fresh. It brings comfort and togetherness and helps to relieve stress. If you want to create a cheerful atmosphere, choose light shades of this color, if you want calmness, you need a more subdued shade. However, if you want to stimulate the energy, take turquoise tints.
What's the best color for living room walls?
We want to tell you a little secret. The best color for a living room doesn't exist. The best color for your living room is the color you are comfortable with and the color, which shows your personality. Of course, colors influence us, but we have provided you with general notions without taking into account the characteristics of every person on Earth. One can feel comfortable with red walls while the other person will be annoyed with them.
Wall decorations for your living room
When you have already done all the main work in renovation of your living room and have chosen the furniture, it's time to start thinking about accessories and the pieces, which will add originality and creativeness to your room. Let's talk about the most interesting living room design ideas, which will help you to decide how to decorate the walls so that they look luxurious and cozy at the same time. Remember that our homes influence us and that's why you need to do your best so that the influence is only positive.

We shape our homes and then our homes shape us.
Winston Churchill

these words by Winston Churchill just prove that.
Paintings and other pieces of wall art for your living room
If you are a fan of art and like different paintings, why not use them in your living room interior design? The most widely used paintings for this type of room are landscapes, seascapes, flowers, animals or abstract pictures. However, if you think that, for example, a portrait will look wonderful, hang it.
Nowadays, abstract paintings are extremely popular. They are an awesome way to express yourself and see something personal in them while your guests can see some other things in such pictures. An abstract painting is a wonderful decoration for a living room, made in modern style. The most important in choosing a painting for your living room isn't only the way it looks in the interior but also your attitude to it. Choose only those pieces of art, which you really like so that you are able to enjoy their beauty and raise your spirits with their help. Otherwise, a picture, you don't like, can spoil your mood and make you feel depressed, even if it's a picture of a talented painter.
One more nice idea for the interior design is to use a set of pictures. It's possible to combine pictures similar in shape, coloring and the object, depicted on them, or to use a single picture, which is painted on several canvases.
Posters and wall pictures for your living room
Posters are another way to decorate the walls in your living room interior design. Depending on the theme of your room and your interests, different types of posters can be used. If you are fond of travelling, you can use travel posters, depicting some interesting places in the world. Nature or landscapes posters can be used in almost every type of the room. If it's an image of a river, sea or mountains, it will help you to relax. As nature provides us with new powers, we need to have contact with it. And if you aren't able to leave, such a picture will be a good substitute. If you design living room in contemporary or hi-tech style, abstract posters will be of use for you.
The only thing you need to take care of is that the colors of the picture coincide or are well combined with the palette of the whole room. Despite ordinary posters, you can also use the ones on a canvas. They will give more warmth to the room. If you like art, but have no enough money to buy a good painting, art-illustration posters will help you to satisfy your needs in art. Of course, they aren't absolutely like real drawings, but still are a good way out if you have limited budget.
Decoration with photos
Photos are also frequently used in living room designs as they suit almost every style. Despite many other types of decorations, photos never become old-fashioned. It's not necessary to use the professional photos; you may freely use the ones, made by you or the members of your family. The most important here is not professionalism but depiction of the special moments so that you can recollect them and show to your guests.
There are many ways of how photos can be used in interior. The most widespread ways of placing photos are either hang them on the wall or put them in frames and place around the room. Moreover, the sizes of the photos can also be different. Photos, enlarged to poster sizes, look like pieces of art and can adorn any wall in the room while a set of small photos makes the room more domestic and warm. One more way to arrange photos is to make a collage of them. It can be of any size from A4 format to covering the whole wall. It depends on what effect you want to reach.
Wall stickers for your living room
The use of wall stickers is a very easy and quick way to get rid of blank walls in your living room. Stickers don't cost a lot and can help you to save money. The sizes of decals vary and that's why you are free to decorate the whole wall as well as a small piece of it. Moreover, stickers can be easily removed once you get bored with them. That makes it possible to change them even every season. That's very convenient as you may change the whole look of the room with the stickers only.
Collectibles for the living room decor
Another way to get rid of empty walls is to place shelves with collectibles there. If you like to collect some things and they aren't too huge to be placed on shelves, it's possible to put them in the living room so that you are able to boast of your collection to the guests. Books can also be used in such a way. Believe that even the smallest collection is a good addition to the interior of your living room.

Handmade wall decorations
If you think that all the previous ways of decorating your walls are too ordinary, why not make something with your own hands? Handmade decorations will surely make your living room original. There are many things that you are free to do with the walls even in a small living room design. You can paint them, add decals, including the ones with some inspirational quotes, create your own paintings or other interesting things from improvised material etc. In fact, there are no limitations for your creativity here.
Dealing with your living room design can be a real challenge as it's the main room in the house and it needs to be perfect not only for you but for everyone, who enters it. However, nowadays we have so many options for doing that and this procedure can be turned into rather an exciting process. The most important is to clearly understand what you want and just make your dreams true step by step. Don't fear to show your creativity and talents, which will be surely appreciated by your family and friends.