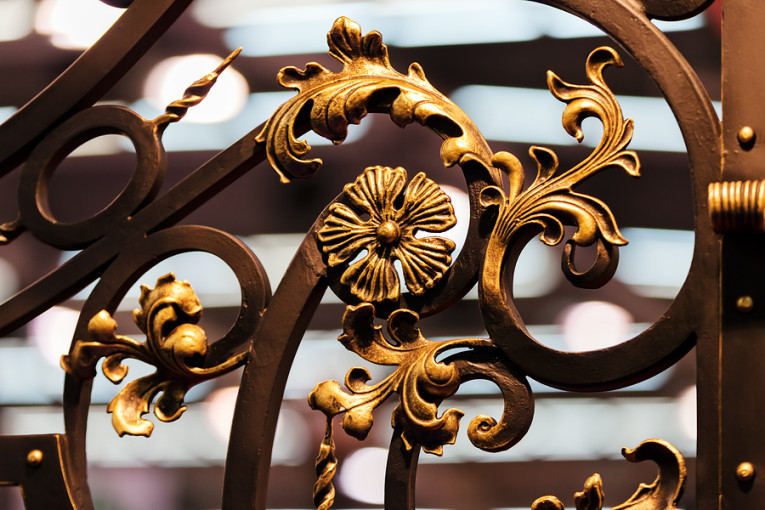 15 Beautiful Ways of Using Iron Wall Decor at Home
Some people think that iron wall decorations are suitable for outdoor decor only and look too harsh in interiors. However, we think that it may look really cool if to use it correctly. And we are going to prove that with 15 astonishing examples.
So, let's get started and have a look at how iron wall decor can be beautifully added to the home interior.
Wall Grilles
Wall grilles are one of the most widespread types of large wrought iron wall decor. They are usually used as independent adornments, but there are some ways of combining them with other items. The sizes and forms of grilles differ, but, as a rule, they are rather big and of square or rectangular form.
Basically, it looks very interesting when cast iron wall decor grilles are used like a series of decorations. For instance, you can buy two, three or four grilles of the same shape and size, but featuring different patterns. Or, vice versa, the patterns can be similar while the size and shape differ.
Nature-Inspired Art
As wrought iron wall decor is often used in rustic and country home interiors, its design is often inspired by nature. Tree designs are rather popular. It can be a silhouette of a tree in a square, rectangular or round frame. Or, the tree branches art can consist of several pieces of the same size, which look like parts of one decoration.
Besides, iron metal wall art may combine several styles. Thus, the tree branches with birds on them suit vintage, traditional and country room styles. However, a more modern look can be reached if such a decoration is mixed up with abstract art.
Candle Sconces
Candle sconces are an amazing example of decorative iron wall art. Though we all tend to use electric lights, candles may help us to create an extremely cozy and warm atmosphere at home. Moreover, candles are great for romantic evenings as well as for family gatherings. So why not place candles into beautiful candle sconces made of iron?
Such an iron wall hanging doesn't only hold candles, but is a great decoration for walls even if it's not used for its direct purposes. The candles sconces come in various sizes and shapes. Thus, you are free to use one large item for holding several candles or separate candle holders for each candle.
The candle sconces for iron wall art decor can be rather flat or popping up from the wall surface. Also, the hanging sconces in the form of lanterns look very cute and are astonishing decorations for home as well as patio or veranda.
Abstract Art
Many of us think that iron art for walls fits only country, farmhouse, vintage and bohemian interiors. However, it can be a marvelous addition to contemporary homes. It may look rather stylish if you opt for minimalist or abstract decorations.
Rod iron wall decor may consist of small parts of various geometric forms. For instance, it may combine various types of triangles, located on several wires. The rounds, squares as well as volume figures also look great.
Or, you may seek for something simpler. Thus, the wall sculpture of metal wires also looks stylish, but features a less complicated design. You may even try to create something similar with your own hands for both interior and outdoor wrought iron wall decor.
Frames
Needless to say, metal iron wall decor may be functional. A great example is a photo or picture frame. Frames, made of iron, look a bit vintage but their complicated patterns add some chic to the room they are located in.
A classic wall grille may also help you to locate photos on the wall. You may attach the photo frames to it with the help of ribbons, thin chains or some other materials. In such a way, an ordinary wall grille turns into a photo holder.
In addition, you can find a more creative iron wall artwork. The one above looks brilliant and is suitable for the decoration of any room. Though the wall sculpture is rather heavy, the butterflies and photo frames on thin chains make it look more airy.
Functional Decorations
In fact, frames aren't the only iron wall hangings, which have some other functions in addition to the decorative one. For instance, beautiful wall shelves can be made from wrought iron. They can be fully made of this material or just feature some decorative parts made of iron. Thus, the combination of iron and wood looks very beautiful and is great for farmhouse and country interiors.
Or, black iron wall decor can be presented by hanging flower pots. They can be used for both interior and outdoor designs. The pluses of such flower pots are that they look beautiful and are attached directly to walls with no shelves needed.
Also, you may create cute window decor with the help of rod iron wall art. You may decorate the window with a frame and place two wall grilles on its sides. The same design will look cool with a mirror.
It's up to you if to choose iron wall decor for your home or not. We just wanted to show you that it can be used in home interiors and look really cool in them. The most important is to choose items, which suit your interior and properly combine them with the rest of the room.