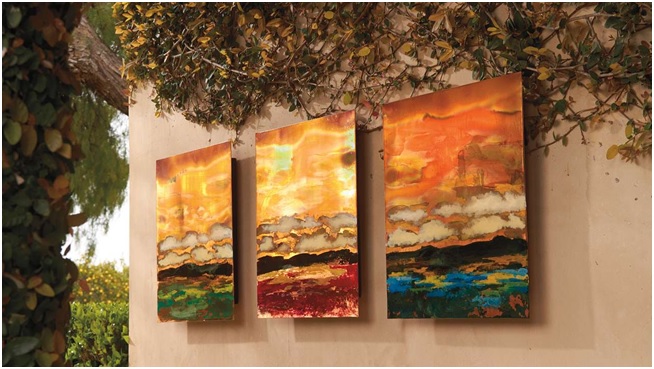 9 Amazing Ideas of Outdoor Wall Decor
We dedicate so much time to choosing the proper decorations for our home interiors that we often forget about their exteriors. Of course, if you live in an apartment, you shouldn't worry about that. However, if you are an owner of a house, you may consider adding some charm to the garden, dining area or a deck with the help of beautiful outdoor wall decor.
It seems that there are a few ways to decorate the garden, but let's have a look at the following outdoor wall decor ideas, which will help to enhance the exterior of your home.
Metal Outdoor Wall Decor
Outdoor metal wall decor is very popular thanks to its durability and cool designs. Many metal wall panels, which are used for interiors, can be used in the patio or garden as well. The panels can be attached directly to the outside walls of the house. You are even free to make them a background for the house numbers or welcoming signs near the porch.
Another widespread type of outdoor wall decor metal is a wall sculpture. It can feature a great number of things from metal flowers to abstract 3D wall art. Moreover, such adornments can be made in various styles. The vintage style looks cool in traditional gardens. But if you have modern furniture and unusual types of plants, seek for abstract contemporary wall art or the one with 3D effect.
Clearly, there are various types of metals, which are used for decorations. The absolutely waterproof metals are gold, silver and platinum, but we don't use them for decoration. That's why, we often choose among steel, wrought iron, aluminum and such red metals as copper, brass and bronze. These metals are affected by the weather conditions, but can serve for many years.
Among all the metal decorations, the ones made of wrought iron are the most widespread because of a number of reasons. That's why, let's consider outdoor iron wall decor separately.
Wrought Iron Outdoor Wall Decor
It's a known fact that wrought iron is used for gates, fences, patio furniture and, of course, other garden decorations. It's considered as one of the most durable materials for outdoor decor. Wall grilles look nice on the house walls as well as fences. The choice of shapes, sizes and patterns is pretty large.
The signs for the garden can be also made of wrought iron. No matter what is written on them, you can complement the words with beautiful curves or patterns made of the same material. Wrought iron wall sconces look cool in gardens and patios. You can find the ones for both electric and candle light.
Naturally, outdoor wrought iron wall decor may be present in the form of sculptures as well. It can be a silhouette of an animal or plant, for instance peacocks and trees are quite popular. Also, you can seek for something more abstract. One more idea of using wrought iron is hanging flower pots, which are attached directly to the walls and look beautiful with bright flowers growing in them.
In addition, it's trendy to have custom made decorations. For example, you may order a piece of outdoor wall art decor with your family name. The signs like "Wilson", "Mr & Mrs Adams" or "The Spencer Family" will add coziness and uniqueness to your patio.
Vertical Garden and Plants
Though your garden may have dozens of various plants, you can make special accents with them on the walls. Thus, you may place the flowers in colorful pots on the wall shelves or opt for cute hanging pots.
Also, greenery can be used for the creation of various outdoor wall decorations. For instance, you can make beautiful wreaths with flowers and succulent plants and adorn them with ribbons, bows and other decorative elements you like. Moreover, don't forget that you can create wreaths dedicated to various holidays from Halloween to the 4th of July.
But the most astonishing large outdoor wall decor is a vertical garden. It will impress any person, who will enter your patio. And you will be able to enjoy it every day. Very often, succulent plants are used for such projects, but you can combine various types of flowers and plants. Moreover, you can grow vegetables in such a way.
You can go further and turn a vertical garden into a living wall. You are free to do that on the house walls, fence or any other type of vertical surface you have.
Candlelight
Every patio becomes cozier if it has the proper lighting. As electric lights must be used with much care outdoors, we recommend trying candlelight. The use of candles instead of electrical lamps is much safer and more interesting.
The candles will make any garden look more romantic and relaxing. Of course, candle light isn't so bright, but garden doesn't need such bright lighting as the house interior. The atmosphere won't be so cozy and relaxing if there is too much light in it.
The candles can be placed on the wall shelves in beautiful candleholders. For example, candleholders in the form of lanterns look cool in outdoor patio wall decor. They add a magic atmosphere to the place and can be placed not only on shelves but also be attached to the house walls.
Also, there are many nice designs of wall sconces for candles, made of wrought iron or some other materials. They are a great replacement to wall art.
Recycled Decorations
Good news: not all outdoor wall decorations garden must be bought. You may already have some of them somewhere in the garden, house or garage. Nowadays, it's pretty popular to use recycled decorations and we just can't skip this idea as it helps to save much money and, at the same time, get unique decorations.
It's unbelievable how many things, which could have been at the dump long ago, can be turned into creative decorations. Even old shovels can be adorned or painted and attached to the wall or fence in a beautiful way.
Very often, old window shutters and frames are used for outdoor wall decorations hanging on the exterior parts of the house. For example, with the help of an old window frame and a window sill, you are free to create a cute illusion of a window. Place flower pots on the window sill and adorn the frame with clambering plants or grapevine.
But it's just the tip of the iceberg. There are so many cool ideas of DIY decorations, which can be created with the help of ordinary things and demand no money investments.

Decor with Garden Hoses
Perhaps unsurprisingly, garden hoses can be used not only for plants watering but also as an outdoor wall decoration. It seems that this item can't be used for aesthetical purposes, but the truth is that it can.
For instance, many of us store hoses on the mounted reels. It's very convenient. But have you ever thought about decorating that reel? For example, by placing flowers over it, you will make a cute wreath, which can be adorned with some other details as well. The plus of such a decoration is that you will use the hose for plants watering any time you need.
Also, there are some cool ready designs of mounted garden hose reels. Or, you can use hoses for more extravagant decorations. You can take the parts of hoses of different colors and create cute pictures and patterns on the walls and fences.
Creative House Numbers
Besides outdoor patio wall art, you can add some creativeness to the exterior part of your home. Clearly, not every person can see how your garden looks, but you are free to show your personality with unique house numbers.
You are free to choose among a great number of ideas, but you need to remember a couple of things. Firstly, the font must be simple and readable so that everyone can see it from a distance. Secondly, the sign must suit the style of the house. Thus, contemporary numbers design will look weird with a 100 year old house. And thirdly, it's better to place the number under the exterior light to be seen easily from the street.
Of course, you can buy the ready numbers as well as make them with your own hands. You can use simple numbers, but place them on a bright background or
seek for the bright or patterned numbers as well as for the ones, made of unusual materials. For instance, the house numbers made of artificial turf are gorgeous.
Custom Signs
If you seek for personalized exterior wall accents, pay attention to custom signs. They can be placed in various parts of the garden and on the house walls. A sign can be used to welcome your guests near the porch or make a statement about your family's values somewhere in the outdoor dining area.
What to write on the sign? The answer is whatever you want. It can be a simple "Welcome" sign, written on a piece of wood with the help of a beautiful font. You can add some inviting words to it or write funny rules on how to behave in your home.
Also, you can write your favorite quote or phrase. It can be a well-known citation or the text, written by you. They can be the words, showing your love to family, your devotion to family values and the phrases, which may unite your close people. In addition, it's pretty popular to place the signs with motivational and inspirational quotes.
Moreover, the sign can be adorned in various ways. You can add flowers, ribbons, stickers to the sign. Or, it's possible to arrange it in a gallery style along with other decorations. Among the DIY projects, it looks cool when the phrase is written on a chalkboard and you are free to change it as soon as you get bored of it.
Outdoor Wall Art
Actually, the traditional kinds of art can be also used for outdoor wall decor. Everything depends on where exactly you are going to place it. For instance, posters and paintings can be used on verandas and in patio if they aren't subjected to direct sunlight and high humidity and are located under a roof. However, we talk only about art, which is framed and has a glass cover over it.
If you think about placing art in other parts of the garden, you may use paintings, but they must be covered by waterproof liquid as well as be painted on special types of canvases. The paper posters and pictures will be spoilt within several days after you place them outdoors.
A cool substitution is art, applied directly to the house walls or fences. Graffiti may stand various weather conditions and may serve as a cool decoration for garden. If you want it to serve longer, you may apply a waterproof covering. Also, acrylic paints can be used.
So what does all this mean? We wanted to show you that not only your interior must look beautiful but also the house exterior. Of course, the choice of outdoor wall decor isn't so wide as of adornments for home, but still you will definitely find something suitable for your garden or patio.