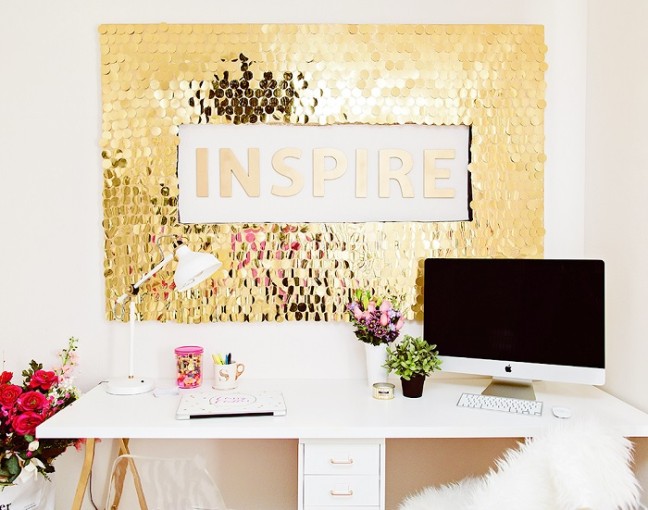 25 DIY Wall Decor Ideas You Will Absolutely Love
Are you a creative personality? Do you like to create ?unique things with your own hands? Then, you have definitely had thoughts about DIY wall decor for your dwelling. And now, we are going to provide you with some inspiration.
Want to know more about the ways of enhancing your home with cute accessories. Have a look at the following 25 DIY wall decor ideas.
#1 Sequins Wall Decor
If your room seems to be too boring, add sparkling with a cool sequins wall decoration. It's great for living rooms as well as for DIY bedroom wall decor.
#2 Thumbtack Wall Art
Have you ever thought that ordinary thumbtacks can be turned into such a stylish decoration? You can create various pictures on different backgrounds.
#3 Ribbon Decoration for Nursery
The ribbon wall art is a cool idea for nursery. Clearly, you can opt for other colors. For instance, the combination of navy with blue will be good for a baby boy room.
#4 Tissue Flower Wall Art
Seeking for something bright? The tissue paper flowers in various colors can add vividness to any type of room. However, they can be also made in one color.
#5 Nail String Wall Art
It's a very easy wall decor DIY, which can adorn nurseries, bedrooms and living rooms. You can create everything, from words to abstract wall art.
#6 Confetti Art
Confetti is another way to add a bit of luxury to your dwelling. It can be applied directly to the wall or to the canvas or paper.
#7 Patchwork Wall Art
Do you have many unnecessary pieces of fabric at home? Don't throw them, but turn into a cute patchwork? wall art. You can use various fabrics in a single large wall decoration or create several small decorations with different fabrics.
#8 Shoebox Shelves
Shoeboxes can be useful for DIY arts. You can not only store things in them, but also turn them into cute floating wall shelves.
#9 Paint Chip Wall Decor
Paint chips can be cute instruments for many wall decor ideas DIY. For instance, they can cover one wall in the room or be located in a certain pattern. From afar, such wall decoration will look as abstract wall art.
#10 Quilled Art
Quilling is not only a great way to spend free time, but also a wonderful idea for DIY wall room decor. If you like creating something cute in this technique, think about turning it into a wall art piece.
#11 Lip Print Art
Do you want to see how all the shades of the lipsticks you have look on the paper? Create such a creative piece of wall art with the imprints of your lips. It's a very romantic wall decoration and is also a great present for a close person.
#12 Scrabble Wall Art
Do you like scrabble? If you are a fan of this game, you can demonstrate that by choosing such DIY living room wall decor. You can place the letters in a random manner or compose words.
#13 Shutters Wall Decor
Don't hurry up to throw away the old shutters. If you paint them into a beautiful color and add some decor to them, they can transform into astonishing DIY wall decorations. For instance, at bedroom, they can be used instead of the headboard.
#14 Greenery Wall Art
Of course, greenery is always a good choice. It adds vividness to the room and, at the same time, can look rather creative. Don't hesitate to add a piece of nature to your room.
#15 Colored Pencils Art
Clearly, it's not the wall DIY decor idea, which you can bring to life without spending money. However, by just buying colorful pencils, you will create an incredible wall sculpture, which definitely costs the money spent on materials.
#16 Glow in the Dark Decor for Walls
The glowing in the dark wall decor isn't for nurseries only. With the help of glow in the dark paint? and stencils (or your artistic talents), you can create a beautiful picture, which you will enjoy as soon as the lights are turned off.
#17 Paper Butterflies
In truth, there are many wall decorations DIY, which can be made of paper. But butterflies are one of the cutest ideas. They are suitable for any type of room, which they will fill with romantic mood.
#18 Striped Washi Tape Wall
Washi tape can be used in different ways for wall decor DIY. For instance, if you have a white wall, you can attach colorful washi tape pieces to it and make cute stripes. Though, such a design is just a temporary solution, it looks very nice.
#19 String and Spray Paint Wall Art
In order to create astonishing paintings, it's not obligatory to be good at it. For instance, a cool abstract DIY wall art can be created with the help of a simple blank canvas, spray paint and string and no painting skills are needed.
#20 Plates Wall Decor
A great number of kitchen utensils can be used not directly but for DIY kitchen wall decor. For instance, if you have beautiful plates, you can place them beautifully on the wall. The kitchenware is a cool idea of replacing the traditional wall decorations.
#21 Shells Wall Art
Bathrooms are often decorated in the coastal or nautical theme and many of us like to use shells, corals and sea stars for their decor. If you have a couple of spare frames, a piece of burlap and seashells, you can easily create beautiful DIY bathroom wall decor for free.
#22 Ombre Canvas
If you don't want to spend money on an abstract poster or painting, create the art yourself. Using a simple blank canvas and white and pink paints, you can easily create such an ombre art.
#23 Button Tree Wall Art
It's highly possible that you have some colorful buttons at home, which you don't need. Use them for creating a cute tree on a canvas. The more colors of buttons, the cooler the result.
#24 Puzzles Photo Frame
Almost all of us have lost some puzzles pieces at least once in life. We all know that if one piece is missing, there will be no ready picture in the result. However, don't hurry to throw the puzzles away. You can paint the pieces into the color you want and attach them to the old photo frame.
#25 DIY Map Wall Decor
It may sound strange, but a map poster can be turned into a romantic DIY wall decoration. The map wall art in the form of hearts looks very unusual.
So, we hope that you have got inspired by these DIY wall decor ideas. All the projects are rather easy and they won't take up much time. Moreover, each idea may have some variations.