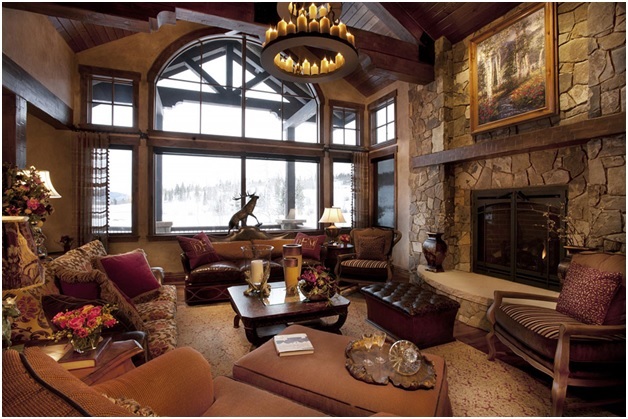 What Wall Hangings Are the Most Suitable for Rustic Wall Decor?
There is a special charm in rustic interiors. Though they are more often chosen for country houses, the rustic accents can be made even in modern flats. While selecting rustic wall decor for your dwelling, the most important is to choose the items, which add warmth and coziness to the place.
The use of natural materials and nature-inspired decorations is the best choice, but there are also some other cute variants. So, let's get started and consider the coolest rustic wall decor ideas.
Paintings
If you consider adding large rustic wall decor, think about paintings. Paintings are timeless and are ideal for such a type of interior. The picture can be made not only on paper or canvas, but also on more unusual materials like wood or stone. Moreover, it's not necessary to buy the one. Maybe, you have some old paintings, which haven't been used for ages or you can also try to create the painting yourself.
The paintings for rustic interiors can be also of various styles. Though, oil paintings are the most widespread, don't concentrate on them. The watercolor paintings are also suitable. Moreover, even the pencil drawings may look astonishing in combination with country home design.
Clearly, the majority of us consider the images of farm animals the most suitable variant for rustic wall art. It's right, but there are much more ideas. If you like animals, the pictures of cows, goats and sheep can be replaced by the ones of other domestic animals and pets. For instance, the paintings with cats and dogs make any room look warm and cozy.
Landscapes are great wall adornments as well as portraits. The ones, painted with oil paints, look a bit vintage and this style is beautifully combined with the rustic theme. In addition, the abstract paintings are also used. However, it's crucial that their coloring matches the colors of the room design.
Prints
In truth, all the themes used for rustic paintings can be used for prints. Nature is the most frequent option for the rustic posters. The images of field flowers, forests and rural landscapes are the best choice. Avoid buying seascape and mountain images as they don't look organic with the country style.
Wildlife images look bright and interesting. The animals, which inhibit the rural areas near your home or just your country, are the best choice. However, the images of exotic animals are used as well. And, in addition, the photos of pets are applied. The cats and dogs posters are always a good idea.
While choosing wall decor, you need to take into account the room, you are going to place wall art in. It's clear that rustic bathroom wall decor may considerably differ from the one for bedroom. For instance, the images of wild animals are marvelous for living rooms, but aren't recommended for rustic bedroom wall decor. The food posters can be used in kitchens or dining rooms only. Though, rural landscapes and the images of flowers are considered to be universal.
In fact, there are much more cool ideas of posters for rustic wall decor, which you can buy at PrintMePoster.com. Just pick up the one you like and which will look harmonious in the room design you have.
Rustic Wood Wall Decor
Undoubtedly, wood is the most popular material for rustic interiors. It's used for furniture, wall paneling, doors and, of course, wall decor. The main plus of rustic wood wall decor is that it never looks as if it was made for mass market. Moreover, wood details make the interior look extremely cozy.
There are so many cool decorations, which can be made of wood. For instance, wood letters will help you to compose words. The "Welcome" sign can be placed somewhere in the hall or entryway. Or, you are free to write your favorite quotes with wooden alphabet.
You will be surprised how many cool paintings can be created on the pieces of wood or wood panels. It can be a silhouette of an animal, person or object, for example rustic star wall decor. Or, a real work of art may be created on the piece of wood.
Wood sculptures are rather common for country-styled interiors. Besides being of various sizes and shapes, they can be also of different colors. Though the natural wood colors are better for this type of home design, you are free to go brighter and get a wood decoration of red or green color.
Also, carved wood looks gorgeous. It makes the interior look more complicated and luxurious. Clearly, such a decoration can cost more than the other ones made of wood. However, it's impossible to substitute it with something similar.
If you need wall decor rustic, which will be not only beautiful but also useful, place the wood wall shelves. They will help you to store various things from kitchenware to a series of collectibles. They are available in various colors and designs. If you want something simple, opt for floating shelves. And if you are fond of uniqueness, seek for the creative variants of shelving.
Vintage Adornments
Frankly, some other styles can be incorporated in the country interiors. Thus, rustic and vintage styles can be astonishingly combined. It's definitely the best mix of the styles. So, if you have rustic interior, you can adorn it with vintage wall decorations.
First of all, you can seek for some antiques at the flea market. It can be a wall sculpture, a nice old frame or a collectible, which will stand on the shelf. Also, some old things can be found at your home. Maybe, you haven't even known about their existence. Don't concentrate on a single item. Several vintage decorations may look great if they are placed on the wall in the gallery style.
Various vintage signs may be used for rustic kitchen wall decor or for any other room. Old stamps may also help you to create an incredible wall decoration. Moreover, don't forget about vintage posters and pictures. Nowadays, you don't need to spend much time on seeking for them and can just order the print you like on the net.
Vintage maps look extremely cool. They will be liked by the fans of geography and history as well as by devoted travellers. You can hang one huge map. However, a series of maps in vintage frames looks unforgettable. It can be a challenge to get a real vintage map and so, you can replace it with a new print in vintage style.
Rustic Metal Wall Decor
Metal is also a widespread material for rustic wall decorations. However, while sleek silvery metals are used for modern interiors, the country style demands something simple, less sparkling and, maybe, vintage. That's why, the metal decorations are often black, brown or colored.
Rustic wrought iron wall decor is one of the best choices. Its plus is that it can be used not only in interior design, but also outdoors as it's very durable. For instance, it can be a large grille plaque. It looks cool in living rooms, entryways, on verandas and garden houses.
Wrought iron wall sconces for candles or electric lights are another way to add metal decoration, which makes the home look cozy. But you are free to choose any other piece from this material, starting from large wall decorations to tiny wrought iron details.
Also, various wall sculptures can adorn the walls. Frequently, the silhouettes of animals serve as rustic living room wall decor. The horse silhouette is one of the most popular. Also, nature- inspired sculptures are used, for instance, the ones featuring trees or flowers. And, of course, the abstract wall sculptures always look stylish.
Moreover, smaller pieces made of metal can adorn the walls. For example, metal letters may be used for creation of words and quotes on the walls. It can be a metal clock or a small decoration like a butterfly or a flower.
Repurposed Tools
Good news: it's not obligatory to buy rustic wall hangings. You can find them among the things you already own. What we like the country style for is that the repurposed tools can be used and they look no worse than new items. We are sure that you have some stuff in the garage or storeroom, which can be turned into cute wall decoration.
First, have a look at the kitchenware you have. Some items may serve not only for cooking and eating. For example, plates can be placed on the wall in the kitchen or dining room. If you have the colorful plates and the ones with interesting pattern, you will get a very cool wall decoration. Also, kitchen utensils, which help you in cooking, look great on the walls. And, if you have an opportunity to get vintage kitchen utensils, the kitchen design will be astonishing.
Window frames and shutters can be a basis for a great number of DIY projects as well as being used separately. Thus, you may take an old shutter, paint it in the color, which suits the color scheme of your walls, and place it in a bedroom or nursery. The same can be done to old window frames. Moreover, you can add some cute details like wreaths, flowers, bows etc.
Needless to say, the list of the items, which can be repurposed doesn't end here. It's impossible to mention all the items, which can decorate the walls. While the wood panels are often reused, there are much more creative variants, including hangers, ladders and, even, garden tools.
DIY Wall Decorations
Finally, there are so many ideas of rustic wall art decor, which you can do with your own hands. While it's hard to find DIY projects, which will suit contemporary interiors, there are a great number of various ideas for country-styled dwellings and many of them are very easy.
Firstly, you can create a painting. It's not necessary to be good at painting in order to create something cute. For instance, you can make an abstract painting on a canvas or wood panel. Or, using stencils, you are free to create patterns on wall, paper, canvas or a piece of wood.
Secondly, you can turn your hobby into wall art. Thus, if you are fond of embroidery, hang your pictures on the walls. The embroidered art turns any room into a very comfortable place. Or, if you like the decoupage technique, you can make beautiful trays, canvases and, even, decorate shelves with nice patterns.
Thirdly, many DIY decorations for home can be made from the materials, which you already have. For example, the leftovers of yarn can be turned into a gorgeous wall hanging if to tie them on a stick or branch. Or, the colorful buttons may help you to create cute textured pictures. The pieces of fabric are also often used for wall decor.
Of course, the choice is yours. But you see that there is nothing difficult in choosing the proper rustic wall decor for your home. You are free not only to buy a decoration, but also use the things you already have or create a cute DIY decoration. Moreover, remember that you can use several types of adornments if they are in the same style or color scheme.