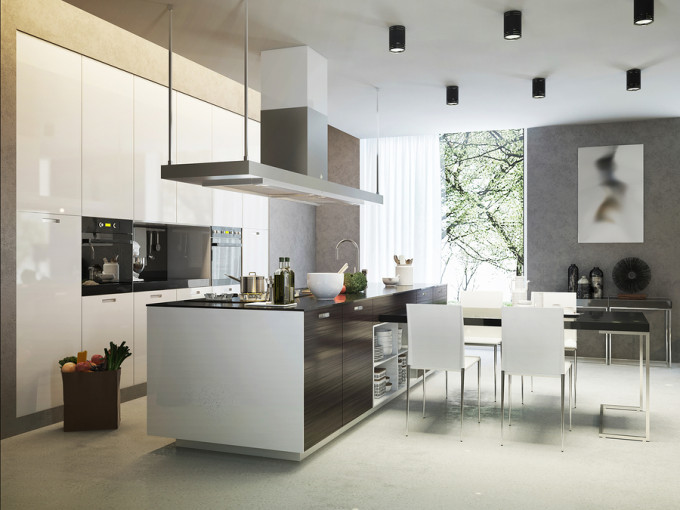 Kitchen Wall Décor Ideas: Tips on How to Decorate Your Kitchen Beautifully and Functionally
Nowadays, kitchen isn't only a room for cooking and eating. This place is as social as the living room and is very often considered to be the heart of the home. The whole family gathers in it every morning and evening and on weekends, we accept our guests in the same room. That's why, the decoration of a kitchen is also important.
Wall décor is one of the key issues in kitchen decoration as the walls shouldn't be empty and dull. They must attract attention and, at the same time, complement the existing interior design. The number of various kitchen wall decorating ideas is huge and everyone is free to find the one for him or her. In this article, we have gathered some ideas on how to make the design of your kitchen beautiful, stylish and functional.
Kitchen Decorative Tiles
Tiles are among the most frequently used kitchen wall décor ideas because of their functionality and ease of use. They are most frequently used as a backsplash behind a stove, on the wall to the underside of the upper cabinets or for flooring. The main plus of tiles is that there are so many possible designs of them that you are free to turn the walls into real kitchen art with the help of this ordinary building material. Here are some interesting ideas of how to use tiles for wall décor.
Burberry-Inspired Theme
If you are a fan of this brand or just like their famous raincoat pattern, choose such tiles for a kitchen. Such a design looks very original and cozy.
Black&White
Black and white colors are always in fashion and can be combined with almost all possible colors. Moreover, such elements look good in many styles. There are various combinations of how to us these colors for the backsplash. For example, a checkered design looks very fresh and innovative.
Moroccan Style
Tiles in Moroccan style are usually rather complicated either in form or pattern. However, they bring the unique atmosphere to your kitchen. If the kitchen is made in neutral colors, the selection of such a print will definitely enliven the room.
Metallic Kitchen Tile
Metallic tiles will help you to make accents on the places you want to highlight. It's especially good for modern kitchen designs, but it's also possible to use it with other styles. Moreover, such tiles are a hit now.
3D Design
If you want to add texture to the kitchen walls, choose tiles with a 3D effect. Geometric pattern, waves and mosaic textures are in trend now.
If you are fond of brick designs, use the tiles with a brick pattern. They are more functional than brick and are available in a greater number of colors and finishes.
Mosaic Tiles
Mosaic kitchen tiles are traditional. They always look good in any kitchen design. Moreover, many colors and patterns of mosaic tiles have appeared recently and so, the choice is incredible. An interesting way to place mosaic is the ombre effect, the gradual transition from one color to another.
Wood Tiles
Wood décor looks wonderful in kitchens. But, at the same time, it isn't the best material for decorating a backsplash as it's rather hard to keep it always clean. However, using tiles, which look as if they are made of wood, is a good way out.
Kitchen Posters and Pictures
A kitchen poster is an easy way to decorate a wall and get rid of the empty space. There are a great number of posters, which can be used for kitchen as many prints are available now. The most widespread variants are presented below.
Food Posters
What is the first word, which comes to your mind when you hear word "kitchen"? 90% of people start to think about food. In fact, kitchen is the only place in the house, where food posters look really organically. It would be strange if you place them, for example, in a baby room. The main rule when selecting a food picture is that it looks delicious and appetizing. For example, if you love to drink coffee, choose a poster depicting this tasty drink.
Vintage Kitchen Posters
Elements of the past epochs in interior designs have always been popular, but now, we are especially fond of them. They can be used in all the rooms, even in the bathroom designs. Such kitchen pictures for walls suit many styles from minimalism to modern. Usually, they are pictures of old advertisements, movie posters or magazines covers. In order to use such pictures, you don't need to make all the room design in retro style as such posters are considered to be separate pieces of art, which are timeless. However, you can face dome difficulties in finding a real retro poster as they are very rare. But modern companies will gladly print a new poster from any retro image.
Still life is the first picture, which comes to our mind when we think about the kitchen decoration. If you can't afford to buy a painting, photographic prints and reproductions of the paintings of famous artists will be of use for you. Still lifes with fruits, vegetables and flowers are most appropriate for kitchens. It's also advisable to avoid too dark colors. Warm hues are the best selection for the kitchen wall art.
Landscapes
This theme is always in trend. Pastoral motives, seascapes, city photos ― choose what is more pleasant for you to look at. It's important that the color scheme of posters for kitchen is harmonically combined with the room design. According to feng shui, it's better to choose a landscape, which has much green color on it. This color stands for the element "Wood", which is associated with the cooking process. Some elements of red color are also a good choice for a kitchen as red stands for "Fire" in feng shui and brings comfort and warmth to the dwelling.
Animals Prints
Are you fond of cats and dogs? Or you like more horses or to watch birds and fish? Or maybe you like the photos of wild animals? Kitchen is the place where you can combine fauna and art and make stylish and interesting wall décor. By choosing pictures for kitchen with animals, you will add an unexpected and personal touch to the room. While domestic animals look better in bedroom design, in kitchen you are free to use the animal you like. Wild animals like tigers or wolves look as nice as butterflies or rooster pictures for kitchen.
Art-Illustration Posters
A special place among kitchen decorating ideas wall art is occupied by art illustrations. Such posters and pictures are ideal for those, who can't afford to buy a painting. The variety of themes, genres and color palettes is limitless and everyone can find something for his or her kitchen. If you an art admirer, such a poster is for you.
Kitchen Wall Decor Ideas with Split Canvases
While looking through numerous kitchen wall art ideas, you will certainly pay attention to canvas prints. Canvases can also be organically integrated into kitchen designs of different styles. The themes may vary as well as the amount of canvases and their arrangement. Split canvases look very stylish and interesting as well as help to place the necessary accents. They help to create the complete image of the room, complementing the existing interior with exclusive details.
Split canvases are pictures, consisting of several elements. All the parts are made in the same style and are united by a common theme and color palette. Or, it can be one image, divided into several parts, which are perceived as a whole. Such wall art remains unframed and its parts are located on a short distance from one another.
The number of panels for such wall art varies, but starts from two. If it consists of two parts, it's called a diptych; if it contains three panels, it's called a triptych; if it has four or more panels, it's polyptych. The segments can be placed horizontally, vertically, diagonally or chaotically. The most important is to follow the rules of composition and not to lose the common storyline.
The picture, which will be used for the kitchen wall décor, needs to be appetizing and not to repel. Split canvases for kitchen look very nice in combination with monochromatic walls, not overloaded with additional images.
It's necessary to place split pictures in the centre of the wall. The optimal height is at the level of eyes so that everyone will be able to see all the details of the image. If you place the images too high, the viewers will have to lift their heads and if too low, your guest will have to tilt heads. Each picture should also be well-lighted, but, at the same time, not to be exposed in the direct sunlight.
We hope that you like our kitchen ideas and they will help you to create the unique design of your kitchen. Remember that, first of all, your kitchen needs to be comfortable and cozy for you. It has to be functional to make the cooking process easy and enjoyable. Think over all the details and write a plan before starting to change the room interior.