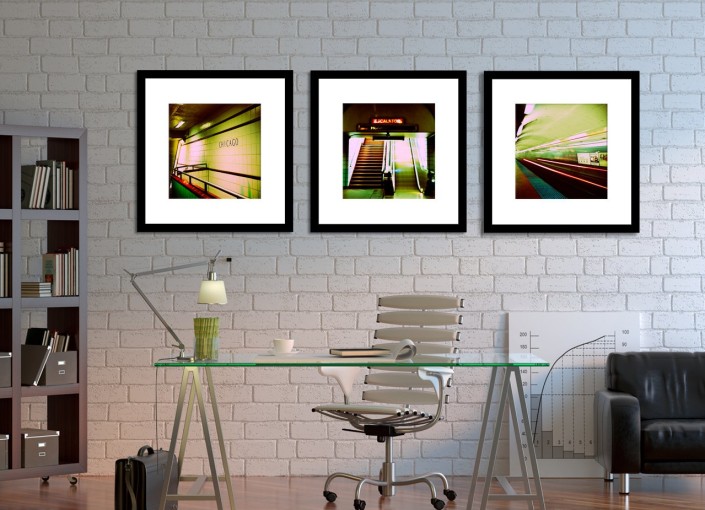 15 Ideas of Office Wall Decor You Will Fall in Love With
Unlike your home adornment, you can't choose any item you want for office wall decor. There may be some rules in the office and, moreover, it's a bad taste to turn your working place into storage for a great number of things. But, you always have a chance to add a bit of personality to your office or cubicle.
Among all the office wall decor ideas, we like the most the following 15 adornments. So, let's have a closer look at them.
Items Related to Your Job
First of all, the decorations can be dedicated to your company specialization. It can be a print, related to your job, a product your company releases or some instructions/rules, which will be necessary for your work.
Thus, a healthcare print can be used for medical office wall decor, while a representative of the kids' items company may place a toy on the wall shelf. In addition, the common area can be adorned by the funny prints, which will raise the mood of your co-workers, or the company rules posters.
Wall Organizers
If you seek for functional wall decor for office, you definitely need to seek for organizers. It's very convenient to have the items stored on walls as, in such a way, you will make your table less cluttered and tidier. Moreover, you will always know what lies where.
There are many interesting designs of wall organizers of different sizes. They can be made from various materials and in a great number of color schemes. Moreover, if you have some spare time, you may save money by making an organizer with your own hands. In the result, you will get an item, which will be adjusted to all your needs.
Chalkboard
Want to recollect your school years? Place a chalkboard in your office. While, the majority of work is performed on a computer and the majority of notes are made on paper with a pen, it will be very cool to do that on a chalkboard. Besides being a useful tool, a board is also a creative wall decoration.
It's very convenient to have a chalkboard. You are free to write the notes, which will help you in your work, appointments and tasks you need to do. Or, you may simply write there motivational quotes, your thoughts or draw pictures.
Motivational Prints
Motivational posters are one of the most widespread types of prints at offices. They are rather universal and can be hung in some common areas, like a hall or canteen, as well as be used for cubicle wall decor. Moreover, inspirational prints often serve as home office wall decor.
The prints with the well-known quotes are suitable for any place and any person. You may also choose the phrase, which inspires personally you. You are even free to order a custom print with your personal motivational phrase. In addition, inspirational prints don't always contain words. It can be just a picture, which pushes you to action. It can be a photo of your family or a beautiful landscape print.
Wallpaper
At first sign, it seems a bit weird to offer wallpapers among office wall decor ideas, but if to consider this variant in more detail, you will understand why we have included it to our list. Don't imagine the ordinary wallpapers. Give preference to self-adhesive wallpapers, which are attached to the walls like ordinary stickers.
Clearly, the variant with wallpaper works only if you have a separate cubicle. It's not necessary to cover all the walls with it. Just make an accent on one wall or even a part of it. The prints can be different. You can opt for romantic flowers or creative art patterns.
Bright Stationery
The happiness is in small things. Thus, when you think about how to decorate office walls ideas, don't forget that stationery also helps in creating cool atmosphere at your working place and you are free to store it not only on the table, but also on the walls. In the latter case, the wall organizers will help you to arrange all the items beautifully.
It's astonishing when all the stationery is of the same style or in the same color scheme. There are some ready sets for sale. But you are also free to combine the things you like yourself. While choosing, give preference to unusual and cute items. They will make your working day funnier.
Shelf
Basically, a shelf isn't simply a decoration, but is necessity. It helps to get rid of the clutter on the working table as well as serves as a cute decoration. Besides, stationery and other working stuff, you are free to place there some pictures, your family photos and, even, a small series of collectibles.
When you use a shelf for wall decor office, it doesn't mean that you need to opt for the simplest variant. Depending on the size of your working place, you may locate a small floating shelf, several simple shelves or seek for unusual shelf variants and sets of shelves. You are free to use open and closed shelves and their combinations.
Personal Photos
When we are at work, we often lack our close people. But you can use their photos for wall decor for office. Clearly, we talk only about your personal working place. One or two photos of your family or friends will raise your spirits and inspire for working. You can also use your personal photos or the ones of your pet.
However, don't turn your working place into a photo gallery with dozens of photos from various events. Remember that you still need to work and not devote all the working hours to looking through the photos.
Creative Calendar
Functional office wall decorations can be also in the form of calendars. Though the majority of us use calendars on our smartphones, sometimes, it's very convenient to have the one in front of you during the working day, for example, when you talk to the boss or client on the phone.
However, we don't recommend buying ordinary calendars as they are too boring. Believe, there are many creative designs of calendars in various colors and themes. Moreover, it can be of unusual form. Or, you are also free to order a custom calendar with the images you like.
Nature Prints
Frankly, there is nothing so universal as nature prints. They can adorn homes as well as offices and many other places. At work, such a print can be placed everywhere, from the reception to the executive office wall decor. It can be an integral part of the design in all possible styles and color schemes.
The office wall with a nature poster looks more vivid and interesting. The nature always looks colorful and so, it's a great way to add vividness to the interior without much effort. You are free to use the images of landscapes with forests, mountains, flower fields as well as more detailed ones like a picture of a flower or a tree.
Lamp
If you have to work with papers, you definitely need a lamp at your working place. As a rule, a lamp just stands on the table, but you are also free to use it as an office wall decoration. If you have a shelf, you can locate the lamp there or there are such lamps, which are attached to the wall. If you seek for creativity, you may find cute lamp designs, for instance in the form of tetris.
Besides being a decoration, a lamp also adds intimacy to your working place and makes the ambience cozier. Instead of the lamp, you may use wall sconces and attach them directly to the wall. Don't think that they can be used for large walls only. They may look cute even in a cubicle if to choose them properly. Thus, the most important is that the light doesn't create any inconveniences for you.
Abstract Art
In fact, you can see abstract art at the majority of modern offices. Its major plus is that it can be used at companies of any specialization. The abstract office wall art decor always looks stylish. As a rule, the walls in offices are of neutral colors and so, almost each combination of colors can be applied.
The art print or painting may decorate the common places at office and your personal cubicle. Often, the large or even huge prints are hung at receptions and conference halls. If you want to use art at your cubicle, opt for smaller pieces. A5 and A4 formats will be enough. A3 can be also used if you have enough free space.
Wall Stickers
Wall stickers are the quickest and easiest wall decor ideas for office. You may use one large sticker for decoration or a series of small ones, which create a certain pattern. All types of stickers are easily applied and removed. So, you can change them with no efforts as soon as you get tired of them.
The stickers designs differ. The ones with quotes are pretty popular. They are used instead of motivational posters. Also, you can decorate the cubicle with some small cute adornments. For instance, a silhouette of a cat or dog will look nice. Or, you may adorn the walls with geometric patterns.
Hobbies Art
Hobbies can become a part of both ordinary and home office wall decor. Of course, you shouldn't turn your office into storage of things you are fond of. But just a couple of cute accents will add warmth, coziness and personality to your working place.
For example, many people love travels. That's why, travel prints and items, brought from various parts of the world will look nice. You can have a look at an amazing selection of travel posters on our site, which will be liked by everyone and not only devoted travelers.
Or, if you are fond of dogs, you may adorn the walls with dog prints, stickers and collectibles. The fans of tennis may decorate the walls with tennis balls or images, dedicated to this kind of sports, while the stamps collectors will be proud of demonstrating something from their collection. This list has no end as you are free to show your personality through your hobby decor.
DIY Art
And, finally, wall decorations for office can be made with your own hands. There is nothing more personal than the art, which you create yourself. Impress your colleagues with a cute piece, which shows your creative mind.
For instance, it can be a wall garland, made of tissue paper, or an abstract art, painted by you. Also, nice art objects can be made with the help of stationery, for example a collage. Moreover, the decorations can be dedicated to certain holidays. Thus, on Halloween, you may add a scary mask and on Christmas, decorate the office with a beautiful wreath.
To sum up, our post proves that it's cool to have personalized office wall decor. You are free to show your personality and turn your cubicle into a place it's a pleasure to work at. However, it's important not to overdo with decor. Give preference to one or a couple of items and you will witness how your office turns into a pleasant and cozy place.