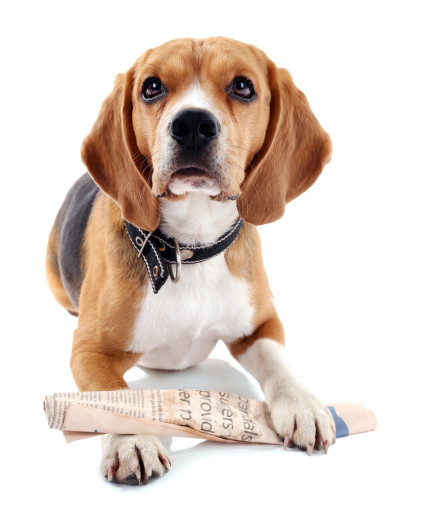 Dogs Posters, Pictures and Other Kinds of Wall Art
A dog is a man's best friend. Every dog owner or just a person, who is fond of these pets, will tell you that these words are absolutely true. These creatures are very faithful to their owners and provide them with unconditional love, loyalty and companionship during the whole period of their life. No pet can be as friendly as a dog. It doesn't matter to a dog if you are rich or poor, young or old, if you are of a high social class or low. It is always happy to see you no matter the situation. Maybe, that's why, we are so fond of these friendly and clever animals.
Very often the fans of these cute animals have some dog wall art at their homes. And it isn't strange as even simple doggie pictures bring warmness and coziness to the atmosphere of the room. It seems to be something incredible, but these pets can cheer you up even with the help of a photo. Let's consider the most popular types of decorations with dog images.
Dog Posters
There are so many posters of dogs that you can get confused while choosing the one for your home or office. You can find the posters made of dog photos, reproductions of paintings, funny and cute images or serious informative posters as to the dog breeds. The themes and styles vary, but all of them are outstanding. Posters with dogs will be a good decoration for your home. Wherever you place it, you will definitely win as when returning home, you will always face those clever and kind eyes.
Puppy Posters
This kind of posters is the most touching one as nothing can be cuter than a puppy. Recently, the scientists have stated that kitten and puppy prints increase the efficiency of work, coordination, attentiveness and concentration. After looking at puppy posters, the test subjects managed to cope with difficult and delicate tasks more successfully than the people, who had a look at the photos of adult dogs. Such images also influence positively those, who do much office work or drive a car. They help to optimize the day and contribute to positive thinking.
Dog Breed Posters
Don't think that dog breed posters can be used in vet clinics only. If you are fond of dogs and want to know all the breeds, feel free to place such an informative poster somewhere in your house or office. Thus, you will, firstly, have an opportunity to get more knowledge and, secondly, have a look at the representatives of different breeds. There are also such posters, which not only contain an image of a dog and its photo, but also some additional information as to the origins of the breed and the dog's merits and demerits. The posters of such a type are also suitable for children's room if the kids love these pets.
Funny Dog Posters
If you want to add more cheerfulness to the walls, select one of the funny dog posters. They will raise your mood immediately after you have a look at them. The funny posters can be different. They can feature dogs, dressed up like humans or wearing interesting accessories like hats or glasses; dogs, sleeping in funny positions; yawning dogs; naughty dogs; guilty dogs etc. There also some funny dog demotivators and pictures with quotes or jokes.
Dogs Silhouettes Posters
Such a simple element as silhouette looks very stylish and original in the interior. That's very important to choose the right setting for a silhouette, which will be a small, but interesting accent in the room décor. Silhouette dog prints can suit any type of interior design from minimalism to art deco. They can be usual black on the white background or you may seek for something more interesting, for example like a retro black silhouette on a patterned background or the white one, surrounded by bright colors. If you like hints, allegories and reading between the lines, such a poster is for you. It will add a note of mysterious understatement to the interior.
Vintage Dogs Posters
Vintage dog wall decor is beyond time. Retro posters can be treated as separate pieces of art and can be used at home, office or, even, public places. Usually, they are old advertisements or magazines covers. However, it's rather hard to find the real vintage posters nowadays. You can either seek for modernized retro posters or make your own design and ask a poster printing company to turn it into a dog print.
Dog's Paws and Noses Posters
Dogs' paws and noses look very cute. That's why some people decide to choose a poster, depicting not a dog, but its part. Such posters look more intriguing and interesting. They make people think about how a dog looks like and, at the same time, feast their eyes on the cuteness of their nose or paw. It's also possible to choose silhouettes of dog's paws. Such a print is rather popular nowadays and is used in many spheres, not only as wall art.
Pop Art Dog Posters
Such prints are for the bravest and the most original people, who aren't afraid of experiments and like to stand out from the crowd. Very bright and expressive pop art prints are usually chosen by active, cheerful and young people. Their color scheme is usually a combination of various bright colors, different patterns and textures. Frequently, such pictures include also various inscriptions or small texts.
Dog Art Prints
Canvases Made of Dog Prints
An interesting substitution for a dog poster is a canvas print. It looks more like a painting than a poster and costs much less than a real painting. Many art admirers use canvases not only because they want to save money, but because canvases may add a special look to a room or any other place, where they are used. Today, it's very popular to decorate walls with split canvases, when the pic of dogs is broken into several smaller parts, which are printed on separate pieces of canvas.
Photos of Dogs
Photos of dogs are the simplest way to decorate a room or office. Don't think that only professionally made photos can be used. Sometimes, the amateur photos look more touching and interesting. Moreover, dogs are very good models. You just need to watch them and make as many photos as you can and, as a result, you will get, at least, a couple of photos, which can be printed and used as a piece of dog art. It's also a nice idea if you place a series of photos, depicting not only a dog, but the photos of the members of your family and you together with your pet. You are free to make a collage as well.
Dog Pictures and Illustrations
Pictures of a dog are for those, who probably have no dog, but still like these animals. The pics can be of different styles and sizes. While choosing what dog pictures to print, take into account the room décor and select the images, which will look harmonious with it both in color and style. The illustrations are more suitable for children's rooms. The dogs from the animated movies and cartoons, which your kid is fond of, will definitely be to his or her heart.
Other Kinds of Dog Wall Art
Paintings of Dogs
The dog theme has entered the art a long ago. There are many old paintings, which depict dogs and cost a fortune now. But if you aren't a millionaire but still are fond of art, choose a painting of your favorite dog breed, created by a less known author. There are also paintings, the themes of which aren't concentrated on dogs, but depict them, for example, a portrait of a person and his or her pet or the picture, showing how the men hunt for a fox with a couple of hunting dogs. In addition, it's also possible to order a painting, made of a dog photo. Thus, you can make you lovely pet immortalized in art.
Watercolor Dog Art
The watercolor technique looks very impressive. It's not similar to other kinds of paintings not only because of the paints and the method of applying them, but also because of the results. If you have no opportunity to get real paintings, it's possible to find similar prints. Watercolor dog art prints are available at live or online poster stores or you can ask to print a special watercolor poster for you.
Dogs Stickers
Wall decals with dogs images are a very easy way to add some dog hints to your home. The stickers, featuring many dog breeds, are for sale now and you will definitely find something for you. The black silhouettes of dogs look very nice and it seems that you have a dog, even if you have never had. Moreover, stickers are easily attached and removed and so, you are able to change the design every time you get tired of the old one.
DIY Dog Art
If you are a creative and talented person, you can make the dog art with your own hands. There are various diy projects with dogs, which can be easily implemented into life. For example, you can make a dog silhouette of the materials, which you have at home. Below is an example of a dog image made of paper flowers.
We hope that you enjoyed our pieces of advice as to how to add some dog hints to your home or office décor. Now, you have to solve a difficult task and decide which of the proposed variants is the best option for you.