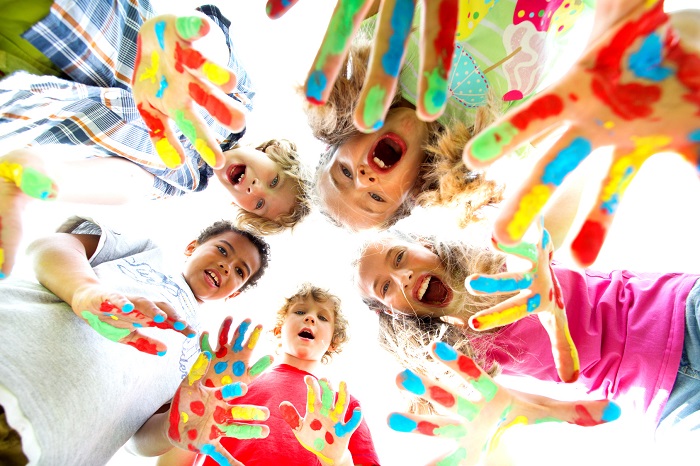 Kids Posters: What Prints Are Suitable for Children's Rooms
The decoration of a child's room is a complicated process. Not everything we want can be used there as images may have a certain influence on the kid and you must do your best to make this influence only positive.
Kids posters need to be bright and colorful. When the children wake up in the morning or go to sleep in the night, something beautiful and positive must decorate the walls of their rooms so that they feel cheered up.
There are many ways of how to decorate the walls of kids' rooms with posters. However, while choosing a certain print, you also need to take some things into account. Let's consider what you need to know before choosing a poster for kids and what images are appropriate for their rooms.
What to Take into Account While Choosing Posters for Kids Room
Though posters can be used for the rooms of children of different ages, there can be some age specifications. The wall decorations for toddlers differ from the ones, used for teenagers' rooms. As a rule, the younger the child is, the simpler the art is.
While the toddlers are happy with simple and iconic images, the teenagers seek for something more complex and unique. The color preferences may also change. The little children love everything bright and vivid, and, at the same time, the older children may be impressed by subtle shades as well.
While choosing the wall posters for kids, you need to take into account their preferences. Of course, this rule still doesn't work for little babies, but toddlers may already have some interests and it's great if you can reflect them in wall art. It doesn't matter how stylish and beautiful print you buy, if you child doesn't like it, there is no sense in placing it in his or her room.
The prints must also match the baby room design. When you seek for the proper image, try to imagine how it will look in the room. The colors of the images need to be well-combined with the color palette of the room while the image must complement the room theme.
And, of course, all the images, used in kids' rooms, must be only positive. A baby room isn't the place for aggression and violence. Thus, a battle or cold war kids poster isn't appropriate for the kid's room, while such prints can be used for their education at school.
Nursery Prints
By placing an artwork in a nursery, you will provide it with a special spirit. As, at this stage, the baby isn't able to reflect his or her attitude to the images, you are free to choose the décor, which is more associated with your kid. For example, you can decorate the room with some fantastic prints like the ones of unicorns or other fantasy animals if the birth of a child is a real miracle for you.
Toddlers' Art Prints
At this age, the kids already have the favorite toys and activities. That's why, if your kid's favorite toy is a teddy bear, you can add its poster to the wall décor and if he or she is fond of a certain cartoon character, this also can be used for the design.
Moreover, this is the age, when you can start to teach your kid. The colorful educational prints, which tell about the basic things, like colors or animals, will be useful both for your child and his or her room décor.
Images for Younger Schoolchildren's Rooms
Being the pupils of the elementary school, the children become very creative and many of them like various crafts. Such hobbies will be great for the wall décor as they will represent your child's interests.
Moreover, you may help your child to succeed in learning by placing the posters, which will help him or her to study. The alphabet with colorful pictures or the elementary maths posters can serve not only as classroom prints but also be used for home education.
Posters for Teenagers
Teenagers are the most demanding public. Sometimes, it's rather hard to satisfy their needs and that's why it would be good if you choose the art together with them. Thus, both you and your child will be content with the results.
As teenagers may have a number of hobbies, the things they are interested in can be depicted on the poster. If your daughter likes dancing, choose the prints of dancing people, if your son is fond of cars, choose the image of a cool sports car and if your children love nature, give preference to the images of flora and fauna.
You can also hang the posters, connected with your child's active social life. For example, if he or she takes part in the school elections, you can hang the campaign posters for kids, which call to vote for your offspring.
The Useful Poster Ideas for Kids of All Ages
The following kinds of posters are the ones, which can be used in the rooms of children of different ages. They don't only decorate the room, but also teach, inspire and motivate.
Inspirational Posters for Kids
The posters, which you select for a kid's room, may inspire. Many images may arouse interest to certain things. For example, a poster in the sports thematic can push forward to doing morning exercises while the image with the music notes can provoke interest in music.
Motivational posters for kids may contain the cheerful phrases, for example like "Dream Big", or the quotes of famous personalities. However, don't use too long and boring phrases as the inspirational posters need to be perceived immediately.
Educational Posters for Kids
A kids poster can be used not only for decoration but also for education. To place educational prints is very useful as children usually investigate their rooms thoroughly and that's why the attention to the poster is guaranteed.
The poster, featuring a map, will help to open the mind of your kid. It can be a traditional design of the map or a world map poster for kids, which contains bright pictures. For example, a world map can be presented as an animal map, in which each country is associated with its fauna representatives.
Or, the prints of the alphabet may help your child to learn reading. In order to turn learning of letters into a more interactive process, choose the posters, where the alphabet is presented not only with the help of letters but also colorful pictures.
Science Posters for Kids
Science posters are very useful for kids as well. They may provide with the basic knowledge in any sphere and contribute to the future development of the child.
Kids are fond of dinosaurs and like to study them. The dinosaur posters for kids will look cool in their rooms. They may feature the kinds of dinosaurs, their history and characteristics. The prints can contain the cartoons or the images of dinosaurs, which look extremely realistic.
Many children are also interested in astronomy and like to investigate the space. You can cheer them up by presenting a poster with the images of space, astronauts or the Solar system. The NASA posters can be also used, but, as a rule, for older children.
Animal Posters for Kids
It's a fact that the images of animals look cool in the décor. For example, horse posters for kids are a very good choice. These animals impress by their strength, speed and gracefulness. Their photos often provide with additional energy and inspire.
The images of pets can be also used in a kid's room. Cats or dogs posters are most frequently used. Very often, children want to have a cat or a dog, but the family can't have it because of a certain reason. By placing a print with the pet you kid wants, you will partly satisfy his or her needs.
Kids Room Posters, Showing Their Hobbies
If your child has a hobby, you can show that in the décor of his or her room. For instance, if your kid likes music or even learns to play a certain musical instrument, you can choose a print, featuring the music notes, instruments or the photos of famous musicians.
If your kid is fond of westerns, you may hang a kids wanted poster. Of course, a wanted poster for kids doesn't feature any violence. It may be just used for the décor or you may buy a template poster and add there the information you want. For example, it can be a print, telling that your kid is wanted for a certain bad deed, like not putting the toys on their places or offending the younger sister.
The Possible Variants of Cool Posters for Kids
However, it's not obligatory that a poster teaches something. The prints can be used just for decoration and aesthetical pleasure.
Art Prints
Art posters are suitable for any room in the house, including the kid's one. While choosing a print for the decoration of your child's room, you need to think about its positive influence.
It's better to avoid too aggressive images and dark colors. Choose the prints, which provide only with positive energy. It can be an abstract art, a printed version of a painting or a piece of modern art.
Cartoon Kids Wall Posters
Almost all children like cartoons. The images of their favorite personages will be an amazing decoration for the room. As a rule, they are bright and funny. Moreover, your kid will be delighted with having such wall art.
It's also possible to use the cartoon images, which aren't connected with the animation films or comics. For example, the image with funny owls above looks astonishing and is a brilliant variant for a kid's room though the characters aren't famous.
Funny Posters for Kids Rooms
Children like humoristic and funny images. To have the one or a couple of them in the room, is a way to raise the mood of your child, every time he or she gets frustrated.
There are many things, which can make a kid laugh. The image may feature a certain comic situation, a funny personage, a funny photo of a dog or any other animal, a humoristic phrase or a funny inspirational print.
Kid's Craft Prints
All kids try their hands at certain crafts. It can be painting, knitting, embroidery, origami or any other type of art. Children like to create something, while their parents are proud of their offsprings' achievements.
Why not immortalize your kids' art? It's possible to make the high-quality photos of what your child did and turn them into wall posters for their room. Believe that such wall art will look amazing and extremely cozy.
So, you see that the use of posters for kids is rather widespread. Now, you have some ideas of how to choose the prints for your kid and know what is suitable for his or her room décor. However, besides our pieces of advice, take into account the personality of your kid and his or her preferences.