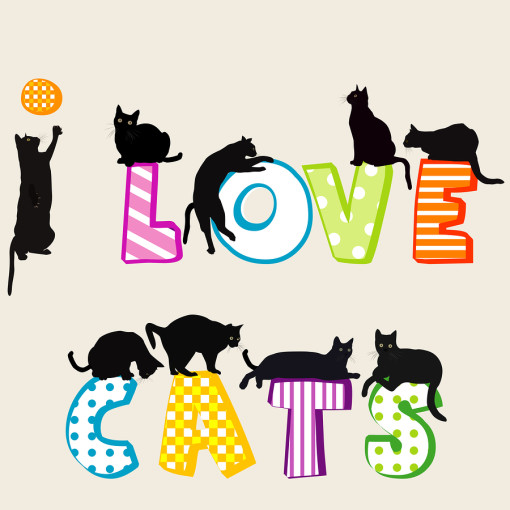 Cat Wall Art: Cat Posters and Images for the Interior Design
Though a cat was domesticated long ago, this animal is still very mysterious. Some cultures considered it to be a sacred animal while the others thought that a cat is an offspring of Satan. Nowadays, cat is a pet, which is admired by millions of people around the world.
Cat inspired home décor is used by both cat owners and those, who like these animals, but aren't able to have them at home due to certain reasons. There is abundance of various cat images, which can be used for posters or other kinds of decorations. Let's consider their types in more details.
Funny Cat Posters
What can better raise your mood than a funny cat poster? It doesn't matter if it's a funny cat poster hang in there or the one, showing cat's laziness; almost any found cat poster is cute.
Cat Demotivators
You may find a great number of cat demotivators around the net, which have to do with numerous themes. Cat demotivators can be printed and mounted to the walls as well. They are a good choice if you want to add irony or even sarcasm to the room décor. They are most frequently used for teenagers' rooms.
Guilty Cat Posters
Guilty cats look very cute. If you were able to catch a moment and make a photo of your cat after it had done something bad, have it printed. If not, there are many ready images of guilty cats and you may choose the one you like and turn it into a funny poster.
Grumpy Cat Posters
Grumpy and angry cat photos are seldom used in interior design as people usually prefer more kind and relaxing images. However, sometimes angry cats look very funny and that's why, if you and your close people have a good sense of humor, you are free to place such an image in a living room or kitchen.
Lazy and Sleeping Cat Posters
It seems to us that cats are very lazy. However, looking at their poses when they sleep or have a rest, we can state that they are real artists. They sleep so artistically that it's impossible to refrain from making a couple of photos. Such photos act very soothingly and so, it's better to use them in bedrooms.
Cartoon Cat Posters
Cartoon cat posters are a very good choice for a baby room design. The variety of cartoon cat images is great. It can be a Cheshire cat poster from Alice in Wonderland, a Hello Kitty image or the illustration from any cartoon, which your kid is fond of.
Inspirational Cat Posters
Cat posters can also be inspirational and motivational. They usually consist of a cat photo and an inspirational phrase or quote, for example like hang in there cat poster image. However, in some cases, even a photo without any words may motivate.
Hang In There Cat Poster
A cat hang in there poster will motivate you to never give up and always follow your dream. It can become a nice decoration for your working place, which will constantly push you forward. In addition, a hang in there poster cat can be used as motivational gym décor.
Cat Posters with Inspirational Quotes
A motivational cat poster with a quote can be used not only in home décor, but also at offices, public places and anywhere. Though such posters are a good way to get rid of blank walls, their main function is to inspire you. While choosing such a poster, give preference to the one, in which you like both the cat image and the quote. It's very important that the phrase on the poster coincides with your life principles. That's also a wonderful idea to print such an image on a custom T-shirt.
Cat Couples Posters
A cat couple poster is suitable for the bedroom wall décor, especially in the room of a young couple or newlyweds. The hugging and sleeping cat couples look extremely lovely and romantic and will help to create such an atmosphere in the room.
Cat with Kittens Posters
The images of cats with their kittens look wonderful in every room. They add the feeling of comfort and coziness to the design. They are ideal for big families or people, who appreciate house and home.
Other Kinds of Cat Posters
Besides funny and inspirational posters, there are also some other types of cat images, which may be used for your home décor.
Cat Silhouette Posters
Silhouettes of cats look stylish and expressive. They may become a nice addition to the room decor. There are various designs of cat silhouettes. You can choose the ordinary black cat poster on a white background or be more creative and choose, for example, a patterned background or a bright silhouette. Moreover, you may use not a single silhouette but several ones, for example a couple of cats in love. The posters of such kind will look organically in various types of interior decor.
Cat Breed Posters
Cat breed posters aren't used only at vet clinics. They can be a decoration for your home as well. Such a poster will not only decorate the wall but will also have an informative function as with the help of it, you and your guests will be able to discover various cat breeds.
Kitten Posters
Little kittens look extremely cute and charming. Not long ago, the scientists have proved that kitten images may help to increase the productivity of work, coordination and concentration. If you have kitten posters or images at your office, you will be able to cope with difficult tasks faster and more successfully.
Vintage Cat Posters
If the design of your apartment is in retro style, you are free to use vintage cat decorations. For example, you can hang a French cat poster (Chat Noir). This poster is one of the most popular ones in retro style. The original posters were used for advertising the performances and concert tours of Chat Noir cabaret. However, there are also many other variants of cat posters in vintage style.
Cat Wall Art
Cat posters aren't the only way to add a cat touch to your dwelling. There are a great number of other kinds of cat wall art. Several examples are listed below.
Cat Paintings
A cat painting isn't the thing, which everyone can afford as it usually costs a lot. The paintings are always in trend and they never come out of fashion. They may feature only a cat or a cat with its owner. You may also order a personal portrait of you and your pet. If it's too pricy for you, you may order a canvas print. It costs cheaper and looks similar to a real painting.
Cat Watercolor Paintings
Watercolor pictures are very beautiful and cat watercolor paintings look especially good. Today, it's quite widespread to buy not real handmade pictures, but the printed ones. They are cheaper and brilliantly transmit the watercolor effect.
Cat Pop Art Prints
Pop art style is incredibly popular nowadays, especially among youth. It's usually a combination of different colors, textures and patterns. It may even combine the incompatible things and various styles of art. Such a cat print perfectly suits the interior design in modern and high-tech styles as well as loft-style apartments. If you are creative and active, you will be definitely satisfied with such a piece of art. Dog posters in such a technique also look wonderful.
Cat Stickers
Wall stickers with cat images are a very convenient tool for wall decoration. There are hundreds of possible designs of stickers, but the most popular ones are the stickers of cat silhouettes. They can be used for everyday design or on special occasions, for example, for the Halloween decor.
DIY Cat Art
If you are a creative personality and frequently do diy decorations, you can try to do some cat art. There are many variants of how to make cat-inspired things for your house. For example, you can make a cat silhouette out of beans or coffee. If you are a fan of embroidery, you may embroider a cat picture.
So, you see that the cat lovers have a great choice of various kinds of cat wall art for their homes. It can be just hang in there cat poster or a more complicated piece of art. The most important is that you enjoyed looking at it and it looks organic in your interior design.