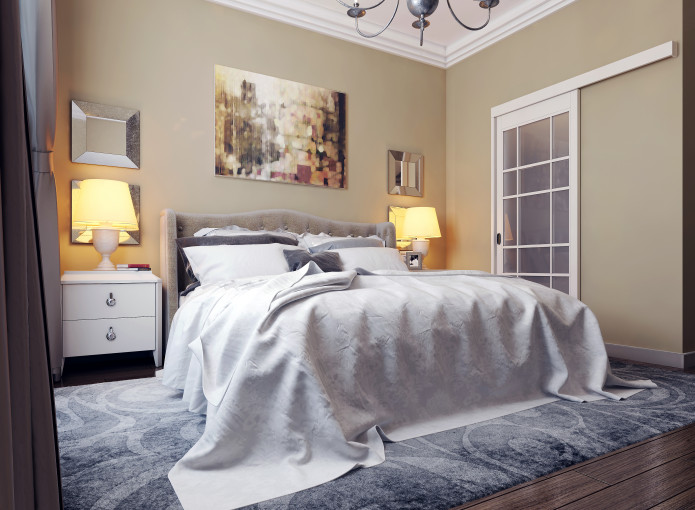 Amazing Bedroom Wall Decor Ideas
Bedroom is a special place in everyone's house, the place where you can have a rest from the everyday routine and forget about your problems. As this place is so special, it needs special decor. While choosing from a wide range of various bedroom decorating ideas, you need to take into account numerous factors, including age, marital status, room size, furniture and walls colors.
Décor can change the aesthetic of a room in a moment. That's why, you need to think carefully what you need: a quite landscape painting or a sophisticated canvas, framed or unframed art, one large piece of art or several small ones. However, the most important aspect in choosing decorations is how they combine with the interior of the whole room. You can either choose a piece of art, which is close to the color palette of the whole room or the one, which stands out, producing the extra wow effect. The most important is to reach harmony between the room design and artworks.
We would like to offer you some bedroom wall decor ideas, which will help you to understand what you need and become more qualified in interior design issues.
Bedroom Paintings
Paintings are always in fashion. Every painting has its emotional charge, which influences us. That's why, while choosing wall art for bedroom, you need to listen to your heart and appeal to intuition. The most frequently used themes of pictures for bedroom walls are flowers, landscapes, animals and abstract art. At the same time, still life and pop art paintings aren't usual guests in bedrooms; they look better as kitchen wall art or in the living room designs.
Flowers
You will never go wrong with flowers. But, keep in mind that different flowers have different kinds of energy. According to the feng shui studies, the best flowers for bedroom paintings are:
Cherry Blossoms represent freshness and innocence. They are ideal for a newly married couple.
Peony Flowers attract love, romance and warmth if placed in rooms of single people. But, married couples should avoid this flower.
Roses help to improve the relationships between the members of the family.
Orchids mean love, beauty and fertility. They are ideal for lovers and married couples.
Lotus stays for good health and harmonious living.
Narcissus is the flower of career and education. It brings good luck and prosperity.
If you decide to use a landscape in your bedroom decor, choose the one, depicting good and calm weather. The pictures of storms, hurricanes, rains and other cataclysms are a forbidden theme for bedrooms as they bring bad and aggressive energy.
Animals and Birds
The images of animals and birds usually evoke positive emotions and the desire to take care of close people. However, it's not recommended to use the paintings of predators and other aggressive animals. It's also good to place a painting, depicting a couple of animals. Such a picture will bring harmony to your personal life.
Abstract Art
The main advantage of abstract art is that it suits every room, including a bedroom. While choosing an abstract painting, you need to pay attention to its colors and significance. A piece of abstract art for a bedroom must provide you only with good and positive energy. If the image you want looks too bright or too aggressive, it's probably that it won't bring harmony to your home.
Bedroom Posters
The use of posters for bedroom is an easy, affordable and effective way to decorate the room. A great variety of formats, styles and themes afford to place a poster in the interior design of all possible styles.
The posters can even change the whole atmosphere and mood of the room. There aren't any strict rules in choosing pictures for bedrooms, but, generally, it's better to decorate the rest rooms with static compositions in natural or black &white colors.
If you want to visually expand the space of the room, choose a dynamic image, nature or city photos. Besides, some companies deal with printing custom posters and that gives you an opportunity to order the image you like, even if it's not for sale.
Nature-Inspired Posters
If you don't know what poster theme to choose, select the nature-inspired one. It's a universal theme, which suits every type of a room. However, be careful with the image itself. Just like in the case with landscape paintings, it's better to choose calm and placatory images. Cool breeze and greenery soothe the nerves, flowers and botanical prints have a relaxing effect. The photos of mountains, horizons and fields make the room look bigger.
Vintage Posters
Vintage posters look extremely good in traditional bedroom design, but can also be used for other styles, even the modern one. Such bedroom wall decor ideas are beyond time and can be considered as separate pieces of art. Vintage images are available in various themes: from rare movie posters to flowers in pastel colors.
Nowadays, it's very popular to decorate walls with pinup images or pictures of old and rare cars. Today, it's rather hard to find original antique posters, but there is a way out. Numerous companies offer new posters, stylized in retro style.
Travel Posters
If you are a travel admirer, you can bring a part of your adventures to the bedroom. You can either buy ready travel posters, depicting famous sights of different countries or turn one of your own travel photos into a poster. Remember that your bedroom is a place, which needs to be filled with the things you like and that's why, the pictures for bedroom need to reflect your character and soul.
Black &White Posters
Classic black &white pictures suit almost every interior from traditional to high-tech ones and are used in all the rooms from living room to bathroom designs. They never come out of fashion and, unlike colorful pictures, don't distract a viewer's attention by extra details, but help to concentrate on the image itself. Black &white images of various themes can be used for bedrooms as well as black &white photos.
Art-Illustration Posters
Art-Illustration posters are a good way out if you can't afford to buy a real painting. Here, you have a limitless choice of all possible themes, color schemes and images. The poster reproductions of many famous paintings have been already done and each day appears something new. In such a way, you will have a touch of real art in your room for affordable price.
Canvas Wall Art for Your Bedroom
Canvas wall art is very popular nowadays. It stands between paintings and posters and has some common features with both of them. It costs less than a real painting and more than a poster. A canvas as a part of bedroom art is a good substitution to a painting for those, who can't afford it. At the same time, it's more durable than a paper poster and its textured surface makes it look very interesting.
The themes, which can be used for canvases are the same as for paintings and posters. But canvases have one more advantage over them ― the possibility of original and creative arrangement. Today, it's very popular to make split canvas prints, when the image is broken into several smaller parts, which are printed on separate pieces of canvas. So, let's see the ways of doing such canvases.
Split Canvases, Made of a Single Picture
Split wall pictures for bedroom, which are actually a part of one bigger picture look very effectively. Such a technique works best with landscapes and nature photos, including the photos of animals and flowers. Usually, such panels are placed close to one another so that it is seen what is depicted on them. The most widespread ways to arrange them are vertically, horizontally or diagonally.
Split Canvases for Different Images
Unlike the canvases, made of one picture, the ones from different images can be placed arbitrarily. Here, you don't need to take care of how the image looks, but only about how to arrange everything beautifully and creatively. Such canvases look good not only in bedrooms, but also as wall decorations in living and babies' rooms.
Other Interesting Bedroom Wall Art Ideas
If the most popular wall decor ideas are too boring for you, you are free to try something more original. It's possible to find some interesting decorations at shops or to make them with your own hands. We have gathered several outstanding ideas to inspire you.
3D art, which pops out of a wall will make your room look more charming and sophisticated. In their turn, geometric figures look very organically in modern designs. It's possible to use all the geometric figures: circles, cubes, triangles etc. The materials and colors may also vary.
Fabric Art
By attaching the pieces of fabric to Styrofoam, you can create a beautiful wall art installation. Besides, you can decorate such a work of art with some additional materials: beads, ribbons or lace.
Quilled Wall Design
If you are fond of quilling, use it for your bedroom. The motives and colors depend upon your room design. A nice idea is to make a quilled monogram letter from which your name or surname starts.
Feathered Art
If you need some texture for your bedroom décor, use feathers. They look very original and cute. If you don't want to use real feathers, it's possible to use their images as well. They will add some lightness and the atmosphere of weightlessness to your room.
Rope Design
Using just a rope, glue and a piece of wood or carton, you can make a nice diy wall art. You may write a word, which signifies much for you, or even create a whole picture.
Light Constellation Art
This idea is perfect for those, who are interested in astrology. The creation of stars or constellations with the help of lights and a canvas is a very innovative and romantic way to decorate the bedroom.
Book Pages Wall Décor
Pages from old books add an intellectual look to a room. Such an idea is very original and not everyone will dare to use it. If you don't afraid of experiments, it's for you.
So, you see that it's not so hard to master bedroom ideas. You must have already imagined what to do with your room to make it a shelter from the outer world. Don't be afraid to experiment! If you like something ― try it! Even if you aren't satisfied with the result, it's always possible to change the decorations.