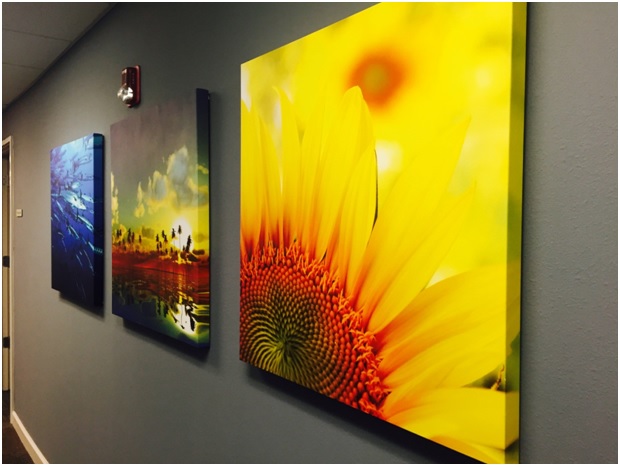 The Things You Need to Know about Canvas Prints
Canvas photo prints are extremely popular nowadays. They decorate dwellings, offices, restaurants, shops and many other places. However, sometimes it's very hard to decide what you really want and how to choose the right print. In this article, we want to help you to understand what option is the best for you, how to handle such a kind of posters and make them look like pieces of art, which perfectly suit the interior design of your house.
Let's start with the questions: "What is a canvas?" and "Why do you need canvases and not paper posters or photos?".
A canvas print is an image printed onto a canvas, which was originally created with the intention to reproduce paintings. It's usually made in rectangular or square shape. Usually, canvases are stretched over basic wooden frames, but it's also possible to mount them in visible frames, which are usually custom-made.
Canvas decor allows people to add individuality to their dwellings and working places and get rid of bare walls with spending not too much money. In addition, almost every image can be printed on it.
There are three basic advantages that this type of printing has over the paper one:
Canvas is more durable than any type of photo paper. The photos printed on it are not susceptible to moisture, don't warp and it's very hard to pull it to pieces. In addition, canvas posters don't fade away like the paper ones.
Canvases have textured surface and that make them look more vivid and interesting. Depending on the image, but sometimes canvases can look like original paintings.
If you print photos on canvases, it's possible to divide one photo between several canvases, which will make up the whole picture while hanging. That's a very nice design solution, which looks original and complicated, but can't be made with the help of paper photos.
In addition, canvas is a good substitution to some pieces of artwork. Reproductions of many famous paintings are on sale and almost everyone can afford them.
Types of canvases
There are three basic types of canvases:
Custom or canvas on demand. These canvases are made from your photos or images and you are free to choose not only the size but also other additional options. This is the best way to turn your personal photos into artworks.
Stock prints are ready canvases, depicting photos or paintings, which are widely distributed. This type of prints is the most affordable one as the seller doesn't need to make it suit all your requirements. You just buy what you are offered.
Limited edition prints are the most expensive ones. They are usually original works by well-known artists and have certificates of authenticity.
How to maintain your canvas prints
Canvases are considered to be very durable and can serve for decades. However, to make them as amazing as the day you first saw them, you need to take care of them. If you want your canvas to serve for ages, you need to take into account the following:
Don't expose a canvas in direct sunlight for a long period of time, otherwise it's possible that the print will be spoilt. Of course, nothing will happen to a print if it spends some time in the sun. The most important is to avoid the constant flow of direct sunlight.
Canvases are usually water safe, but it's highly recommended not to use water to clean them. Just take a dry feather duster or a piece of fabric and remove all the dust. If it happens that some water is poured on the print, it's better to remove it immediately with a dry material.
Excessive amount of hotness or moistness can also harm the canvas. That's why, don't place a poster in the place, where there is steady change in temperature and humidity.
Clean the canvas very delicately so that no dents appear.
How to arrange canvas prints
If you have only one canvas, you will hardly face problems of how to arrange it beautifully. However, if you want to order several ones, then you need to think over how you want to arrange them before making a purchase. Some people prefer posters of the same size, placed in a row, while others want to be more creative and experiment with both sizes and the ways of arranging. The image below shows some interesting ideas of how to place a batch of canvases.
However, before placing an order for canvas printing, you first need to decide how many images you want to print and how you want them to be displayed. Once you choose the photos and the layout design, you will see what sizes you need and be able to purchase the right canvases in the right sizes. The image, we have provided you with, also shows what sizes of canvases you need for each separate design.
Tips on choosing a canvas for your dwelling
Choose colors and design of the print, taking into account your interior design. The print needs to become an integral part of the decor, not a thing, which stands out too glaringly. That's why you need to know how to combine colors so that they complement each other and look stylish. In addition, the poster needs to suit the style of the room. Thus, an abstract picture will hardly look good in a room in rustic style.
The print themes must match you tastes. Nowadays, there is such a choice of all possible canvas designs that you need some time to find a poster, which you really like. Don't follow like ship all the fashion tendencies. For example, if you don't like abstract art, don't buy it. Choose a print, which will inspire you for years and bring only positive emotions. Custom canvas prints are also extremely popular nowadays. You just take the picture you like and turn into a piece of art. You can do the same with the photos if you are going to decorate your home with them. Numerous filters can make the photos more sophisticated or adjust them to the style of the room you want to place them in.
Think about the function of the room. Colors and images can have a great influence on our mood and life. That's why it's important to choose them carefully. If you want to place a print in a bedroom, the colors need to be soft and calming. However, the bright ones can be used in the living room and kitchen. Besides, each color has its meaning and effect and it's also necessary to know that. For example, red is very invigorative and it's not recommended to use too much of it in bedrooms and children's rooms. But, in its turn, a floral print in pastel colors will suit a bedroom perfectly.
Possible print themes
There are so many themes, which can be used for a canvas that it's impossible to count all of them. The most widespread variants are:
Landscapes.
Landscape images are the most widespread ones as they are usually neutral and may fit many designs. They can be used either at home or at office. Landscape photos are very inspirational and can help you to feel as if you are in a different place while you are still at your home or office.
Cities and architecture.
If you prefer concrete jungle to nature, you are free to select the images of cities or architectural sights. They look better if they are located in living rooms or halls.
Animals.
Canvases, depicting animals, are also usually used in living rooms. They are perfect if the design of your apartment deals with some animal patterns or is made with the help of eco materials.
Floral and botanical prints.
Flowers are classic and they are always in trend. Such images can be placed in every room. There are also so many stylish flower prints that they can suit even a high-tech interior.
Abstract pictures.
Abstract pictures have become extremely popular in the last decades. They look very stylish and will be a proof of your good taste. There are so many abstract prints that every person will certainly find the one, which suits not only his or her apartment but the character as well.
Modern artworks.
Modernity has already entered the canvas art prints. If you are a fan of modern art, why not show it in your house? Each guest will certainly appreciate your desire to follow the modern tendencies.
Reproductions of famous paintings.
It's a good way out if you like paintings of famous artists but can't afford to buy them. Prints will cost you cheaper. Of course, they don't look so astonishing as the originals but still will be nice decorations for your home.
Vintage and retro art.
If the decor of your room is made in a vintage style, such a print will be a good addition to it and will make the design look more complete.
Hobbies.
That's a very good idea to demonstrate your hobbies in a canvas. It doesn't matter what you like: knitting, travelling, dancing or reading books. Such a canvas will look very personal. For example, if you like parachuting, it's possible to use a photo of a parachute or a parachutist. Your personal photo may be of use as well.
Expressions and quotes.
Some people like to place motivational quotes around their home to be more inspired to do something. If you are one of them, print one or several of your favorite quotes on a canvas. It's possible to create canvases with various designs so that they match the interior design of your room. For example, if the design of your room is in modern style, add some elements of modern art to the poster and if your apartment is in a vintage style, make the canvas look as if it is the antique one.
Personal photos.
At the same time, you always have an option of making custom posters from your personal photos. There is always place to originality and you are free to combine them in an interesting way. As a result, you will get a canvas print or prints, which won't be owned by any other person in the world.
You can print some random photos and place them in a row or in different rooms. But if you want more creativity, feel free to dedicate them to a certain theme: vacation, wedding, family, travels etc. The theme itself doesn't matter, but the way the whole thing looks certainly does. For example, create a family tree. It's possible to do that on a single canvas or several ones. The most important is the image of a tree and photos of the family members on its branches. Another way to use photos, is to make a photo collage. Thus, you will be able to see all your favorite photos on a single canvas. Collages are perfect for wedding photos as it's usually very hard to choose what photos to print if all of them are amazing. In addition, you may also make Instagram prints & posters. Instagram photos look very nice and stylish in collages.

Now, when you know almost everything about canvas prints, it's time think over all the details and make up your mind what you need. We hope that our pieces of advice will be of use for you and will really help you in making the decision. In fact, it's not so hard. Just listen to your heart and it will tell you what's the best for you!
May inspiration attend you!