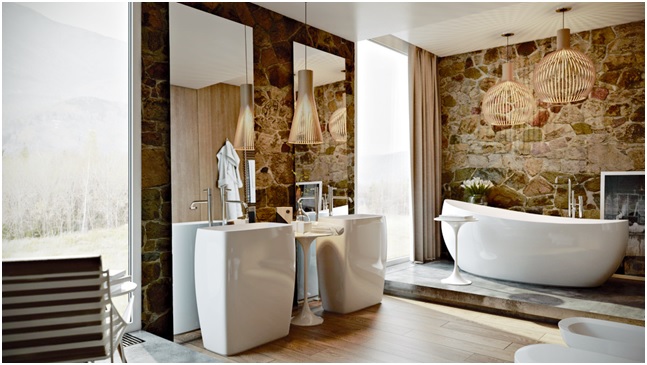 29 Gorgeous Ideas for Bathroom Wall Decor
A few of us consider bathroom decorations for walls seriously. Many families leave the walls empty or decorate them with functional things only, like mirrors and shelves. However, we think that even such a small room as bathroom needs to be beautiful and inspiring.
Want to get some bathroom wall decor inspiration? Then let's have a look at the following ideas for the most widespread types of bathroom interiors.
Blue Bathroom Wall Decor
1. Ocean Waves Photos

That's obvious that the majority of us associate blue with the color of the sea and ocean. That's why, a photo of the ocean waves is a great choice for a room in this color scheme. It's even better to order a huge poster in A1 or A2 format. By choosing a large print, you won't have to think about other decorations for walls.
2. Abstract Pallet Wall Art
Actually, abstract art is one of the most widespread choices for any room of the modern home. If you don't want to hang a poster or painting, you may seek for more creative variants. Such a DIY pallet wall art looks very cute and will be ideal not only for blue color scheme but also for the nautical and coastal bathrooms.
3. Pictures of Sea and Ocean Dwellers

The pictures of sea dwellers are also suitable. You are free to use photos, pictures and even paintings of various kinds of fish, sea horses, dolphins and other creatures. Instead of pictures, you may use wall stickers with photos or just silhouettes of sea dwellers. If you have children, you can attach cartoon images as well.
4. Nautical Signs

As we have already mentioned, blue color is associated with nautical theme and so, bathroom wall art and decor in this theme looks very organic. Various nautical signs and details are used for decor, starting from anchors and ropes and ending with models of ships.
Contemporary Wall Decor for Bathroom
5. Modern Art
Modern art can be used in any part of your dwelling, including bathroom. Though some people may think that bath wall decor needs to be simple and functional, we are sure that it can also bring aesthetical pleasure. For instance, such a flamingo art print will add brightness to the room and will raise your mood every time you enter the bathroom.
6. Metal Wall Hangings

Metal decorations look very nice in contemporary interiors. There are so many cool metal wall sculptures, which make the walls look more vivid and interesting. It can be something of a classic form like square or circle or something more complicated, like the decoration on the image above, which resembles a sun.
7. A Contrastive Wall

Many contemporary interiors are rather minimalistic and that's why, some people prefer not to use too many wall decorations for bathrooms. If you are one of them, we have an idea, which will make the walls look more interesting, but demand no accessories at all. Make one of the walls of another color, by using different tiles or painting it with other paint. In such a way, the room will have its zest without any wall hangings.
8. Creative Tiles

It's a fact that the majority of us decorate bathroom walls with tiles. However, don't hurry to buy them until you see all the variants. There are a vast number of unusual tiles designs. Just one of the examples is the graffiti-styled tiles above. However, you don't need to make all the walls covered with such tiles. You can just make some accent areas.
Spa Bathroom Wall Decor Ideas
9. Spa-Inspired Print

Pictures for bathroom wall decor, featuring spa procedures, candles, flowers and bottles with cosmetic items are frequently used at spa salons and that's why, if you are making a room in this theme, you are free to use such prints as well. The choice of them is pretty large and you can find many cool prints at our poster store. Besides photos, you can also seek for some graphic art in this theme.
10. Greenery

Clearly, nature helps us to feel relaxed. So, greenery is always a good choice. By placing a couple of plants on the shelf, you will already make the room brighter. However, you can go further and create a mini garden in your bathroom. If you don't want any live plants, you can order a wall mural, featuring the tropical forest.
11. Shelves with Candles and Spa Accessories

Can you imagine a spa room without any spa attributes? Of course, not. Place the shelves somewhere close to the bath and put candles, shower gels, shampoos, oils, towels and other necessary things on them. Such a decor is both functional and beautiful.
12. Stone Wall Decor

Spa rooms look better with natural materials. For instance, stones are great decorations for walls as they are durable, practical and beautiful. There are many ideas of using stones for walls. You can decorate just a small piece or make the whole wall with the stone wall panels. Of course, the stones can be painted, but, in truth, they look cooler when the natural color is preserved.
Coastal Bathroom Wall Decorations
13. Mirror with Seashells

As mirrors are used in almost all bathrooms, you can turn even your old mirror into the one, suitable for the coastal bathroom design. You just need to take a great number of shells and attach them to the mirror frame. If you have no desire to do that, the ready mirrors with such decor can be found for sale.
14. Wall Art with Sea Stars and Corals

Sea stars and corals may be used in different ways for the coastal bathroom decor. For instance, they may be a part of the wall pictures. Of course, you may have just the pictures with their images, but it's cooler if you have real stars and corals as parts of wall art.
15. Anchor Hooks

Basically, some nautical elements can be also added to the wall decor of a coastal bathroom. For example, the towel hooks in the form of anchors look cute and are more creative than traditional ones. In addition, you may add some seashells decor to them.
Black and White Bathroom Wall Decor
16. Black and White Photos

Black and white photos are universal decorations for interior design in any style and color scheme. However, they are one of the most popular variants of wall decor for rooms in black and white colors. The theme of the photos can be different: from portraits to abstract art.
17. Silhouette Art

Silhouette art always look interesting and mysterious. It can be added to the wall decor bathroom in various forms. First of all, there are many cool pictures and posters featuring silhouettes of people, animals, mystic creatures etc. Another widespread variant is a wall sticker. For instance, it can be a fairy silhouette sticker.
18. Sparkling Accessories

If no other color is allowed to be added to the black and white bathroom, think about playing with textured and sparkling details. Thus, by adding silver, you won't break the general atmosphere of the room, but will make it look brighter and more festive. Also, crystals and rhinestones can be used for decoration. For instance, they look great on the mirror frame.
Wall Decor for Total White Bathroom
19. Silver Mosaic Tiles
Obviously, when you create a total white room, no other color can be added. However, think about silver. It's close to white and won't look odd in the white interior. Vice versa, it will add charm to the bathroom and make it look brighter. For example, you can cover part of the wall with silver mosaic tiles or even create a certain pattern with their help.
20. Textured Walls

Agree that total white walls may look rather boring without any wall art. And as it's rather hard to choose wall art for a white room, it's recommended to make textured accents on the walls. Thus, one wall can be covered with white textured wall panels. Though the color will be the same, the wall will look more interesting thanks to the texture.
21. Silver Wall Art

As we have mentioned before, silver is a cool way to make the total white room look more interesting. That's why, wall art in silver color is one of a few variants, which are possible for such interior. Also, the wall art with mirrors is a good substitution. Have a look at the image above and you will see that with your own eyes.
22. Wall Sconces with Crystals

Wall sconces aren't only functional, but also beautiful wall decor for bathrooms. It's clear that they must have silver or white basis. If you want to add luxury to the bathroom, choose the sconces with crystals. They are available in many designs and sizes.
Luxurious Wall Accessories for Bathroom
23. Luxurious Wall Sconces

Clearly, crystals are often used for decoration of luxury interiors. If you seek for crystal wall accessories, you will discover that the easiest way of adding crystal shine to the bathroom is to buy wall sconces with crystals. Their choice is pretty large.
24. Gilded Frames

Gilded frames are present at almost all luxury home designs. Nothing makes the room look more luxurious than gilded details and frames help to add preciousness even to simple wall art or mirror.

25. Sparkling Mosaic Tiles

The bathroom wall decor will look luxurious if you add some sparkling mosaic tiles. For instance, they can be gold. Gold tiles look astonishing in combination with white or cream. Also, silver tiles can be used or the ones with the pearl effect.
26. Moldings

Undoubtedly, moldings are often associated with the luxurious home designs. They are used for both ceilings and walls. The ones with gilded details can turn the traditional room into a chic bathroom in a twinkling of the eye.
Rustic Wall Decor for the Bathroom
27. Wood Details

Wood is the most common material for rustic interiors. That's why, it's great if all the shelves, frames and other pieces of wall decor have some wood elements. Moreover, you can seek for interesting wooden wall hangings. For example, it can be a wood wall sculpture.
28. Art with Greenery

The rustic wall decor presupposes the usage of natural materials. However, you can go further and add some nature to your bathroom. Buy a wall picture or sculpture with dry flowers. Also, you can do such a decoration yourself. Instead, you can also buy posters with images or photos of plants as well as place plants on the wall shelves.
29. Vintage Posters and Pictures

As rustic design may have some shabbiness, vintage accessories are suitable for it. Thus, vintage posters may look extremely nice in a bathroom in rustic style. However, don't forget to place them under the glass as high humidity may spoil the paper.
So, are you ready to add some charm to your bathroom? Just choose the idea you like more and that suits the interior of your bathroom and turn your bathroom into a stylish and beautiful place, where it's a pleasure to spend time in.