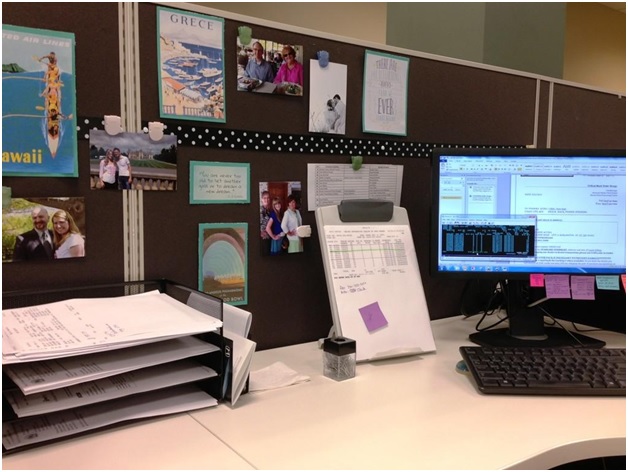 Business Posters, Wall Décor & More: 16 Interesting Tips for Decorating Your Workplace
Your office is the place, where you spend the major time of the day. Unfortunately, many offices look rather boring and make people feel depressed, and this, in its turn, may cause lower productivity of labor. Of course, if you are a simple employee, you can't change the interior design of the office, but still can add some interesting details to your office, cubicle or desk. We offer you several variants of how to turn your working place into an inspirational zone.

Wall Décor for Your Workplace
Walls are the key location for placing various decorative elements. It's very convenient to concentrate on their decoration as such a décor won't prevent you from working and won't occupy too much space.
As it's very easy to get frustrated at work, you constantly need motivation. Your personal inspiration board can contain everything you want: motivating quotes, photos of your family, friends or pets, pictures you like and, in fact, everything that will inspire to work with more enthusiasm. Motivational posters are also a good idea for decorating your workplace. The most widespread motivational posters for offices are the ones with quotes; however, you are free to use something more personal, something that inspires only you.
A Productivity Poster
A productivity poster may contain some tips or pieces of advice on how to work better. If you want to become a better employee, you can try to hang it in your cubicle. After a couple of months, you will definitely see the first results.
A Blank Calendar to Print
It's very useful and convenient to print blank calendar. Even if you get used to write down all appointments and important things in your planner, a desk or wall calendar will be of great use for you. First of all, you can take a look at the entire month in one glance and that's very convenient. And secondly, there are hundreds of different designs of calendars and you will surely find the one for you.
Patterned Fabric
The walls of your cubicle don't obligatory have to be grey or white. It's hardly possible that the company management allows you to paint them. However, you have a way out. Purchase some patterned fabric and attach it to the walls of the cubicle with the help of pins or velcro. Now, your workplace will never be confused with the one of another employee.
Your Own Window View
If your workplace is situated far from the window, it doesn't mean that you have no ability to have a window view of your dreams at your place. You can acquire special window decals with the view you want and attach them to the wall. And that's it! Now you have a brilliant view.
Wall Organizers
In order to keep your desk in order, use stylish organizers, attached to the walls. It's convenient to store things in them as you see where the things are and, in addition, they allow you to have more spare space on the desk.
Whiteboard
It's a very multifunctional thing for your cubicle. You can write down your appointments and tasks there as well as motivational quotes or, even, draw pictures on it.
Business Motivational Posters
Besides having some personal motivation, people also need to feel motivated for better efficiency of work. Some employers place business motivational posters in the halls or conference halls for all the employees to see them. However, you may also try to hang the one in your cubicle to stay motivated all day long.
Confetti
If you aren't ready or aren't allowed to make radical changes in your cubicle, you can add some brightness to it with the help of confetti. Thus, the dull grey wall will look much more festive.
Decorations for Your Table
Table decorations for your office need to be functional and not to prevent you from doing your job. Some of the examples what can be chosen for table decor are listed below.
Desk Lamp
Many people think that desk lamps are unnecessary accessories at offices as overhead lights provide enough light for every corner of the office. However, desk lamps add warmth to your workplace and, in addition, there are so many interesting designs of lamps that they can serve as decorations as well.
Personalized Stationery
If you usually take notes during your working day, personalized stationery should be one of the must have accessories on your desk. Choose the stationery, which reflects your personality and allows standing out from the rest of workers. It's also nice to have your initials or name on them so that your co-workers always know where your notes come from.
Flowers and Plants
It's the easiest way to freshen up your working place and make it beautiful. Moreover, it won't cost you a lot. You can buy some lovely plant or just bring it from your home. The greenery also makes the air cleaner and reduces stress. If you don't like to take care of plants, you can buy the fake ones, which will be still a good decoration for your cubicle.
Objects, Which Represent Your Interests and Hobbies
Every person has, at least, one hobby. Of course, you will hardly be allowed to bring a guitar if you are a music fan, but you can place some musical posters on the walls of your cubicle (if your boss allows it, of course). Small collectibles will be a wonderful decoration for your desk as they don't take much place, but still make you feel more like home during the working day. If you like reading, you can bring a book or two, or, even, make a mini library if you have a large office. In such a way, you will have the ability to read your favorite books during a break.
Colorful Accessories
Buy office supplies, such like file holders, staplers, scissors and others, in your favorite color or colors and add life to your dull desk. Even if it's the only thing, which you will change at your workplace, it will catch everyone's eye immediately.
Personalized Keyboard
Dress up your keyboard with stickers or washi tape. However, do it carefully so that you are able to see letters and other signs on it. You can also decorate a computer mouse in the same way. Moreover, colorful washi tape can be used for other décor elements.
Comfortable Chair
It's recommended to have a good ergonomic chair at the workplace. However, if you can't afford buying it, you can make the existing one more comfortable. Just put a nice pillow on it or use a lovely sheepskin. Such elements will make your workplace cozier.
So, you are free to adopt the ideas you like and enjoy making your workplace feel more like home and not a cell in the hive. It's a fact that small changes in office décor can bring great results by inspiring and motivating you for more productive work. However, before starting the decoration process, we recommend you to find out if it's allowed at your company.