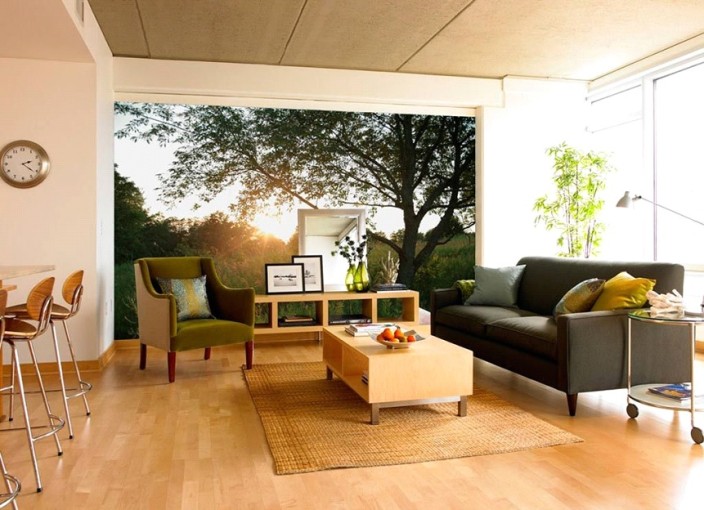 What Is the Best Wall Decor for Your Home?
Are you going to redecorate your home or just want to freshen it up with some cool decorations? If to talk about quick ways of adding charm to your home, wall decor is one of the best solutions. Its major plus is that it occupies little place but makes the room shine with new colors immediately after placing.
Want to see how it works right now? Then, let's have a look at the tips, which will help you to choose the proper wall decor for different parts of your home.
General Tips on Choosing Wall Decor
Before choosing any kind of wall decorations, you, first of all, need to prepare for such a purchase. Here are some steps, which you need to make before starting the search of the proper decor.
Firstly, you need to decide where you are going to place the wall art. After the place is chosen, take the necessary measurements. It's very important to know the wall decoration or decorations of what size you need. Just measure the free place on the wall you want to decorate and consider how large the decor must be.
Secondly, you need to take into account the color scheme of the room. Clearly, there is a vast number of various wall decor ideas, but you need to seek for the ones, which will look harmonious in the room. That's why, it's crucial to know what colors are suitable and what not.
Thirdly, style and theme of the room must be considered. Whatever type of decor you choose, it must be in the same style with the rest of the room. For instance, farmhouse wall decor will be ideal for homes in rustic style, while sleek metal wall decor is great for contemporary and high-tech homes.
And last, but not the least, you need to think about the peculiarities of the room you are going to place wall art decor. Thus, the decorations for kitchen and bathroom must be sustainable to humidity while the art for a nursery must, first of all, be safe for your kid.
Now, let's consider large wall decor ideas for kitchen, living room, bedroom, nursery and bathroom as well as some tips on how to choose wall art for any of these rooms.
Kitchen Wall Decor
As a rule, there is very little spare place in kitchen as even the walls can be occupied by various shelves and kitchen utensils. However, if you have a large spare wall, you have dozens of kitchen wall decor ideas. For instance, you can make a wall mural. It will look astonishing and will add personality to your kitchen . It may feature whatever you want, starting from some cooking themes and ending with modern art.
Various types of posters and pictures are among the most popular decorations for kitchen walls. Kitchen wall decor pictures may be dedicated to various themes. Often, the images of food are used. The most popular variants are vegetables, fruits and coffee, the posters of which you can buy here. Also, some vintage prints look cool as well as the photos of flowers. For example, it can be a page from a vintage cooking book or a huge print of a sunflower photo.
If you can afford spending much money, you are free to opt for paintings. Not only the pictures of food can be used, but any other piece of art, which looks organic in your kitchen design. However, while hanging paper posters and paintings in the kitchen, it's better to have them framed in order to preserve them in perfect condition.
Remarkably, wall decor for kitchen can be made from kitchenware and utensils. Such decor looks especially cool in the kitchens of traditional, vintage and rustic styles. The utensils can be colored in various ways or be hung just as they are. Also, antique utensils look fantastic.
If you want kitchen wall decorations to be not only beautiful but also functional, you can make some creative shelving. There are many interesting ideas of shelves, which look very beautiful and, at the same time, are used for storing things. This variant is one of the best solutions for small kitchens.
One more idea is to decorate your kitchen with tiles. The most widespread variant is to make an interesting design of the backsplash. But the tiles designs can be used in other parts of the room. There are even some nice diy kitchen wall decor projects, which you will easily bring to life.
Living Room Wall Decor
By and large, living room is the "face" of your dwelling and so, its decor must be chosen very attentively. As living room is the place where the whole family gathers and receives guests, the wall de?co?r in this room has two major roles: it must bring aesthetical pleasure and show your personality and good taste.
First of all, living room wall decor ideas include various kinds of art. Thus, a painting is always a great idea. However, while choosing it, don't forget that it must be not only beautiful, but also suitable for your room in both style and color. Moreover, you must choose the proper frame as well.
Instead of the painting, a poster can be used. This kind of wall decor for living room is one of the most popular ones thanks to affordable prices and a great selection of images. It's clear that the choice of the image depends on the room design, but usually various kinds of photos are used or printed art.
Moreover, the posters can be printed not only on paper but on canvases as well. If you have a large empty wall, adorn it with split canvases or a series of posters. By doing that, you will make the room look absolutely different.
One more cute idea of wall decorations for living room is wall sculptures. There are so many cool designs of modern art installations that you can choose the proper one for any style of the room. The sculptures can be also replaced by decorative wall panels.
Nursery Wall Decor
The decoration of your ?baby's room is the most enjoyable time. Though, you will break your brains on what's better for your kid, you will also enjoy choosing among various cute and funny ideas.
Many parents like to write the name of their baby above the bed. It's usually done with the help of wall decor stickers or wooden letters. In addition to the name, you can also attach some other stickers, for instance, featuring the silhouettes of animals, stars or something more creative.
Basically, wall decor for nursery often features some printed art. Very often, it contains the images of cartoon animals or animated movie characters. Also, it's pretty popular to use the images of flowers and butterflies for baby girl nursery wall decor. At the same time, the images of cars, planes and the ones dedicated to sports are frequent choices for baby boy nursery wall decor.
Disney theme is popular for nursery wall decoration. The posters and stickers, featuring the famous cartoon characters, are used for the rooms of both boys and girls. Also, you can find some other thematic decorations, for instance, wall clocks, shelves or garlands.
And finally, it's very cool to decorate the nursery with photo collages. Print the photos of your baby, place them into beautiful frames and hang on the walls. You can go further and make creative baby room wall decor, featuring not only the photos of your kid but also stickers, garlands and diy decorations.
Bedroom Wall Decor
While choosing wall decor for bedroom, the majority of us seek for something relaxing and calm. Very often, the paintings and posters, featuring nature are used. It can be a photo of a sunny beach, flower field, forest, mountains or whatever helps you to feel relaxed.
Besides, abstract art is very popular. However, it's better to refrain from adding too bright colors as they may distract you and prevent from falling asleep.
You can make an accent on one wall, decorating it with wall panels or by placing a huge wall mural. When one wall stands out from the rest, it can be enough to add some chic to the room but not overdo with that.
Quite simply, the bedroom wall decorations may be in the form of stickers. For instance, you can place there a motivating phrase, which will inspire you in the morning. Or, it's also possible to make the decor directly on the wall by painting it in interesting ways, using stencils or just your creative talents.
One more cool idea is wall hangings. They add texture to the wall, but, at the same time can be rather simple. For instance, it can be a dreamcatcher, tapestry and creative art hangings, made of various materials like wood, fabric, beads or lace.
Moreover, diy bedroom wall decor is pretty popular. While not everyone is ready to show his or her masterpieces in the living room, bedroom is the perfect place, which you can decorate with everything you want. Various types of embroidery, hand-made art installations and photos, placed in beautiful frames always look marvelous.
Bathroom Wall Decor
Note: while choosing decorations for bathroom, you need to take into account that it's a room with a high level of humidity. Thus, if you use printed art, it's highly recommended to frame it. Moreover, the materials for other bathroom decorations must be sustainable to humidity.
Pictures for bathroom wall decor may be absolutely different. If your bathroom is traditional and not dedicated to any exact theme, you can hang the posters of nature and the ones, related to the nautical theme. Also, the spa prints are pretty popular as they help to create the relaxing atmosphere in the room.
If you make up your mind to design the bathroom in a certain color scheme or theme, you will need to choose the prints more carefully in order to make them integral parts of the room interior.
Just like in the case with kitchen, tiles are a great material to create cute bathroom wall art and decor. There are many ready designs of wall murals for bathrooms in various themes. You can even find works of art, made with the help of tiles. If you are fond of minimalism, you can decorate the walls with monotonous tiles, which have some texture. It will look both simple and interesting.
Besides, stickers are the easiest type of wall decor for bathroom. Many companies deal with selling wall stickers and so, you will find many variants in different styles. Pretty often, some inspiring or funny phrases are attached to the walls. If you have children, you can stick funny wall decals with animals or their favorite cartoon personages. Moreover, some companies accept custom orders for stickers and you can print any image and any phrase you want.
A few of us consider mirrors as bathroom wall decorations, but, actually, they are. Believe that a mirror can be used not only to look into it but also as a great instrument in adding charm to your bathroom. Nowadays, there are hundreds of mirror designs in all possible styles and sizes. That's why, you will have no problems in choosing the most proper one for your bathroom.
To sum up, choosing wall decor for your home can be a long and hard process. However, if you follow all the tips and decide what exactly you need, you will cope with this task pretty fast. Remember, the most important is that the wall art piece you choose suits the theme and color scheme of the room and, of course, you must opt only for those pieces, which you really like.