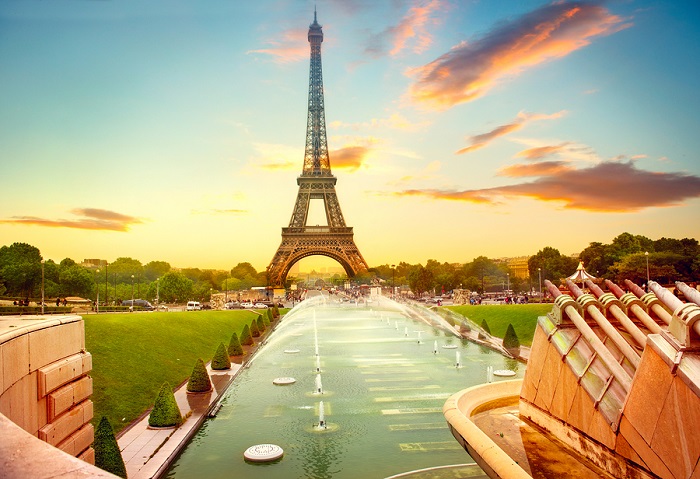 Paris Poster Wall Decor: 8 Cool Ideas of Paris Prints
Have you ever been to Paris? Even if the answer is negative, it doesn't mean that you haven't been enchanted by this place. Paris has incredible charm, which makes us the fans of the city even after having a single look at its photo. It's the city of love and so, even a simple print of it may add the romantic atmosphere to any place it's located in.
A Paris poster is a really cool way to decorate the walls. At home, it can serve as wall decoration for almost all kinds of rooms as it looks nice in bedrooms, kitchens, living rooms and, even, nurseries. Moreover, posters of Paris can be used at offices, hotels, restaurants, shops, beauty salons and many other places.
Let's get this show on the road and consider 8 amazing ideas for Paris posters designs.
Paris Travel Poster
Travel posters are adored by millions of people. The ones with Paris photos are among the favorite ones. The images of Paris streets may help to add the atmosphere of the city to the interior design.
Basically, Paris travel posters feature the most popular sights of the city like Eifel Tower, Louvre, Notre-Dame de Paris, Arc de Triomphe etc. However, the city and its neighborhood also has beautiful nature and so, landscapes and natural sights photos can be also used.
Paris Skyline Poster
In our opinion, skyline prints are universal. They look equally good at homes, offices and public places. We especially like the photos made in evenings and nights, when the city starts to shine with colorful lights. But daytime photos are also good.
The main plus of such general photos is that they feature the city as a whole. Though many details aren't seen, the skyline prints help to transfer the atmosphere and general mood of the city.
Paris Map Poster
A large Paris poster, featuring the city map, looks impressive and fresh. It can be an ordinary physical or political map or a travel one, featuring not only the city streets but also highlighting the city sights. It can be graphical, funny or even a map, containing the photos.
Besides, a map poster looks intellectual. It's a good solution for office or home office. It shows the intelligence and high culture of the owner of the office. Such a print is also a cool idea for living room decor.
Black and White Paris Poster
Paris posters in the black and white styling have a special charm. The absence of bright colors makes us appreciate the beauty of the city, its buildings and streets. Though it seems that such prints are dull and don't attract attention, it's definitely not true. They are fantastic and very stylish.
Moreover, black and white prints are suitable for any type of dwelling and public place. They look great in traditional as well as contemporary home designs. Also, they look harmoniously with any wall color palette. They are often used at restaurants, hotels and offices.
Romantic Paris Posters
Living rooms and bedrooms can be decorated with romantic Paris images. They fill the room with the romantic mood and simply look beautiful. If you have your own romantic photos from Paris, print the best one on a large poster.
Obviously, a Paris poster with a romantic picture is a nice marketing idea for a travel agency. Many people know that it's the city of love and want to visit it, but after looking at such photos, the desire to get there together with a beloved person strengthens.
I Love Paris Prints
"I Love Paris" posters are rather widespread. Though the phrase remains the same, the choice of the background is pretty large. It can be a Paris photo, an artwork dedicated to this city or even a simple monotonous background. Graphic and abstract images are also used.
Of course, there are many other cool designs, which show love to this city. If you seek for something more creative and consider "I Love Paris" prints to be to banal, pay attention to funny posters and the ones with quotes about this city. For instance, a keep calm and love Paris poster is a great idea.
Vintage Paris Poster
One more astonishing idea of wall decoration is a Paris poster art in vintage style. Don't think that a retro print is suitable only for vintage inspired interiors. It can become an organic part of home interiors in many styles, from classic to high-tech ones.
In fact, the vintage print is usually not really vintage, but the photo, aged with the help of filters. However, the old photos, which were digitized, are also used. Seldom, the real retro posters are used as they are rather rare and it's hard to find the one in good condition.
Paris Canvas Wall Art
Paris canvas art is a great alternative to a paper poster. They look more complicated and are also available in cool designs. The use of several canvases on one wall looks extremely cute and such wall decor is enough to make the room look fantastic.
A Paris canvas featuring a piece of art is one of our favorites. It can be a modern, vintage, abstract or any other type of art, dedicated to the city of love. Here, you are definitely free to choose with your heart.
In truth, the selection of Paris posters for sale is really large. You see that such a print doesn't necessarily need to feature the Eifel Tower as Paris has many other beautiful places. Moreover, a poster can be designed in various styles, be of different sizes and be printed on matte and glossy paper as well as on canvases.