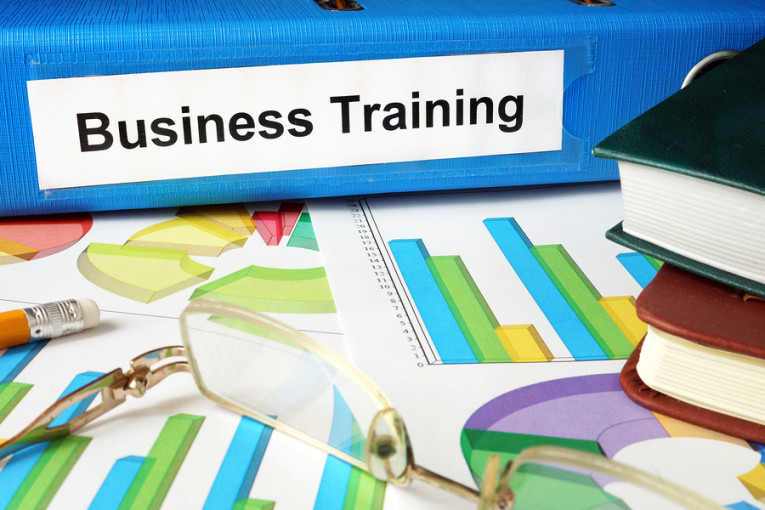 Educational Posters: How to Make Your Business Training More Entertaining and Efficient
Business trainings are frequently perceived by ordinary employees as a set of dull lectures. And very often it's true. Many business trainers aim to deliver as much information as possible and don't think about how fast their students absorb this material. However, this approach is hardly can be called the best one.
In fact, lecture is the most passive way of learning. Moreover, it's also one of the least effective ones. Modern teachers and trainers, who really want to increase the effectiveness of their classes, seek for other ways of teaching and learning.
At the moment, there are many ways of how make business trainings more interactive and entertaining and, at the same time, provide efficient education. Many employers already use such methods for their employees' trainings and are satisfied with the results.
You may wonder what these alternative methods of teaching are. We'd like to share some good ideas with you and hope that they will help you to create the most efficient programs for your business trainings. Here are some useful tips on how to make the educational process more diverse:
Tip #1: Get information about your audience beforehand
Before you start to develop your training strategy, you need to find out who your audience is. What is their professional background? Do they have any experience in the industry or they are just beginners? What will they consider to be entertaining?
You can get this information with the help of different surveys, interviews or observation of them on the job. You can also ask the company to provide you with their profiles.
After you gather all the necessary information, you are able to develop the educational strategy, which will be perfect for this exact group of people.
Tip #2. Visualization and the use of educational wall posters
Visualization is frequently used by teachers at schools, colleges and universities. If it's a good educational technique, why not use it in a work environment? While preparing the training materials, take into account that not all your "students" are auditory or verbal learners.
In fact, 65% of people are visual learners. That's why, it's very effective to use different pictures, education posters and charts during the lessons. You are also free to use different business posters for motivation and inspiration of the employees, for example, the ones, showing what advantages your course can give them.
However, don't use too much visuals that can distract the learners from the core content. Use only those components which are relevant to the theme and help to highlight the main ideas and significant aspects of the learning course.
​
Tip #3. Humor

By adding humor to your trainings, you assist the learners in feeling more relaxed and increase their ability to receive the information. Humor makes even the most boring training materials more entertaining if you incorporate jokes, funny stories or examples, connected with the theme of your training. The most important is that your humor should be positive, motivational and culturally appropriate.
Tip #4. Provide only relevant information
If you want to make the employees really interested in the subject, provide only relevant and up-to-date information. Your "students" must see that the lessons will be certainly of use in the work. You need to deliver the information in such a way that they see how it can be applied and how they can benefit from it.
General and not specific information is good for books but not business trainings, the participants of which appreciate high-quality and on-topic content. Make your lessons really valuable for the employees.
Tip #5. Give the employees an opportunity to take active part in lessons
Don't allow your "students" to get bored. They need to take active part in the training and not just sit and listen. Stimulate them to ask questions and express their points of view.
One more way to make the audience involved is to arrange debates or even a controversy. Make sure that everyone participates and if someone prefers to keep silent, try to get him or her talking by asking the personal opinion on the subject.
Tip #6. Integrate videos
Videos can help you to demonstrate how everything works in reality. You can create a storyline with characters, which are familiar to the employees; you are free to use actors, cartoons, slides, accompanied by a voice of a narrator or just use the ready appropriate videos, found on the net. By showing videos to your "students", you allow the information to be delivered to their minds without their notice that they absorb new material.
Tip #7. Deliver information by parts
It's useless to overload the employees with tons of information as they will hardly be able to remember everything. Moreover, they will get bored.
The best way to deliver the necessary information is to divide it into smaller portions. By doing this, you allow the employees to digest the information more thoughtfully. Remember that business trainings were created not to make employees overloaded with the information but to provide them with real and useful knowledge.
Tip #8. Focus on the delivery, make the lectures more interesting with the help of free educational posters
In order to add some fun to your trainings, you don't need to change the content. Take the traditional serious content and wrap it in a nice package. Think over how to present the necessary information in the most interactive way and do it. The educational and business posters can do a great job in this case. Thus, the content doesn't change but the delivery process becomes more enjoyable.
Tip #9. Feel free to demonstrate the worst practices
The majority of business trainings aim to show how to do things correctly and avoid mistakes. However, as an alternative, you can try to show your employees what they shouldn't do. Many people have already had some bad practices and will be able to understand what you are talking about immediately.
Moreover, now you can provide them with the ways out of these situations. Don't forget to add some witty humor. For example, you can use pictures or videos, showing people doing everything wrong. The audience will surely value your sense of humor and visually see what things they should avoid in their work.
Tip #10. Stimulate exploration with the help of educational motivational posters
School or college teachers usually ask their students to make some research and presentations in certain themes. Of course, working people don't feel inspired if you ask them to do homework. However, if you make them interested in the subject and stimulate to seek for some extra information on the topic, the top productivity will be reached. Hang some motivational posters around your class, provide them with the literature lists on the topic or links to useful sites. Those, who are interested in self-development, will surely use, at least, one of the recourses provided by you.
Tip #11. Use flip charts
Take two flip charts and place them around the room. Use one chart for questions, which arise during the class, and another one for feedbacks. When someone wants to ask a question about the lecture and its content or offer a feedback, he or she can write it on the chart. In the end of the class, you or the employees are free to read all the questions and provide or hear answers to them. Thus, not only you teach the group, but the employees teach one another as well.
Tip #12. Add music
Don't be surprised but certain music is able to enhance creativity of the learners. Of course, we don't talk about heavy metal or pop music. The most appropriate music for learning is some mild melodies, which don't distract. Certain rhythms can arouse certain feelings and stimulate for more productive work. It's recommended to use music during the breaks. In such a way, it also marks the start and the end of the break.
Tip #13. Play games
Games are a good teaching strategy not only for children but for adults as well. Sometimes, games are more effective than traditional teaching approaches. At business trainings you are free to use different types of games, which are connected with the theme of the lesson.
You can give either personal or team tasks to your learners. The games can also be aimed at team building and focus not on the information but primarily on interpersonal relationships. In fact, there is no easiest way to make your employees take active part during the training process. Role playing is one more way to turn lectures into interactive lessons.
Of course, you shouldn't take personal themes for such games as the aim of the training is to increase the professionalism level and develop the employees' skills of team working. For example, if you have the customer service training, you may ask your "students" to play roles of a customer and a manager.
Tip #14. Integrate assessments and tests
Assessments during business training are necessary for you to see how the audience cope with the material you provide and what aspects should be explained one more time. In their turn, the employees also check their progress during such tests.
Marks can be omitted here though you can invent your own system of prizes and rewards for those, who manage to reach the highest result. It's very good if you have the ability to make the quizzes interactive, include real-life problems and ask the audience to solve them. Video, audio and visual elements will be also a good addition to the assessment strategy. As a result, the retention rates will be considerably higher.
Tip #15. Encourage teamwork and use inspirational educational posters
Get the employees collaborating with one another. Start group discussions, ask them to work in pairs or small groups, encourage the learners to solve problems collectively. You can hang some posters or pictures, which show the importance of the team work. Human interaction provides the learners with the opportunity to learn from each other and share their experiences.
Tip #16. Tell real-life stories
To tell stories doesn't mean that you can tell your "students" whatever you want. The story must be related to what the lecture is about. It would be wonderful if a story could demonstrate how to use the skills, acquired at the training course. It's better to prepare this story beforehand in order not to omit its key elements.
Tip #17. Provide comfortable atmosphere
Business trainings mustn't make people depressed or tense. They need to be a little distraction from daily routine. The atmosphere must be appealing. Take care that the training room is big enough, clean and have enough light, heat and comfortable seating. If you use some audiovisual hardware and devices, make sure that they work well before the class begins.
It's also important that you stay positive, treat the learners peer to peer and respect their points of view. Breaks also play a significant role in learning. So, try to provide adequate breaks for the employees so that they are able to cope with all the information.
It's essential that when you prepare for trainings, you want the employees to pay attention to what you are telling. Though lectures, filled with technical jargon and a great variety of terms, are the easiest way to convey information, they give no guarantees that the "learners" perceive the information in the right way. It's a fact that more entertaining, but still very informative, classes provide more desirable effect than boring lectures.

We believe that with these tips, you will transform the most boring lecture into an interactive and exciting lesson. Let your "students" forget that they have to cover the mandatory training course but let them acquire the necessary knowledge in warm and enjoyable atmosphere.