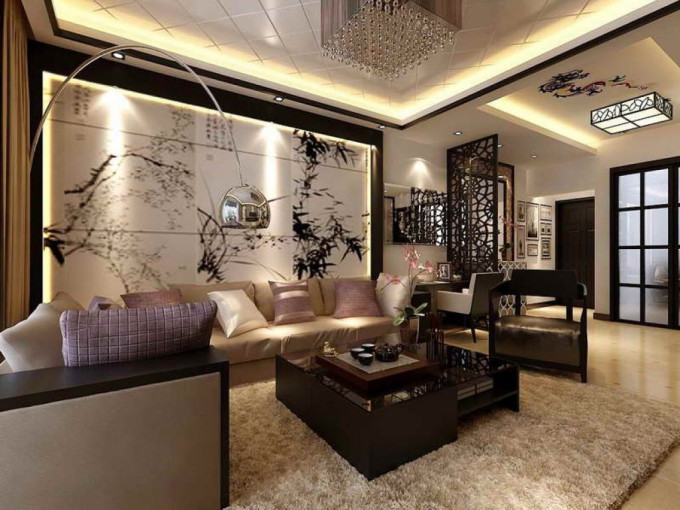 What Are the Best Solutions for Large Wall Decor?
How to decorate a large wall? While many people suffer from having too low walls, the others try to find the answer to this question. In fact, it can be a real problem of how to enhance the wall and make it look more proportional and cozy.
We offer to consider this issue in more detail and find the solutions for large wall decor, which won't only be beautiful, but will also help to create a harmonious space in your home.
Tips on Decorating Large Walls
Before you choose any type of large wall decoration, have a look at the following tips:
- Try to use earth tones of wall paint or wallpapers. The shades of yellow, red and brown may visually decrease the height of the wall and balance the space. If you prefer painted walls, it looks great if they are painted with the help of two shades of the same color and aren't simply monochromic.
- Don't be afraid of choosing bold art decor for large walls. Art can make a great statement in any room it's located. That's why, opt for the pieces, which look bright and creative, but don't forget that they must suit the style of the room.
- Use horizontal stripes for tall walls. They make the room look more balanced. If you have long walls with low ceiling, give preference to vertical stripes. It's not obligatory to make the stripes of contrasting colors like black and white. You may opt for more similar colors like two or three different shades of the same color or a couple of pastel hues.
- No matter if you seek for wall decor for large living room wall or any other part of your home, you are free to opt for functional decorations as well. Wall shelves are the first thing, which comes to mind. However, there are much more ideas, including clocks, fireplaces and mirrors.
- Always consider the proportions. Large walls demand big decorations or sets of smaller ones. One small piece of art will look awkwardly on the big wall. If you have a favorite poster or painting, which is too small for the wall you want to locate it at, you can make it look bigger by using a mat and a bigger frame. Or, you are free to make it a part of the gallery wall along with some other decorations.
- If you have tall walls, try hanging vertical artworks. Instead of posters and paintings, you can also use other decorations. For instance, large wrought iron wall decor grilles, vertical wood panels or 3D paper butterflies also look gorgeous.
- Mix up decorations. Don't stick to one type of adornments. Seek for the ways of arranging several pieces beautifully. Thus, abstract posters may look great in combination with large metal letters for wall decor or traditional paintings can be astonishingly combined with mirrors in gilded frames.
- Play with texture. The smooth huge wall looks too boring. That's why, it's better to make it textured. There are many techniques of wall painting, which allow creating nice textured patterns. Moreover, there are some kinds of textured wallpapers. A cute way to create beautiful decor for large wall is to cover it with textured panels. They can be made of various materials. For instance, stone and wood walls look astonishing in various types of home designs.
9 Best Large Wall Decor Ideas
Now, let's have a look at 9 decorating ideas for large walls, which will enhance any type of room interior:
Statement Fireplace
Fireplace adds warmth and coziness to any type of interior it's located in. But don't think that mantelpieces look old-fashioned. Today, there are many contemporary designs of them, which look astonishing. Moreover, you can opt for electric fireplaces. They are more convenient in use.
Of course, not all houses allow installing a fireplace. That's why, you can place a faux fireplace instead. Though the fireplace doesn't perform its direct functions, it adds charm to the room. Also, it looks beautiful when the space above the mantelpiece is adorned by art, no matter if it's real or artificial.
Scattered Wall Sculptures
When we talk about wall sculptures, we often imagine one or two pieces of art, which create the focal point in the room. However, not all wall sculptures are used in such a way. The small sculptures can be scattered on the wall, creating a cool three-dimensional wall design.
For example, large metal wall decor can be replaced by a set of small metal decorations, which can be placed randomly or in a certain pattern. Or, you can create a cute design with 3D flowers or butterflies. Also, you can create a cute illumination by decorating the wall with a set of small lights or candles.
Split Photos and Art
Split art looks very interesting. It may consist of two, three or more pieces. The photos or images can be spun in two ways: they may contain the pieces, which are related (like photos of different birds) or one image may bleed across two or more frames. The both variants look gorgeous. If you prefer unframed art, opt for split canvas prints. They look cute in all the types of interiors and look like real paintings.
The split images, photos or paintings can be located in various ways. The prints can be of the same size and be placed simply in a row. They can be of one size, for instance a group of small squares, and be located in several rows. Also, the printed art may be of different sizes and be placed not only in a row, but also diagonally or in more creative ways.
Large Decorative Wall Clocks
Needless to say that a big clock can make a great statement in interior and is one of the best ideas of large wall decorations living room. Such a decoration attracts attention immediately and serves as a focal point in the room. However, it can be also combined with other decorations. For instance, it may be placed above the mantelpiece or be surrounded by art.
Of course, it's more difficult to find a large clock than the one of more traditional sizes. But if you want to have unusual wall decor, it's worth time and money spent on it. Large clocks look great in various interior design styles, but are the best for industrial and contemporary rooms.
Wall Paneling
Large walls look better if they have some texture. And you can easily add that texture by decorative wall panels. There are many kinds of them and the choice depends of what you want to have in the result.
Big wall decor with wooden panels is suitable for any type of interior design style. It looks stylish and warm. Stone panels look very impressing and are great for modern as well as vintage and country interiors. Also, metal panels are often used. They fit all the types of modern interiors. In addition, you may use 3d panels made of plastic or Styrofoam.
Large Eye-Catching Wall Art
In truth, the majority of us think that the best wall decor for large wall is a huge artwork. And it's true as large art is the easiest way to enhance the wall with a single adornment. However, the choice of the proper item will take up some time. If you prefer one decoration, it must be something special, eye-catching and unusual.
The role of big wall decor living room, bedroom or any other room can be performed by a painting, poster, photo, wall hanging or wall sculpture. The style of the artwork depends on the general style of the room, but it's not necessary to make it ideally fit for the interior by its color. The artwork needs to stand out from the rest of the room and attract attention.
The posters remain one the most popular choices thanks to affordable prices and easiness of use. You can find a cool selection of posters on our site. Moreover, you can order a large custom print of your family photo, which can be used instead of images. The paintings cost more, but you can get really unique items. There are also inexpensive paintings, which are beautiful.
Wall hangings and sculptures can be made of various materials and in a great number of themes. For example, you can place large round wall decor made of metal. It will be a nice addition to modern interior. Or, you can hang a tapestry with a beautiful print.
Art Collections
Undoubtedly, gallery walls look impressing. When you decorate the wall with several pieces, it's very important to group them properly for creating a really cute wall adornment. The good news is that you are free to mix shapes and sizes as well as colors. However, it's better when all the pieces are united by one theme or are in the same style. Or, you can simply put all the art in the similar frames.
Besides, you may display not only art but also other items. For instance, if you have a nice records collection, you are free to decorate walls with them. Or, if you have many antiques, you may also use them for large wall decor.
Large Decorative Wall Mirrors
One more way of getting beautiful huge wall decor is the use of mirrors instead of art. Believe it or not but a mirror can become a beautiful focal point in the room and look as nice as art. There are so many cool designs of mirrors of various shapes, frameless and featuring the frames of all the possible styles.
Moreover, mirror decor can be complemented by other decorative pieces. Thus, a large mirror can be placed in the middle of the wall, covered with decorative panels. Or, it can be complemented by the wall sconces by the sides. Also, you may use mirrored art. It looks fresh and non-banal.
Wall Shelving
Naturally, shelves help to add architectural interest to blank walls. There are so many cool ideas of wall shelving. You can play with forms, sizes, location, color and styles. The shelves can be closed, open or mixed. You can even make the entire wall, covered with shelves.
Clearly, the shelves need to be used for their direct purpose as well and store things. If you have closed shelves, you can store much stuff there. But, if you give preference to open ones, be ready to fill the empty space beautifully. You can place some art pieces on them, collectibles, books and many other things. For example, if you decorate kitchen walls, you can store beautiful kitchenware there.
In short, there is nothing unusual in large wall decor. The majority of traditional wall decorations can be used on large walls, but it's important to make everything look balanced. So, pay special attention to proportions and that the decoration is suitable for your interior design style.