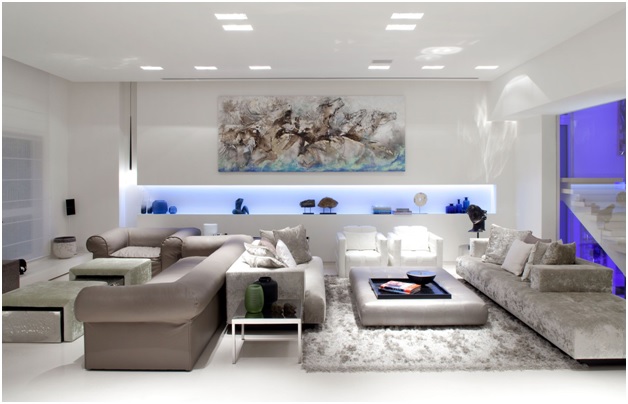 What Are the Best Ideas for Contemporary Living Room Wall Decor?
It's not a secret that choosing living room wall decor is one of the most difficult tasks. This room is the place, where you gather with your family and spend time with your guests. That's why, a living room is often called "the face of home" and you need to decorate it with the items, which aren't only beautiful but also show your good taste.
So, let's start and consider the main rules of choosing adornments as well as 5 stylish living room wall decor ideas, which will suit almost any contemporary home.
Recommendations on Choosing Contemporary Wall Decor for Living Room
While seeking for the proper living room wall decor, take into account the following pieces of advice:
Never buy a living room wall decoration, which you don't like. No matter if it's an artwork or clock, you must enjoy looking at it.
When you choose painted or printed wall art, you need to take into account the color scheme of the room. However, don't try to match the art to the room. It must look harmonious, but still needs to stand out from the rest of interior. Art must complement the room interior and not be invisible in it.
Don't be afraid of mixing living room wall decorations of various color schemes and prices. A $10 item may look cool in combination with a $10,000 painting.
Always know what size of wall art (link: https://www.contemporaryartbychristine.com/blogs/artful_inspiration/61273987-size-matters-5-tips-for-choosing-art-that-is-the-right-size-for-your-room) you need. If you seek for the ways of how to decorate a long wall in living room, your choice will be absolutely different from the art for a small wall. Define the size you need before shopping.
Also, define the price range you can afford before your shopping starts. You can get cool wall decor for living room cheap as well as for thousands of dollars. So, it's crucial to know your budget beforehand.
Be open to experiments. Many interesting ideas of wall decor appear every day. That's why, don't concentrate on a single type of decoration. There must be some cool types of living room wall decor, you have never heard of.
5 Cool Wall Decorations for Living Rooms
Now, let's have a look at 5 wall decor ideas for living room, which will look great in contemporary interior.
Sailboat Abstract Oil Painting
A painting is a traditional wall decoration for living room no matter what style it's designed in. Clearly, while choosing such art, it must definitely be modern and stylish. This sailboat abstract wall painting by Winpeak Art will look great in living rooms of various color schemes. It will add brightness to the neutral walls and be an astonishing addition to the bright ones.
The painting is available in four sizes: 32"x 16", 40"x 20", 48"x 24" and 56"x 28". The corresponding prices are $39.98, $79.98, $89.98 and $139.98. The painting is already framed.
New York Poster
New York is the city of dreams for many people. Even if you aren't a New York resident, you can add a part of the city's atmosphere to your wall decor living room. On PrintMePoster, you can find a great selection of New York posters, but the photo of this city in the night looks marvelous and transfers the spirit of the city well.
This New York poster is available in various formats from A5 to A1. We recommend buying large prints (A1 or A2) as other formats are too small for such a big city. Thus, A1 poster will cost you $29.95 and A2 print can be bought for $19.95.
Metal Wall Art Set of 5 Items
Metal wall decor is one of the trendiest ideas for modern interiors. This set of 5 items by Statements2000-Jon Allen Metal Art looks impressive. Each panel features a different 3D pattern and so your decor for walls living room won't look boring. Moreover, silver coloring is suitable for the room in any color scheme.
Each piece is of 24 in x 6 in x 2 in size. The price for this silver-colored art is $195. But these metal decorations are also available in other colors, including aqua, blue, copper, green, purple and red. The panels are made of aluminum and so, they aren't heavy like many other metal decorations.
Floating U Shelves
In fact, while choosing wall shelves, we don't treat them as just furniture anymore. Now, shelves are considered to be as wall decorations living room as posters or paintings. There are many creative designs of shelves, but if you have a contemporary dwelling, seek for something simple and stylish like these floating "U" shelves by Danya B.
The silver-grey shelves are of three sizes: large 17 x 4 x 4", medium 13 x 4 x 3.5" and small 9 x 4 x 3". The price for a set is $20.46. The shelves can be hung with the vertical sides up (like on the image) or down.
White Wall Clock
Undoubtedly, it's great if the accessories for living room walls are not only beautiful but also functional. One of the best examples is a wall clock in minimalistic style by Present Time. The clock has white face and markers and the trim, made of polished steel. Though the design is very simple, such clock looks very stylish and suits any type of modern interior.
This Present Time Karlsson Mr. White clock is available in two sizes: small (14.5 x 2 x 14.5 inches) for $59.99 and large (20 x 2.8 x 20 inches) for $99.99. It requires 1 AA battery. It's sold by Everly Home & Gift.
Now, you know how to choose wall decorations for living room and, probably, you have already imagined one of the offered variants in your dwelling. Whether you need wall decoration pictures for living room or shelves, you aren't obliged to follow all the rules strictly. Don't forget to take into account your and your family's tastes and preferences.