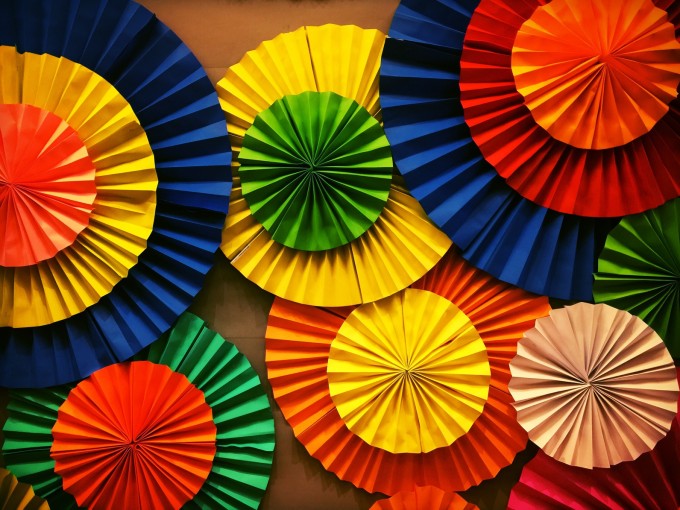 Wall Decor: Fantastic Ideas of Decorating the Walls of Your Home on a Tight Budget
Today, we have many variants of how to decorate our home beautifully. However, many things cost too much and the majority of people can't afford buying them. That's why, people start to invent something new and turn on their imagination and creative talents while choosing the wall décor for their dwelling.
Nowadays, there are a great number of ideas of how to decorate the walls of your dwelling inexpensively and creatively. 15 wonderful variants are presented below.
Stamping and Stencils
A patterned design will turn an ordinary wall into an exclusive focal point. The patterns may be different: from simple diamond motif to complicated flowery variants. It's very easy to turn the dull wall into something creative with the help of stamping technique or using stencils. You may cover the whole wall with the stamped images or arrange them in a definite shape.
However, be careful. It's better to test your stamp or stencil first on paper and then in an inconspicuous area on the wall in order to avoid inaccurate patterns. It's also necessary to consider all the design details and picture to yourself how the final result must look.
Doodling
It's possible that in childhood your parents were against your doodling on the walls, wallpapers and furniture. However, now, you have a chance to unleash your inner painter and doodle the walls of your dwelling the way you like. You can also create a drawing in this technique and decorate the room with it.
If you draw directly on the wall or wallpapers, you need to choose the pen color, which will be well seen. Thus, black pens are good for light walls while gold or silver paint pens look cool on dark wallpapers.
Stickers
There are many shops, which sell stickers rather cheap. The choice of possible stickers designs is so vast that you will definitely find something appropriate for your dwelling. It may be a small decorative detail like a butterfly or a flower. You may use many small stickers of the similar patterns and colors and cover the whole wall with them.
There are also rather large stickers for sale. They cover the major part of the wall and serve as a separate piece of wall art. The main plus of using stickers is that they are easy removable and you can get rid of them as soon as you are tired of that design.
Washi Tape Designs
There are dozens of ways of how to use washi tape for decorative purposes. For example, you may cut out small pieces of any geometric shape you like and attach them to the empty walls either in a certain pattern or chaotically. Or, even easier, washi tape may help you to create a nice stripped pattern on the wall without too many efforts.
A cool polka-dot pattern may be created by cutting rounds of the same size and placing them chaotically on the wall. This idea is cool for baby room décor. If you have white walls, you can cut rounds of different colors and sizes and decorate the walls with such bright pieces.
Ruined Books Pages
If you have some old and ruined books or newspapers, don't throw them away. They can be used as a part of the wall décor. You can cover the whole wall with book pages instead of using wallpapers. You may also make garlands, wreaths of pages or just hang them framed as pieces of art.
It's also possible to use the entire books for wall decoration. For example, you may fold book pages in different directions and mount books on the wall using screws. The book designs are ideal for those, who are fond of reading or, even, writes his or her own ones.
If you don't have ruined books, it's a bad idea to spoil the new ones. The way out is to find the scanned images of book pages or just nice patterns looking like book pages and print a poster, featuring them.
Maps
Maps are ideal decorative elements for the fans of travelling and adventures. They inspire and, at the same time, provide the walls with a special charm. You may use a huge world map poster, which covers the major part of your wall. It's a great way to enhance the design of a boring room.
You are free to use smaller versions as well. It can be not a world map but the one of your country or city. It can be even a detailed plan of your district. It's possible to frame the piece of a map and place it under the glass. Moreover, there are many creative designs of maps, which make ordinary maps look like works of art.
Plywood
Plywood is also a material, which can be used for decorative purposes. For instance, take a piece of plywood and paint it the way you like. If you aren't a very good painter, create an abstract design with simple lines and shapes. After placing it on the wall, you will be impressed with the results and how amazing it looks.
It's also cool to cut out various figures of it or make creative shelves. It's possible to use plywood as a base for many other DIY projects. You may glue many objects to it (pebbles, feathers, images or even personal photos), creating a nice composition.
Posters with Close-up Photos of Flowers
The close-up photos of flowers look very cool in interior design. They look a bit abstract, but, all the same, the pieces of nature enhance the room décor. The enlarged flowers may be used for the design of any kind of room.
Posters aren't expensive. And you can find the print you like on the site of an online printing company. Moreover, there is always a possibility to order a custom print. You can find the necessary picture on the net and ask a printing company to turn it into a poster. You are also free to use a photo, taken at your own digital camera.
Canvases with Artistic Patterns
Canvases are extremely beautiful decorations for home. Their texture and deep colors may enhance any room and any style. Sometimes canvases look like real paintings, but cost much cheaper. Moreover, there are dozens of ways to locate them creatively.
Canvas is a perfect variant to display art in your dwelling. It's not necessary to seek for the ready prints. You can choose any artistic image you like and order its print. However, while choosing the image, take into account the style of your room and its color scheme. Thus, abstract artworks are suitable for modern designs while reproductions of famous paintings look cool in traditional dwellings.
Plates
Many of us have plates, which aren't from a set and aren't used at all or used seldom. If you have plates with different designs, you have a chance to create a little masterpiece, which will decorate the walls of your dwelling. The ideal place for such a piece of art is kitchen or canteen.
In order to create your plates decoration, you need to have a look at the plates you have and think about how to arrange them interestingly. You can try the possible variants on the table or floor before attaching plates to the wall. Moreover, along with or instead of plates, some other kitchen utensils may be used, like cups, spoons and, even, saucepans and frying pans.
Puzzles
Puzzles will help you to make the walls look more textured and complicated. Not everyone thinks about showcasing puzzles, though such wall art looks very creative. Moreover, the process of their collecting will definitely be pleasant for you and useful for your brain. The price for puzzles varies, depending on their size and number of pieces, but it's rather cheap.
In addition, you may order custom puzzles, which perfectly suit your interior design. Thus, if you are a sports cars fan and have an interior, designed in contemporary style, puzzles, featuring the car you like, will look amazing.
Paper Decorations
Probably, all of us made some paper crafts at school or kindergarten. Why not recollect about those times and do something useful for your home? Though paper decorations can hardly be called the most durable, they may look extremely beautiful and original.
For example, cut out butterflies silhouettes of white or colorful paper, fold them for a more realistic look, and attach to the wall, grouping in various ways. There are many things, which can be arranged in the similar way. It can be flowers, birds, fans etc.
Photo Gallery
Beautiful photos must be printed. As the majority of us just store photos on computer or smartphone, we frequently forget about them. Choose several photos you like, print, frame them and create a little gallery in a living room or entryway of your dwelling. Family photos make home look warmer and cozier.
However, even one photo may be used in a cool way. For example, you may take your favorite photo and turn it into a large poster (article: Large Posters How to Use Giant Prints in Advertising and Interior Décor), which covers the major part of the wall. However, before ordering such a print, make sure that the resolution of the photo is high enough for such type of print.
Frames
Have you ever thought that frames can be used separately from paintings, posters or photos? It's a normal practice to leave painted and printed wall decorations unframed, but what about leaving frames without any filling? It will surprise your guests and believe that just frames may look really cool.
However, just to hang one empty frame in the middle of the wall is too dull. Several frames of various sizes look much more interesting. They can be arranged differently and it looks better if they are linked to each other. You are also free to use not only frames of different sizes but of various colors and materials as well.
Fabric Décor
It's possible to stretch fabric on a frame and you will get a picture, which becomes a cheaper alternative to canvases. As a rule, bright and patterned fabrics are used for this purpose or the ones, which have a certain image, applied to them.
Fabric pieces may be also showcased in embroidery hoops if you like round forms. It's easier to place them in hoops than stretch over the frame.
So, we hope that you have got inspired by the ideas above and now know how to decorate your home without spending much money. Now, it's time to try something and implement the ideas into life!