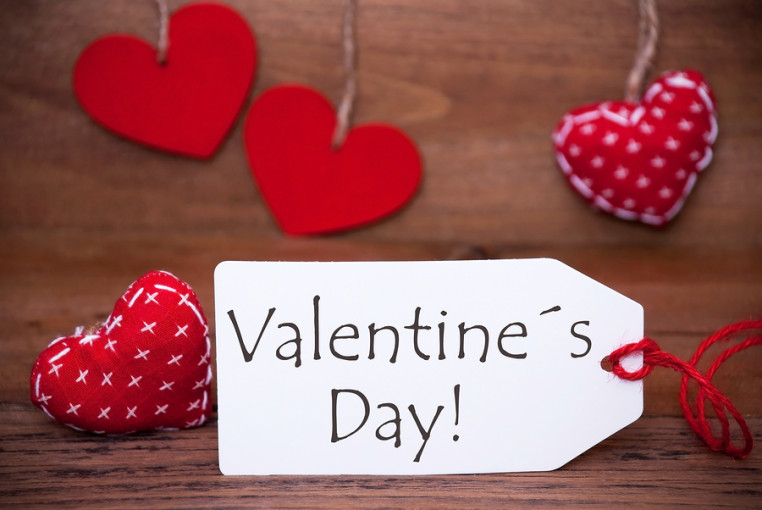 Valentine's Day Images, Decoration and Gift Ideas
We can hardly imagine February without the St. Valentine's Day. As hearts and Cupids are seen everywhere, it's very hard to resist this romantic atmosphere and many of us decide to surprise their sweethearts with some pleasant and romantic gifts. Moreover, some of us want Valentine's Day atmosphere to enter out homes and we prepare decorations for this holiday just like we do for Christmas. We'd like to extend your knowledge about Valentine's Day images and gifts. So, we offer you some amazing ideas both for gifts for your sweethearts and for romantic home decor.
A tree of hearts. It can be a nice substitute for a bouquet. Moreover, it's easy to make it with your own hands. You just need to find a beautiful tree branch and place it in a vase or glass, decorated with beautiful paper. Then, you need to attach hearts to the tree with the help of ribbons and that's it! You can use ready images of Valentine's Day or make the hearts with your own hands. They look extremely nice if they are made of fabric or felt. But the easiest way is to cut out red paper hearts. In addition, you are free to decorate your tree with sweets or some other little presents.
Add the holiday atmosphere to ordinary objects. There are many different household things, which can serve for the creation of romantic atmosphere in your house. Towels, bed linen, soap, slippers and even toilet paper are available in Valentine's Day prints. Just buy a couple of those things and it will be enough.
Felt hearts garland. Felt is one of the best materials for Valentine's Day handmade things. It's very soft and provides with the feeling of warmth and comfort. It's not hard to make a lovely garland of felt hearts. Just cut two sides of a heart from a piece of felt, sew them together and put some batting inside. There are several variants of how to attach the hearts to the thread, but a very easy and nice one is to do that with the help of clothespins.
Thread hearts. It's one more way to show your creativity. You just need to take a metal, wooden or wire carcass and wrap it with thread. It's possible to use all available types of threads as well as colors. The combination of colors also looks wonderful.
A wreath. We usually use wreaths during the Christmas time to adorn the entrance to our home and show everybody that you are ready for Christmas. Why not make a wreath for Valentine's Day? It must definitely be heart shaped and everything else is up to you. For example, you can make a wreath out of red berries. It looks simple but very stylish.
Photo collages and posters. What can be a better gift than pleasant memories? If you have many photos of you and your sweetheart, turn them into a nice collage. You can either make one huge poster, containing your photos, or make small photos beautifully framed. Moreover, you can add some happy Valentine's Day images or other decorative elements to make the photos look more festive.
Tell your sweetheart why you love him or her. There are dozens of ways how it can be done. You can say it orally, write a love note or a poem. A very romantic way to do that is to write all the reasons of your love on small pieces of paper and place them in a jar or small vase. Allow your beloved person to take them out one by one and read your warm words. Believe that he or she will be definitely touched by such an unusual gift.
Romantic mugs. Mugs will remind you of each other every time you drink tea of coffee. This present isn't only nice, but also useful as all of us use mugs. In such a way, an ordinary object turns into a reminder about the person you love. Many designs are available both in live and online shops. In addition, it's possible to make mugs more personalized and print your names on them.
Sweets. If your sweetheart is a sweet-tooth, this present will be certainly highly estimated. However, we advise you to forget about chocolate as it's too banal. It's better to present more unusual handmade sweets like creative cupcakes, stamped cookies with your personal messages, treat jars etc. If you still prefer to present chocolates, wrap them into decorative paper with Valentine Day images.
Heart-Shaped Tea Bag Tags. Just by making tea bag tags in the form of a heart, you will be able to raise your spirits even when the holiday is over. They can also become good presents for the people you love. We are sure that your friends and family members will like such a sign of attention.
Photo puzzle. Turn one of your best photos into a heart-shaped puzzle. It will serve as a valentine and, at the same time, will make your sweetheart remember the childhood, when he or she did jigsaw puzzles. It will be a fun. However, there is one more way to use puzzles. You can take the puzzles you don't need and make a heart of them. Thus, you will get even a more creative valentine.
Couple accessories. If you have similar accessories or which constitute the whole together (for example, two halves of a heart), it's very romantic. Such things can be always with you, reminding of your partner. It can be rings, pendants, bracelets, keychains and many other things. It's also nice if your names are engraved on them.
A special place among all ideas for Valentine's Day occupy the presents, which can't be touched by hands. It's not necessary to buy something, you can organize some interesting activities. You are free to go to the cinema, rent a room at the most luxurious hotel in the city, spend an evening in a spa center, organize a romantic dinner or even set out for a trip. The most important is to have good time together, which you will recollect many years after. Just turn on your imagination and think what your sweetheart is dreaming about.
We would also like to add that Valentine's Day isn't the only chance to tell your partner about feelings. Each of us wants to feel love not only at this particular day but always. So, take care of your close people and demonstrate your love without any causes.