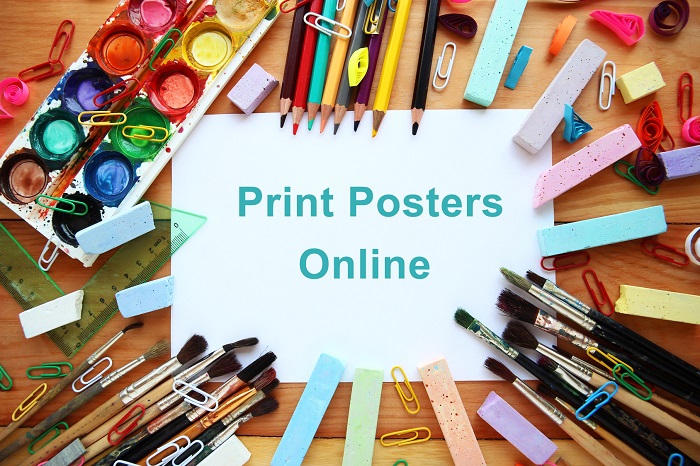 Print Posters Online or Use Brick-and-Mortar Poster Stores What Services to Choose
All of us know that posters can be used for a number of goals: from product advertising to personal use. You can see posters everywhere: in streets, offices, cinemas, cafes and, even, at homes. The posters are usually created to grab attention and deliver a certain message to the audience.
Nowadays, any poster print shop can offer a wide range of posters for sale. The posters cover almost all the possible themes and techniques, from movie to travel posters (article: Travel Posters Wall Decor with a Touch of Adventure), from vintage prints (article: Vintage Posters 15 Stylish Wall Décor Ideas with a Touch of the Past Epochs) to modern art masterpieces (article: Most Popular Types of Art Posters and Tips on How to Choose the One for Your Home Decor).
When you need to get a poster, you have two options: to buy it at your local poster stores or to order poster prints online. The both variants have their advantages and disadvantages. Let's consider these two types of services in more details.
The Advantages and Disadvantages of Buying Posters from an Ordinary Poster Shop
Many of us think that nothing can be easier than just come to the closest poster store and buy there the poster you need. However, the reality seems to be a bit different. The pluses and minuses of using brick-and-mortar poster services are listed below.
Advantages:
The quality of the print can be checked before the purchase is made. Before buying a poster, you have an opportunity to have a look at it. If it has some defects or you aren't satisfied with the quality, you are always free to ask for a replacement or just refuse to buy it.
If you order a custom print, you have an opportunity to control the printing process. Many poster printers can make posters in the presence of a customer and you have an ability to express your special requirements to the ready product. Moreover, if the poster is printed and its quality doesn't meet your expectations and is lower than you have been promised, you may file a claim and ask for a new print.
You may have a poster framed immediately. The majority of poster stores sell poster frames as well. That's why you can choose the one you like and have your poster framed without leaving the shop. That's very convenient.
Disadvantages:
Time. If you are very lucky, you enter the closest poster store, buy a print and leave the shop in 10 minutes with the poster of your dreams. Unfortunately, such situations happen rarely. First, the closest poster store may be located not near your dwelling but in several quarters and you need time to get there. Secondly, brick-and-mortar shops have a certain work schedule, which is most likely to coincide with your working hours and that may cause some troubles. And thirdly, when you finally get to the shop, it's possible that you won't be the only customer and you will need to wait until you are served by the shop assistant. So, sometimes a visit to such a shop may take up much time.
Price. Very often, the price for a poster at a live shop is higher than at its online analogue. The price increase is justified by several things. First of all, the owners of brick-and-mortar shops pay the rent, the sum of which is usually higher than the one for online stores, because they need more space to have all the goods stored and, at the same time, additional space is needed to receive clients. Secondly, such shops have more employees in order to satisfy all the clients' needs and keep the store in order. And thirdly, many live poster shops are resellers and that's why, in order to earn money, they need to sell products at the prices which are higher that the procurement price.
The Pros and Cons of Online Poster Printing
Some people are still afraid of making online purchases primarily of the fear to receive a wrong product or be defrauded. However, online shopping isn't so frightful and has a number of benefits over buying posters from ordinary shops as well as a couple of disadvantages. Here are the major pluses and minuses of "print posters online" services.
Advantages:
It's very easy to make an order. The major plus of printing posters online is the convenience and easiness of ordering a print. You can do that at any time, regardless of day of the week and time of the day. So, even an order, made on Saturday night, will be received by the company. Moreover, in order to make an order you just need to choose the image you like, its size and finish, write down the shipping address and pay.
Convenient delivery. By ordering poster printing online, you have it delivered wherever you want: to your house, office, PO box etc. Of course, the price for the postal services will be added to the order cost, but, as the result, the total sum of the order will be lower than at ordinary shops.
Time saving. As a rule, you spend much less time on ordering a poster print online than while visiting an ordinary shop. You don't need to spend time on talking to a shop assistant or wait in a queue. You just click a couple of buttons and wait for the parcel to arrive.
Prices. The prices at online poster shops are usually lower because they don't need to pay huge money for rent and don't have a great number of employees. Moreover, the majority of stores print posters after you make an order for them and thus, they reduce production costs. So, cheap online poster printing isn't the myth and you can really save money on a simple poster.
Unique prints. It's not a secret that the choice of prints at online stores is much bigger. You can find almost every poster, even if it was first released 20 years ago. Moreover, you can find some rare and unique posters there.
Disadvantages:
The possibility of being defrauded. Unfortunately, the possibility of being cheated still exists. There are many people, who want to earn money illegally. In order to protect yourself, you need to gather some information about the store before making a purchase.
You can communicate with the shop representatives only by email or phone. That's a minus for the lovers of talking and discussing all the order details. However, it's a plus for those, who prefer to save time and make all the issues decided quickly and efficiently.
10 Most Popular Prints at Online Poster Printing Services
People, who order poster prints online, choose some images more frequently than others and increase the popularity of certain posters. The list of the most popular themes for poster prints is presented below.
Vintage posters are always in trend. They look nice in almost every type on interior décor and can be used in any room, from living room to bedroom. The poster below is a perfect wall decoration for baby room design
Movie/Video Games/Celebrity Posters
The fans of certain movies, games or celebrities frequently decorate the walls of their rooms with such posters. Movie posters are especially good for interior décor as they are more universal and can be organically placed in a number of designs.
Travel Posters
The travel admirers prefer to place posters with sights and world wonders in their homes. It can be a nice New York poster, an amazing Maldives beach sunset print or the image of the snowy Alps. The most important in choosing travel posters is that you like the image and that it has a good impact on you.
Animals Posters
Both home and wild animals are wonderful variants for best online poster printing. Cute dogs posters will add comfort and coziness to any room they are placed in while the ones of the elephants will make the room look more exotic.
Nature Posters
Nature pictures have been popular for ages and they still look harmonious in interior design. To print a poster online, which contains nature-inspired motives, is very easy as the choice of such images is incredible starting from calm mountains and ending with stormy seas.
Cars Posters
Cars posters aren't preferred by boys and men only. Such prints may add a special charm to the room as well as enliven its design. A nice idea is to place a retro car print somewhere in the living room or entryway.
Sports Posters
Sports posters don't only serve for decorative purposes, they also motivate. The most popular type of sports prints are fitness motivational posters, which you may face at gyms as well as at ordinary rooms.
Motivational Posters
Motivational posters are dedicated to various themes, from self-development to more global aims. Their use is rather wide: you can see them in home interiors, offices and, even, streets. Moreover, there are also funny motivational posters, which not only inspire but also raise the mood.
Art Posters
Nowadays, it's rather popular to use art posters instead of paintings. Posters cost cheaper than paintings but the effect they cause is the same. Thus, it's very trendy to have an art print at home, especially the one, made in modern techniques.
Custom Posters
If you don't like the offered poster variants or want to have something unique, make an order for a custom print. Custom poster printing online is a very easy process. You just need to download your image, state what size and finish you want, write your address and pay for the order. It's even easier than to have it printed at the local printing company. The image may be taken from any source and also be created by you. There are many services, which offer to make a poster online to print, or you can do that on your computer.
So, it's up to you to decide whether to print poster online or go to a brick-and-mortar shop. Each method has its pluses and minuses. However, we give preference to online services as they allow to save your time and money. Moreover, the companies, which print posters online, usually have more impressive selection of posters for sale.