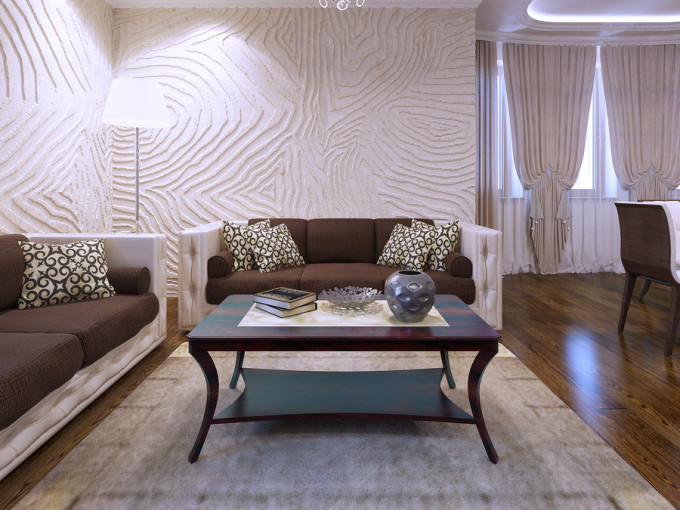 How to Add 3D Wall Decor to Your Living Room?
Want to have unusual wall art in your living room? Have you ever thought about adding 3d wall decor to your dwelling? It's a great way to add texture to the room and make the walls more creative with the help of optical illusions.
Let's consider the possible ways of how to decorate the walls with 3d wall decorations in more detail.
Textured Wall Panels
Basically, wall decor ideas with textured panels look great and their main plus is that the same panel can suit several interior design styles. The panels with 3d effect produce varied optical effects and can make the room look different depending on the lighting and the viewpoint. They can be used not only for living rooms but also in other rooms, from entryway to bathroom wall decor.
The panels can be made of various materials. The choice depends on your budget and the style of the living room. Thus, wood panels are rather pricy, but they look very stylish in rustic wall decor as well as contemporary one. The metal panels are suitable for all the modern home decor styles.
At the same time, plastic and Styrofoam wall panels are much cheaper and can be easily installed even without any professional help. They are available in various colors. Such panels are suitable for modern interiors, including minimalist and industrial styled homes.
The choice of the possible patterns is very large. As a rule some abstract and geometric patterns are used. The patterns, which remind sand and water are suitable for almost every home. Also, there are wall panels with nature-inspired patterns, for example, the ones with leaves and flowers.
Besides, the 3d wall panels can be used in many other ways. They may serve as separate wall art pieces, bed heads, decoration of bar and desk fronts, drawers and cabinets etc. They are also a great basis for displaying art.
Wall Murals with 3D Effect
Wall murals are an astonishing way to decorate the wall with a single piece, which turns into the focal point of the room. The 3d wall art mural may cover the entire wall or can be used just in some part of it. The great thing about such huge wall art decor is that it may create such an optical illusion, which will make you feel as if you are in the parallel world.
In general, there are two basic types of wall murals. They may feature the photos and images or patterns with optical illusions. And the both kinds of wall murals may have a 3d effect. If it's a photo, it will be more volume than the ordinary one. You can easily differentiate a simple image from the 3d one in the same way as you do with 2d and 3d movies.
Very often, 3d wall murals with images look like a window view or a hole in the wall, which opens a view to beautiful nature, cityscapes and even animals. Also, the images of tunnels or roads to some places look very realistic.
The wall murals with graphic optical illusions look really impressing. The images are so realistic and seem to be a real part of the room. They look the best in minimalist, contemporary and high tech interiors. Also, the murals may combine images with some more graphic patterns. Of course, the choice of the exact image depends on the style of your living room.
3D Pictures for Wall Decor
Undoubtedly, smaller images may also serve as fantastic 3d wall art decor. You can seek for a series of small images in A6 or A5 format as well as opt for a bigger print in A1 or A2 size. On our site, you can find many prints, which will make the walls look more voluminous. The 3d images as well as the prints with optical illusions are for sale.
The images with 3d effect are the most suitable for modern interiors. If your living room is designed in nautical, rustic or any other style and you want to have the textured art, you can easily do that. Thus, an ordinary image, which suits the theme of your room, can be placed in the frame in the form of a box. The same method works not only for living room but also for bedroom, nursery and kitchen wall decor.
In addition, the wall pictures can be substituted by other art pieces. For example, you can buy a box frame, which features a weathered leaf or flower. Such a decoration will look cute in vintage, shabby chic and country interiors. Or, something similar is for sale with sea shells and corals for nautical-styled rooms. But the list of the possible items, which can be placed under the glass, is unlimited and so, you may find the suitable item for any living room.
3D Metal Wall Decor
Metal decorations look very stylish, especially if they are textured or feature some optical illusions. The can be in the form of rectangular or square panels, which have 3d patterns or texture. Or, they may have some more complicated forms, like swirls or even flowers, which pop out from the wall. Also, metal sculptures can be placed in frames.
Metal accents look fantastic in modern interiors. However, metal wall decor 3d can be designed in various styles and so, you can apply it in many other types of home designs. For example, the textured decorations from iron are appropriate for vintage and country styles. The same concerns the brass art. At the same time, colorful metal art can be bought, taking into account the color scheme of the living room.
In fact, the metal decorations only seem to be cold and heavy. They can be designed even in romantic style. For example, metal butterflies will add lightness to the walls. Or, metal items may serve as a part of decor. Thus, a metal frame may be used for hanging posters and some other types of wall art.
The black, silver and gold colors of metal decorations are considered to be universal and can be added to the room of any color scheme. However, while black is neutral, gold looks the best in luxurious interiors and the silver one is good for modern and minimalist living rooms.
Paper Wall Decorations
Despite the fact that paper wall decor isn't very durable and spoils pretty fast, nothing prevents it from being an amazing variant for living room walls. Undoubtedly, it's a great opportunity to get cute textured decor rather cheap. And don't think that paper art looks too childish. It can look really stylish and beautiful.
The 3-d wall decor, made of paper, can be created with the help of origami technique. If you love doing origami, you are free to create a cool adornment with your own hands. Large decorations with animals may be used as well as abstract art, consisting of several pieces. The paper adornments look the best if they are made of thick colorful paper.
In addition to origami, there are some other ways of making 3d paper art. For example, you can make paper butterflies or flowers. The volume can be added by folding the petals for flowers and wings for butterflies.
Or, you are free to give preference to paper garlands, which may help to create the illusion of the moving wall as they will swing any time the wind blows in their direction. One more idea is quilling art. It also looks very nice on walls.
Wall Decor Stickers with 3D Effect
In fact, wall 3d decor with stickers acts in the same way as the prints and wall murals. Basically, large stickers may serve as wall murals, while the smaller ones can replace the more traditional posters art.
Like wall pictures, the stickers may feature a certain image or an optical illusion. All the images, which are used for wall murals and prints, can be used for the stickers wall art. The idea with the illusion of a hole in the wall is one of the most popular ones. Also, 3d abstract images may look cool.
Along with large 3d stickers, you are also free to buy some small ones with the same effect. They will help to add a quick decoration to some small spaces. Also, a sticker 3d wall decoration may be more textured. Some small voluminous adornments as stars, butterflies or flowers can be made in the form of stickers.
3D Wall Sculptures
One more cool way of incorporation 3 d wall art into the living room decor is to use wall sculptures. Today, modern art sculptures are very popular and you can find many beautiful items for sale. But, you will also find cool pieces for other interiors from minimalist to art deco styles.
The materials of sculptures also differ. First of all, they can be made of metal. Silvery metal sculptures are suitable for living rooms in contemporary style. The iron and brass will go well with vintage and rustic interiors. The gold sculptures are for luxury-inspired dwellings. Also, the metal can be painted in different colors.
Secondly, wood is a good material for sculptures. It suits all types of interiors from retro to contemporary. The natural wood colors look the best. But the adornment can be also painted if you need to adjust it to a certain color scheme.
The third possible variant of material is the plaster. Such decorations can be bought or they can be made directly on the room walls. Obviously, the latter variant will cost more expensive. The plaster sculptures look good in traditional homes as well as luxury ones.
Fourthly, glass and mirror may also help you to create cute optical illusions with sculptures. Though these materials are rather fragile, they look very interesting and may suit a wide range of interiors from traditional to high tech ones.
And finally, plastic sculptures are possible. They don't cost much and are available in various styles. However, choose only the ones made of a high-quality material as cheap plastic looks too plain.
DIY Art
Of course, in any home, there is always some place for DIY art. You are free to make the decorations from paper, fabrics, threads and even wine corks. Or, you can add some texture to the walls with the help of plaster or thick paint. The list of the possible variants is limitless.
Moreover, DIY decorations with 3d effect can be used in many other rooms. They will look cute in bedroom wall decor or on the nursery walls. Also, you may try to add some texture to the decorations you already have. For example, you may add popping out flowers to the painting or print with flowers.
In essence, you see that there are many methods of how to decorate your living room with 3d wall decor. Remember that besides choosing the decor by its beauty, you also need to make it look harmonious with the rest of the interior.