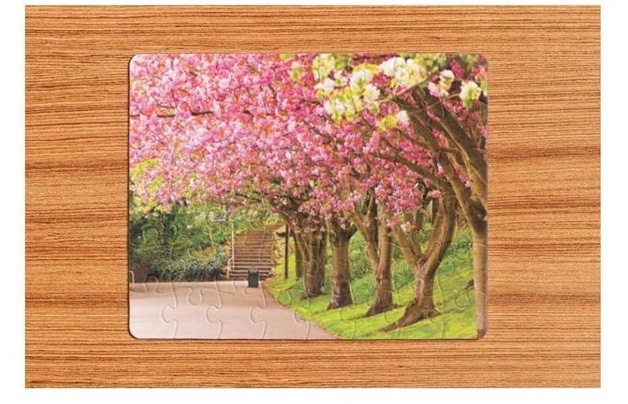 Custom Puzzles as Creative and Beautiful Gifts
Custom made puzzles are wonderful gifts for your close people. Before, we could bought jigsaw puzzles only at shops and use the pictures, designed by other people. But nowadays, it's possible to become a creator of your own puzzle.
Moreover, the puzzles aren't just tools to pass the time. The personalized puzzles turn out to be cool and original gifts. They may feature any image you like and that makes it possible to suit the tastes of any person. They can be done in various forms as well. In addition, the process of doing puzzles is much more interesting if something personal is featured.
The puzzles can be done just for pleasure. However, they have some more functions. The ready puzzles may serve as decorations and bring aesthetical pleasure. They may help kids to develop and learn. They help to relax and improve our psychological health. There is even such a notion as puzzle therapy.
So, you see that puzzles aren't just the pieces, which need to be gathered together. Their functions are much wider. So does the variety of possible prints for them. We'd like to provide you with some ideas of what can be printed on custom puzzles.
Custom Photo Puzzles
The most personalized and unique prints for puzzles are, of course, photos. Any photo can be used for custom photo puzzle. However, it's important that the quality of the image is very high in order to avoid prints with blurred and pixelated images. Here are the examples of the photos, which are most frequently used for custom puzzles printing.
Puzzles for Loving Couples
A custom puzzle with the photo of you two can be a wonderful gift for St Valentine's Day, your sweetheart's birthday or the anniversary of your relationship. You are free to make such a present without any cause as well.
Besides the photo, such a puzzle may contain a message, telling about your feelings, your initials or names as well as some additional pictures like small hearts, doves, infinity sign etc. Puzzles may be also used to make a proposal to your girlfriend.
Family Puzzles
The family photos are especially appreciated when your close people are far from you. During your next family reunion, present nice puzzles to your relatives, containing the family photo or a photo collage.
Such a gift will be highly estimated by adults, who will find it very touching, and kids, who are most likely to start doing it immediately. Presenting puzzles as small gifts to your family members will show your care and that you really miss them when they are far away.
Baby Photo Puzzles
Baby photos are one of the best prints for loving and caring parents. Many people decorate homes with the photos of their kids, but if you want to have something more original, pay attention to puzzles.
You will definitely enjoy the process of doing puzzles, featuring the photo of your child, and, of course, be delighted with the ready picture. In addition to the photo, you may add your kid's name to the design or the cartoon images.
Wedding Customized Puzzles
A wedding photo puzzle is a great idea of a present for your marriage anniversary. Choose the best photo from your wedding or make a collage of the photos you like and add some creative design elements like hearts, swans etc.
You may also write some kind words to your husband or wife, the quotes about love or just your congratulations. If you have children, you can add their photos and your common family photos to the collage.
Puzzles for Friends
It doesn't matter if you have one close friend or several ones, it's always pleasant to surprise them and present the gifts, which will remind about your friendship. Choose a funny photo from your common vacation or party to raise the mood, the one from your school or college years to evoke memories, or just a beautiful photo to be placed on a prominent place.
Moreover, a customized puzzle isn't just a photo print. If your friend gets bored and doesn't know how to pass time, he or she may do the puzzles and enjoy the process. You are free to do that together as well.
Puzzles with Pets
Pets are also the members of our families. They don't only bring positive emotions but also inspire and, even, teach us. The photo of your cat, dog or fish, turned into a puzzle, will make you enjoy the process of doing it and will later become a nice decoration for the house.
If you have children, they will definitely like the puzzles with the image of their favorite pet and will gladly do it. Moreover, you may offer them to help you to choose the design for the future puzzle.
Custom Picture Puzzles
The puzzles with a great number of images are available for sale. However, it may happen that you want to get a certain image, but it isn't for sale. The way out is to take the image you want and order a custom puzzle, featuring it. Very often, people print the images of animals, nature, art and their hobbies.
Artworks Puzzles
Maybe, the artworks puzzles are among the most complicated ones, especially if they consist of many pieces. They may feature anything: from abstract modern art to the masterpieces of legendary painters, known by everyone. They may be dedicated to any theme and be presented as gifts as well as printed for your personal use.
The art prints may be not only reproductions of the artworks, created by hand, but also the results of the graphic design. You are free to make your own art design and order its print on puzzles. Thus, you will get the most unique puzzle.
Hobby Custom Puzzles
Hobby is one more cool theme for a custom puzzle. Any hobby, which can be visually presented, may be printed on puzzles. Whether you like cycling or chess, singing or dancing, painting or watching movies, don't hesitate to make a nice custom print of that.
For example, if you are a car fan, order a puzzle, featuring the car of your dreams. If you like sports, choose the print, related to your favorite kind of sports, team or athlete. It you are a devoted traveler, print the images of the world's sights and places of interest, you have visited or would like to visit.
Flora and Fauna Puzzles
The nature prints are always saturated and interesting. Such puzzles may be rather complicated, but you will enjoy the process of doing them. The close-up photos of animals, landscapes, flowers and many other nature-related images are used for puzzles.
In addition, the images of nature and animals look great in the interior design. They enliven the space and provide the room they are placed in with vivid colors and bright patterns. Thus, you are free to use the ready puzzle as a part of décor.
Custom Jigsaw Puzzles for Kids
Many kids love doing puzzles. This isn't only a funny and interesting process. The puzzles also help a child to develop and learn.
Puzzles contribute to the development of many skills, including fine motor skills of hands and coordination, logical thinking, imagination, spatial thinking, attentiveness, memory, patience etc. A child also learns to take decisions independently.
Puzzles with Cartoon and Fairytale Characters
Children are fond of fairytales and cartoons. They have their favorite personages and are lucky when they see the images of them in various games, coloring books, and, of course, puzzles.
However, it may happen that you can't find the necessary puzzles for sale. Here, the custom puzzles printing will do a great job for you. By just downloading the image you want, you will have it printed specifically for your kid. It's very easy and demands very little time and efforts from you. As a result, your kid will be happy with the cool personalized puzzle.
Educational Puzzles
The puzzles are used for educational aims as well. They may help your kid to learn letters or numbers, get the basic knowledge in maths or any other discipline. The usual learning materials can be printed in the form of a puzzle and thus, your kid will learn something from the image as well as develop a number of skills in the process of doing puzzles.
The content of the image depends upon the age of a child. The images, featuring numbers, are good for little kids, who just start to learn numbers, or you may start to learn letters from a custom name puzzle, asking the kid to compound his or her name with the letters given. More complicated prints, like world maps or maths, are used for the pupils of elementary school.
Funny Custom Puzzles
The images of funny animals, personages, cartoons are also adored by children. After the task is completed and the image is ready, a kid will get positive emotions by looking at a funny image. Allow your kid to develop and have some fun simultaneously.
Well, now you see that there are many variants of prints to customize puzzles. Besides your personal photos, you are free to choose any other image you like and create a unique print, which isn't available at ordinary shops. Present the result of your creative work to your close person or leave it for yourself; do the puzzles together with your family members, friends, sweetheart or do that alone.