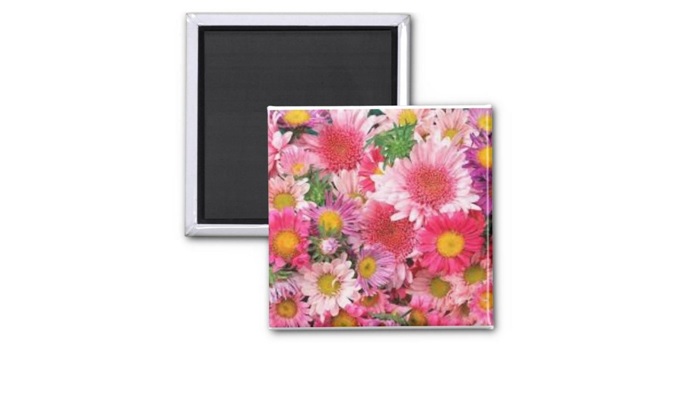 Custom Magnets: How to Use Magnetic Prints for Your Benefit and Pleasure
Nowadays, custom magnet printing isn't just a way to decorate your fridge. The magnets can be printed for different purposes and applied in many spheres of life. There are many ways of how to use custom magnets. They may serve as personalized gifts, promotional products, corporate gifts, magnetic signs, photo magnets etc.
While being efficient for business purposes, the magnets are used for a great number of personal objectives as well. The magnets can decorate the house as well as serve for more interesting goals like learning, keeping your memories and providing you with daily help. So, let's see how the magnets can be used and what can be printed on them.
Where to Use Custom Printed Magnets
The custom shaped magnets are used in many spheres and for different purposes. If we talk about the home use, the first thing, which comes to mind, is the refrigerator decoration. In business, the magnets can serve as advertising and promotional tools. The magnets can be also printed for various events, from scientific conferences to someone's birthday. Now, let's consider everything in more details.
Custom Refrigerator Magnets
Refrigerator magnets custom can be applied in any kitchen. The fridge is a cool place to demonstrate your collection of magnets and it's especially cool if all of them have been printed just for you and no one else has the same ones.
Many people love to print the photos on magnets and attach them to the fridges. Thus, the recollections about some pleasant moments will be with you every time you enter the kitchen. The family photos are among the most popular ones, especially the ones, featuring kids and loving couples.
The images of pets and flowers frequently serve as fridge decorations. They help to enliven the space and provide it with a special domestic atmosphere. There can also be some useful magnets for the fridge, like the ones with calendars or containing the motivational phrases.
Customized Magnets for Various Events
The magnets can be printed for various kinds of events, starting from business meetings and to family reunions. The magnets can, first of all, advertise the event, which is about to happen. It can be done with the help of custom magnetic signs, attached to the cars.
Such a method is more convenient than the use of stickers, which also look cool, but may cause some problems once you try to get rid of them. The magnets are easily attached and easily removed, and, moreover, they can be used again.
At some events, magnets can be used as giveaways. For example, a person, who visited a charitable auction, may get a magnet as a rewarding present for his or her donation. Or, business owners may make such little gifts to their potential clients at fairs or exhibitions.
Custom magnets are used for private parties and events as well. If you organize a party or any other event, like wedding or anniversary celebration, you are free to print the invitations on magnets and present them to your guests as reminders.
Customized Car Magnets
Custom car magnets are most frequently used on the outer sides of the car for advertising or promotion of certain things. It can be an ad for a certain product, service or business. A custom car magnet may be also used as propaganda of something and for a number of social initiatives like anti-cancer or anti-smoking campaigns.
However, there are such art enthusiasts, who decorate the cars with custom bumper magnets or place the artworks, printed on magnets, on the sides of their vehicles. Thus, the custom vehicle magnets may turn an ordinary car into a work of art very simply and at affordable price. You may also use custom magnetic bumper stickers, featuring your hobbies and interests.
Custom Magnetic Name Badges
Custom magnetic name tags may used for every occasion, where a person needs a badge. Though, there are cheaper ways of introducing yourself, the magnetic badges have a number of advantages.
The magnet makes it possible to hold your name tag even on very thick clothing while the ordinary ones may be attached with some problems. Moreover, pin fasteners of ordinary badges may leave small holes at clothing while the magnetic ones are absolutely safe for any type of outfit.
Magnets for Business
The use of custom magnets for business is very vast. Firstly, they can be printed for the use within the company. The small magnets may serve as corporate gifts to the employees while the bigger ones may be used for office décor as well as be applied in the working process.
Secondly, magnets are great promotional and advertising tools. The magnets, featuring the information about a certain company and its products or services, may serve as giveaways. And, of course, the ads may be printed on custom vehicle magnets or magnetic signs.
What Can Be Printed on Custom Made Magnets
As the spheres of magnets usage are very vast, almost every image or photo can be printed on a custom magnet. We'd like to show you some examples of what can be printed on magnets to make the information more visualized for you.
Custom Photo Magnets
Photo magnets are used for a great number of purposes. First of all, they are brilliant presents for your sweethearts, relatives, friends or colleagues. You can print your common photo on a magnet or create the whole collage. Such a present is very personal and may not only evoke pleasant memories but also reflect your feelings to the person.
Secondly, you may print a photo on a magnet for your personal use. You are free to turn any photo you like into a nice magnet. It can be your family photo, the one of your baby or husband, the pet's photo or a travel one.
Photos on magnets may also serve for other goals. For example, the advertising car magnets custom may contain photos or the ones, which you send as wedding invitations. How to use photos on magnets is just a matter of your creativity and imagination.
Educational Magnets
The magnets can serve as educational tools. At schools and other educational establishments, the magnets may be attached to special magnetic boards. They may be printed for various themes, but, in the majority of cases, such magnets are used for teaching children at elementary schools and kindergartens.
The educational magnets may be used at home as well. You may attach them to the fridge or any other metal surface. With the help of magnets, you may teach you kid to read and count, differentiate colors and various notions, and even, to speak a foreign language.
Custom Save the Date Magnets
If you are preparing for the wedding and want to have unusual wedding invitations, print them on magnets. It's not only trendy, but also very practical as your guests will be able to attach it to the fridge and will not fail to forget about the date of your wedding. Moreover, you are free to create your personal unique design, using your favorite colors, fonts and images.
There are various templates, which can be used as a basis for your wedding invitations. Moreover, save the date magnet invitations may be used for other occasions like baby birth, birthday party or anniversary.
Happy Birthday Magnets
It's possible to use Happy Birthday magnets as gifts and party decorations. A magnet, featuring a "Happy Birthday" phrase on a beautiful background, may be presented to a colleague, a teacher or a client. If you prepare a gift for your close person, it's better to add your personal words to it or a photo.
The magnets, used as decorative elements, may decorate homes, offices, cafes and many other places, where a person may celebrate his or her birthday. The most important is the presence of metal surfaces there.
Travel Magnets
By ordering custom travel magnets, you get not only nice prints but also inspiration. The images of the places, where you haven't been and would like to visit, may inspire you to travel and set out for a trip of your dream. It's good to place such a magnet on the fridge as it will remind of your dream every time you want to eat or cook something.
In their turn, the photos of the places, you have been to, will evoke some good recollections about that journey and provide you with positive energy every time you have a look at them. Not only photos can be used. The graphic images, connected with travelling to a certain place, will also provoke positive emotions.
Hobbies and Interests Magnets
A custom magnet, dedicated to hobbies and interests, is a great decoration for your home or working place. Think about what you like and don't hesitate to display that. If you are a member of a yacht club and like to sail, you may place the symbol of your club. If you like sports, chose the image of your favorite kind of it. If you are an art lover, place the artwork you like.
The magnets for home use may showcase not only your hobbies, but also the ones of your family members. Thus, if your kid is fond of a certain cartoon personage, place its image on the fridge. Besides, you may use hobby images as custom magnets for cars if you want people around to know about what you are interested in.
Calendar Custom Fridge Magnets
Printing a calendar on a magnet is very practical. First, you don't need to think about where to place it. A calendar on the fridge is convenient as you don't need any additional instruments to attach it. Secondly, it's very useful to have a calendar at hand in the place, where we spend much time.
The magnet calendars may be used not only on fridges and not only at homes. If you have a magnetic board or any other metal surface in your office, you are free to attach the calendar there.
Flora and Fauna Magnets
The images of the representatives of flora and fauna suit almost every interior and room. The flowers add a romantic and fresh touch to the interior. The images of animals look more dynamic and enliven the space around. The photos look cool, but you are also free to use the cartoon images of animals if you have children as well as works of art, related to nature.
Motivational Magnets
If you want to get some dose of motivation every morning, place a magnet with an inspirational phrase or quote on the fridge. As almost all of us approach the fridge in the morning, it's impossible not to notice what is written on it. Such a print may be also used as decoration for your working place.
Moreover, you may use motivational prints to inspire other people. Make a car magnet custom with an inspirational phrase and make people motivated at any place you ride to.
So, there are dozens of ways how to use custom magnets. They may help us to advertise, promote, decorate, inspire etc. They can be used at home, office, cars and streets. They can bring profit to your business as well as bring aesthetical pleasure and inspiration.