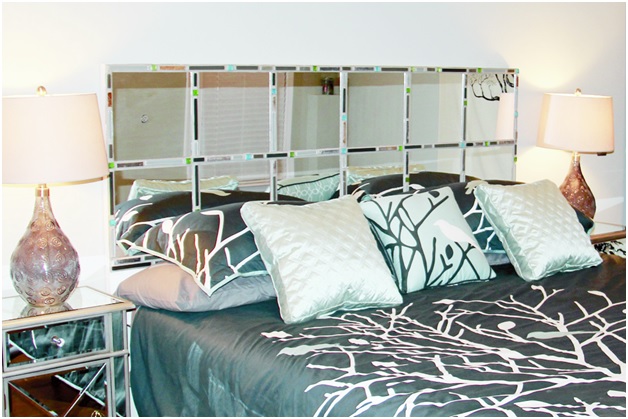 7 Ideas of How to Use Mirrored Headboards in Bedroom Wall Decor
We all know that while thinking about bedroom interior, we consider this room not only as a place, where we sleep. Nowadays, we want the bedroom wall decor to look beautiful and stylish and so, we dedicate much attention to choosing the proper accessories.
A mirrored headboard is a creative way to decorate the space behind the bed. It looks unusual and there are many possible designs of such headboards. Sounds impressive, right? But it's better to see everything with your own eyes and that's why, let's have a look at 7 cool bedroom wall decor ideas with mirrored headboards.
One Large Mirror
By placing one large mirror behind the bed, you will make the wall design looking rather simple but unusual. The mirror can be framed or not, depending on the style of the room. This variant is suitable for both women's and men's bedroom wall decor.
A Set of Mirrors
The bedroom wall decoration with a set of mirrors can look very different. For instance, you can use two or three large framed mirrors. Or, you can use smaller ones and without frames. You are free to create some patters with them as well.
Mirrored Wall
In fact, a mirrored wall looks great in any room. If you use it in bedroom, it looks cooler if it consists of several blocks or has a texture. The other bedroom wall decorations with mirrors can be used, but don't overdo with this material.
Mirrored Details of the Headboard
If you aren't sure as to such a headboard, you can add a bit of mirrored details to the standard headboard and choose some other bedroom wall accessories in the same style.
Mirror Tiles
Mirror tiles are often used for bathroom interiors, but are also suitable for wall decor in bedroom. They can be placed close to each other, forming a single piece, or be located separately in the "gallery style"
Mixed Headboards
In case you want to master bedroom wall decor, seek for more complicated ideas. Try to combine mirrors with other types of materials. Mirrored surfaces look great with wood, metal and leather wall panels.
Creative Mirrors for Headboards
Want to have something more creative? Add a mirror of the unusual form?. For example, this "sun" decoration looks very impressive. Such a solution is ideal for girls bedroom wall decor.
How can you resist adding such bedroom wall decor to your dwelling? Besides looking creative and beautiful, the mirror can be also used for its direct purpose. So, as a result, you are getting wall decorations for bedroom which don't only look astonishing but are also useful.